0
7th October 2021 12:05 pm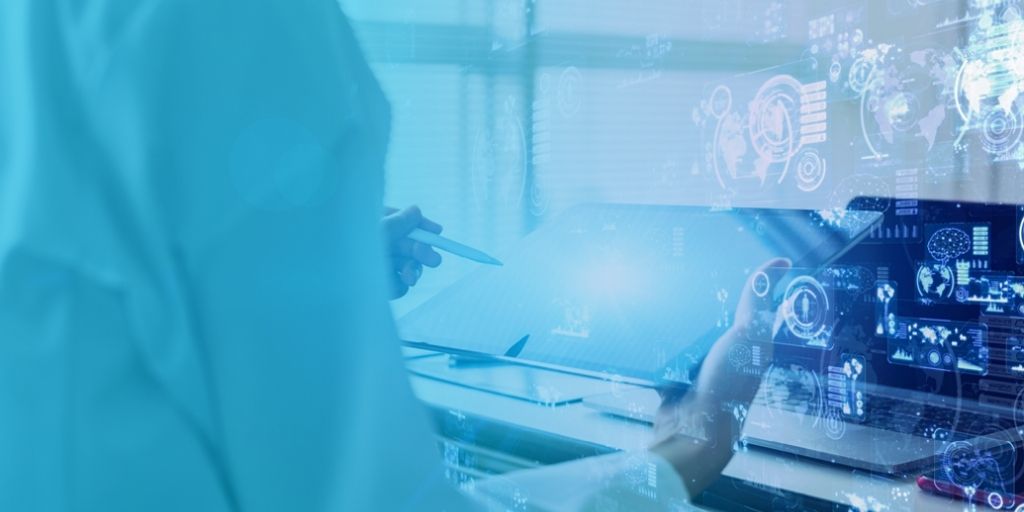 Responding to challenges
There is no doubt that the COVID-19 pandemic has hugely contributed to the increasing pressures global healthcare systems face today. This has urged healthcare providers to reassess technology that can potentially make workloads more manageable, prevent burnout and reinforce standards. Making efficient use of new and innovative capabilities that address these challenges will help tackle the backlog of appointments and delayed procedures. Stakeholders in healthcare are also continuing to look for ways to reduce the cost and maintain stable solutions, for example, for imaging services, while keeping up to date with the latest diagnostic technologies and workflow. One such digital innovation that could revolutionise healthcare is cloud computing, which is the on-demand delivery of IT resources via the internet.
The cloud is not new. It has already been embraced around the world by healthcare organisations and governments, often with 'cloud first' policies, like those in the UK. Instead of buying, owning and maintaining data centres and servers in an on-premises environment, organisations can acquire technology – such as computer power, storage, databases and other services – on an as-needed basis and consume them as they would with any other utility.
Applying new technologies to healthcare
There are already many healthcare initiatives around the world that are relying on the cloud. Dr Rowland Illing, Chief Medical Officer and Director of the International Public Sector Health for Amazon Web Services (AWS), has had first-hand experience of some of these, and believes that transforming and developing networks using the power of healthcare data can have a direct impact on improving patient care. He explained: "There are essentially five attributes the cloud offers healthcare systems. These are:
agility – the ability to view resources on demand and deploy hundreds, or even thousands of servers in minutes. The Indian government was able to roll out a cloud-platformed telemedicine solution during the pandemic, delivering a solution in 19 days across four states that was free to patients and available 7 days a week. Now the platform enables over a billion people to seek virtual care and is live across 23 states, handling over 6,000 consultations a day.
cost savings2 – the cloud gives a lot of flexibility, and there is no need to guess the data capacity and capital required to operate it. The Canadian Institute for Health Information moved its physical infrastructure into the cloud and demonstrated a cost saving of more than 10 % just by 'lift and shifting' to the cloud – taking advantage of the scale that this brings – even before they had modernised their applications to benefit from the new architectures this offers.
elasticity – the ability to grow capacity or scale down as required. For example, Lifebit built a genomics processing platform for Genomics England in the cloud that allows massive amounts of computing power to be readily available at the point of need, but then permits this resource to be scaled down when not actively being used.
faster innovation3 – allowing organisations to focus on their mission and to deliver solutions for patients, not on infrastructure. Two days after the COVID genome was mapped and publicly posted, Moderna was able to use their cloud-based 'drug design studio' to finalise a vaccine model and start testing.
being able to deploy globally in minutes – which is exactly the attribute that GE Healthcare will be using for TruePACS. With a zero-footprint viewer, no on-premises servers and the latest software version always available, remote deployment becomes not only possible, but preferable."
Rowland continued: "AWS is one of the most flexible and secure cloud-computing environments available today and demonstrates these five attributes very well. It has a core infrastructure specifically built to satisfy the security requirements of highly-sensitive organisations, including military services and global banks, and over 1,000 global compliance requirements validated by third-parties.1 All of our customers, including those in healthcare institutions, benefit from the encrypted global infrastructure that has been vetted and accepted for top secret workloads and connectivity. The AWS is backed up by more than 230 specific cloud security tools within the platform that comply with all global security frameworks. A range of best practice documents, encryption tools and other guidance features are provided to specifically address the security of data management and availability."
Post-pandemic digital health
Healthcare providers are eager to find out how the current infrastructure needs to evolve to seamlessly integrate cloud services into existing workflows. The real question however is, how will cloud solutions impact healthcare? Rowland said: "Adopting the cloud changes the way that healthcare is delivered, and accessibility of AI and ML will be really beneficial. There are also integrated development environments, such as the Amazon SageMaker that GE Healthcare uses on its Edison™ platform, which make it easier to build, train and deploy models in a stepwise manner for end users who are not familiar with the technology."
Manuel Bosch, CIO of Centene Europe, and Chief Information and Innovation Officer of Ribera Salud, agreed: "The cloud gives healthcare providers more flexibility to meet changing demands, especially in the post-pandemic world. A good example of where this can be effective is diagnostic imaging. At Ribera Salud, we moved the imaging system into the cloud so that images could be accessed remotely without the need for radiologists to be on site, increasing throughput and productivity, and releasing staff pressure. The transition to the cloud was fast and there was no disruption; once the system was set up, it was as simple as granting access to the platform. Having senior leadership on board to build the culture for change and for setting up the system in a desired timeframe is critical, because this is the biggest challenge of switching to the cloud, but this transformation period in global healthcare systems is a very exciting time."
The cloud's bright future in healthcare
Democratisation of data via a public cloud is an innovative concept that will be paramount in healthcare for selective and secure access to information, and better creation and handling of large datasets. Mathias Goyen, Radiologist and GE Healthcare's Chief Medical Officer for EMEA, concluded: "It is the strategy, not the technology, that drives digital transformation and migration to the cloud. We are talking about a paradigm shift that requires the full commitment of an entire organisation, including the clinicians, the IT department and the technical staff. The best cloud application is one that is invisible and can be seamlessly integrated into the healthcare workflow to unfold its magic in the background. Virtual care empowered by AI, ML and cloud technology is no longer aspirational, it is mandatory and a 'must have' component of delivering healthcare in the future. That is something we have been pushing forward with for a while here at GE Healthcare, together with our customers worldwide."
For more information go to: https://www.gehealthcare.co.uk/products/healthcare-digital
References
AWS for healthcare providers. https://aws.amazon.com/health/providers/
Footnotes: Dr. Roland IIling and GE Healthcare have no specific contractual relationship.
GE Healthcare and AWS recently entered into a collaboration for the provision of cloud services. (https://www.gehealthcare.com/article/for-radiologists%2c-reading-from-home-is-the-new-working-from-home).
Ribera Salud is a validation partner for EdisonTM Accelerator in EMEA.