0
20th November 2023 8:00 am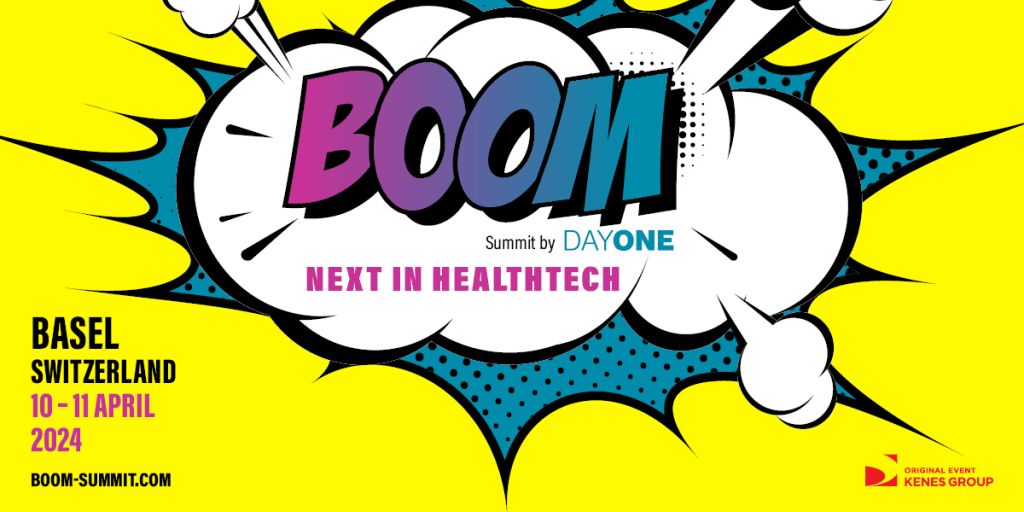 DayOne – the Basel-based healthcare innovation initiative – and Kenes Group are thrilled to announce the inaugural BOOM Summit, a truly fresh take on the healthcare conferencing experience launching in April 2024. This highly anticipated healthtech event will act as a nexus between the healthcare, tech, government, and research sectors, providing an open forum for everyone – from professionals and entrepreneurs to investors and policymakers – to discuss the latest trends, technologies, and strategies poised to transform healthcare.
The summit will provide valuable access to key thought leaders from across the entire healthtech ecosystem via a host of expert panels, technology showcases, startup pitch sessions, interactive workshops, networking opportunities, and more. It will present unique opportunities to exchange knowledge, interact with potential investors, stay up to date with industry trends and regulations, discover innovative digital solutions, and contribute to the collective effort of reshaping healthcare on a global scale.
BOOM Summit 2024 is set to be a highlight of the European healthtech calendar, with speakers from various industries already signed up and expressing their excitement for the event. Dr Michelangelo Canzoneri, Global Head of Smart Manufacturing at Merck, explained why he is eager to attend: "When I heard about BOOM Summit's mission to revolutionize the healthtech landscape, I knew I had to be a part of it; the opportunity to share and learn from peers and collaborate with like-minded professionals was too good to pass up." Another speaker looking forward to the event is Chandana Fitzgerald, MD and CEO of HealthXL, stating: "BOOM Summit is really pushing the envelope in the European healthtech events space, bringing together bright minds from Basel and beyond to help them experience their own 'eureka' moments and return home with a vastly expanded network."
The future of healthcare is poised for a seismic shift, and BOOM Summit is leading the charge. This game-changing event will take place April 10-11, 2024, at Messe Basel*, a state-of-the-art exhibition and convention facility in the heart of Europe's leading life sciences hub. Secure your spot at BOOM Summit now to position yourself at the forefront of the healthtech revolution.
* Venue provided by BOOM Summit's key partner MCH Group