0
10th March 2021 3:00 pm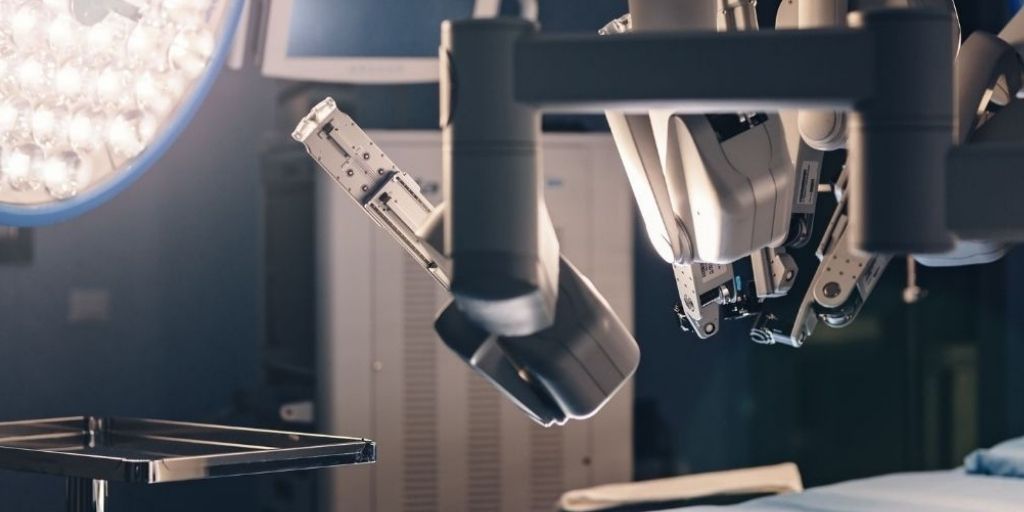 In September 2020, the Government announced £32 million of funding for research and development in transformative healthcare technology projects. After previously lagging behind other industries in digitalisation, this new investment could catalyse the fourth healthcare revolution. Here, Stewart Goulding, managing director at precision drive system supplier Electro Mechanical Systems (EMS), looks at the innovative technologies that are paving the way for Healthcare 4.0.
The six technology projects set to receive the influx of funding include a walk-through artificial intelligence (AI) x-ray scanner that can diagnose cancer more quickly and in more complex cases, such as if tumours are particularly hidden in the body.
Research of robotic muscles will also welcome investment to provide assistive treatments for patients who have lost muscle capability, such as those recovering from a stroke or those living with degenerative diseases.
This investment comes after the Government previously announced £50 million in AI funding to improve diagnostics across the NHS. The boost of investments marks a change in the healthcare system, where we will see an increased incorporation of digitalisation and robotics across the sector.
The digital lab
Healthcare has a long way to go before it reaches the level of digitalisation the manufacturing industry possesses, which has undergone widespread adoption of automation and the Industrial Internet of Things (IIoT) over the past two decades. However, this slower pace doesn't mean digitalisation isn't already beginning to show its benefits in the medical sector.
Key technologies that have been used in industrial manufacturing have spread to pharmaceutical development and production. For example, Astra Zeneca's NiCola-B robot can test up to 300,000 compounds a day and, being a collaborative robot, can adapt to the presence of humans and safely work alongside them in the lab.
Dealing with paperwork and managing administrative tasks can be a major bottleneck in pharmaceuticals. Robots are also capable of alleviating this stress by performing a variety of other tasks in the laboratory, such as scanning incoming medical test samples and sorting them into their designated area according to their digital records. In production, robots can help package medicines by accurately filling containers and placing caps on bottles — another time consuming and tedious task for human workers.
Robot-assisted surgery
While the digitalisation of the laboratory goes on behind closed doors, new technologies are also filtering into patient-facing applications. For example, CMR Surgical launched their surgical robotic system, Versius, in the UK in 2020. The system has been used to successfully treat NHS patients with serious bowel disease or bowel cancer.
Surgical robots offer many advantages to both the surgeon and patient. As the surgeon can control the robot from a console, it makes the procedure less tiring and straining. The vision system also means the surgeon can view the operating site with a greater magnification and in more detail.
This enhanced vision, along with the small size, precision and high dexterity of the robot arm, means the surgery is able to take place through a smaller incision with less damage to surrounding tissues, known as minimally invasive surgery.
Surgery performed within a small area has multiple benefits to the patient. As less tissue is damaged, there's reduced pain and the area is quicker to heal with decreased scarring. This also means there is a lower chance of infection and blood loss, and the patient can be discharged from the hospital faster, leading to an overall better surgical outcome.
Healthcare at your fingertips
However, surgery isn't the only patient-facing application of healthcare digitalisation, which has recently been accelerated due to COVID-19 making each face-to-face interaction carry increased risk.
Mobile health (mHealth) is the practice of placing medicine and public health data on mobile devices. There are over 400,000 healthcare apps available, and a survey by digital health start up Quin found that the use of healthcare apps has increased by 37 per cent since the start of the pandemic.
Perhaps one of the most widely used types of app is online prescription management platforms, where patients can request and organise the delivery of their medicines.
Other digital healthcare services include education on mindfulness, online counselling, personalised diet plans, sleeping aids and health trackers. For example, the app mySugr allows users to input and track their diet and blood sugar levels, as well as having access to a personal coach for help and advice.
Adjacent to mobile health is telemedicine, which is the delivery of healthcare services and information electronically from a remote location.
This can involve virtual consultations, medicine adherence appointments and outpatient monitoring meetings using video-conferencing tools.
Robotics have the potential to take telemedicine to the next stage. For example, InTouch Health's RP-Vita telepresence robot has a screen mounted at the top that can be used for video calls from an offsite doctor. The robot can move to transport the doctor around the room, enabling a closer simulation of the real experience of meeting with a doctor.
Mighty motors
The telepresence robot uses high precision FAULHABER DC micromotors to power the pan and tilt functions of the high definition camera used for remotely examining patients.
All FAULHABER motors are made in a high precision manufacturing process, which makes them reliable with consistently high quality.
EMS is the sole UK supplier of FAULHABER motors, which have a high power density that makes them ideal for use in robotics. In particular, the new FAULHABER BXT series has a flat construction, therefore suiting small space requirements to minimise bulk of the robot. Innovative winding technology allows the motors to deliver torque up to 134 millinewton metres (mNm), demonstrating high power in a small package.
The Government's injection of funding into healthcare technologies will accelerate digitalisation of the sector and kickstart the fourth healthcare revolution. Research and implementation of innovative equipment will support healthcare professionals, while also improving medical outcomes and increasing the accessibility of medical treatment for patients.