0
30th September 2021 10:00 am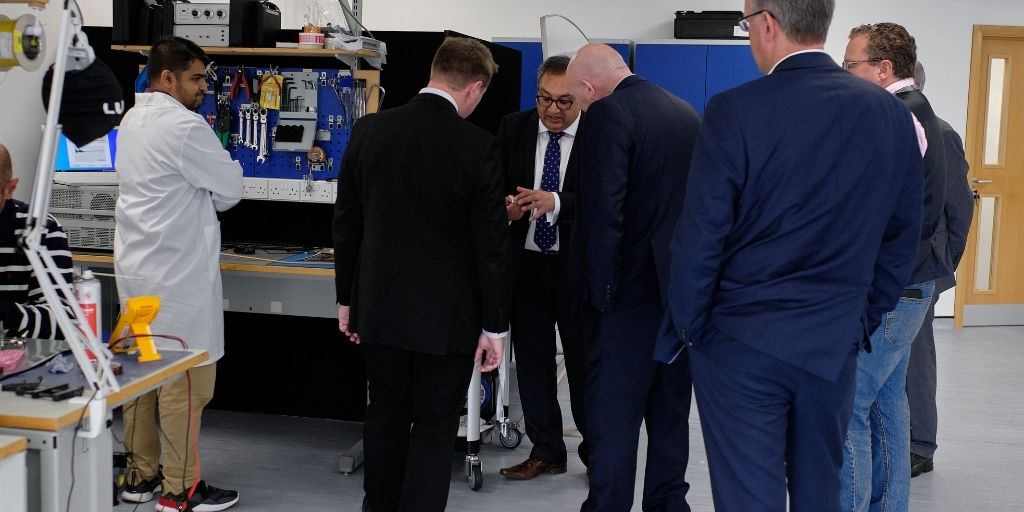 Special guests spoke of the "life changing" products being developed at a Welsh diabetes technology company during the official opening of its new headquarters.
Afon Technology has recently relocated from Chepstow to Caldicot, with the new, bigger premises allowing the company to expand its world-class workforce, develop its state-of-the-art lab equipment and add a pilot production line. 
The company, which is best known for developing the world's first non-invasive, real-time and continuous blood glucose sensor, recently showcased its hi-tech facilities to a number of local dignitaries as part of its official opening on September 2.
Among them were Peter Fox MS (Member of the Welsh Parliament), Richard John, Leader of Monmouthshire County Council, and Paul Matthews, Chief Executive of Monmouthshire County Council. Joining them was Roger Hiscott, a business and MedTech consultant.
They were given a presentation of Afon's ground-breaking technology and were taken on a tour of the facilities by Afon CEO Dr Sabih Chaudhry and board members Dr John Shillingford, Professor David Onions and Dr John Hirst.
The group heard first-hand how Afon, which was founded in 2015, is making great strides in the development of a blood glucose sensor that negates the need to penetrate the skin. The sensor sits on the inside of the wrist and uses Bluetooth technology to send real-time information to a companion app which will display the wearer's blood glucose trends and alerts them to high/low glucose levels.
Having such readily available information will allow people with diabetes to manage the condition more effectively, reducing the risk of diabetes-related complications such as heart attack, stroke, blindness, kidney failure and limb amputations.
The visitors to Afon's new premises got to see the technology in action, with demonstrations including the design and production of the printed circuit boards used in Afon's technology, electromagnetic simulations, product design and 3D modelling, data processing and algorithms.  
Mr Fox said: "I was absolutely blown away by the innovation Afon is demonstrating. The product, its science and the technology behind it makes it such an exciting advancement in the med-tech world, a truly life changing product."
Mr John also commented: "It was a real pleasure to meet the team and see first-hand the incredible work they're doing here in Monmouthshire – I was really impressed."
In June, Afon unveiled images of its pioneering sensor, which is set to undergo another round of clinical trials amid hopes it will be available to purchase from the end of next year.
The company is already looking to add to its highly skilled team and is currently recruiting for a number of specialised positions including a Technical Lead and a machine learning expert. 
Dr Chaudhry said: "We were delighted to welcome our special guests to Afon's new offices and laboratory, and to share with them the exciting technological advances we are making which will improve the lives of people with diabetes.
"We are proud to be putting Monmouthshire – and Wales – on the map, and our new premises reflect the ambition we have for the future."