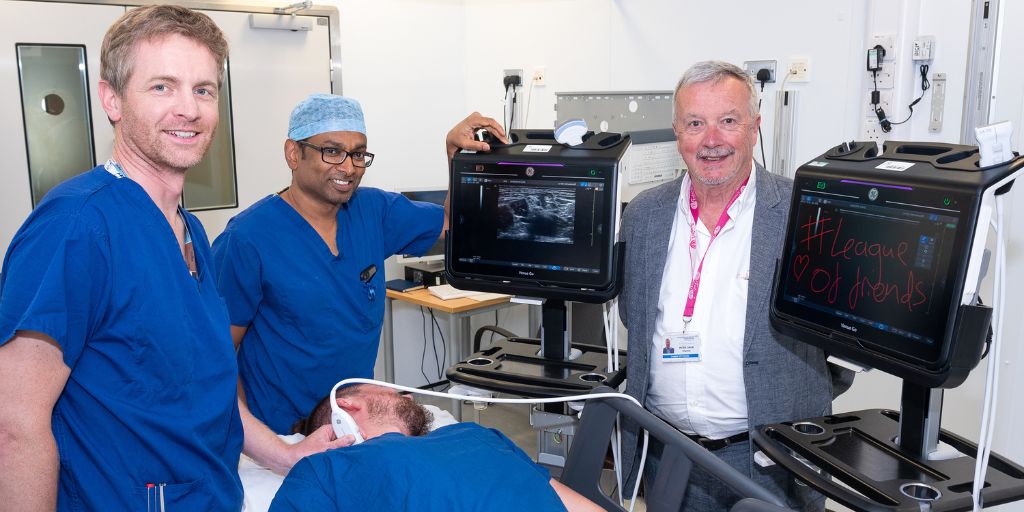 The Theatres department at The Robert Jones and Agnes Hunt Orthopaedic Hospital (RJAH) is benefitting from the purchase of two additional ultrasound scanners thanks to their Friends. 
The League of Friends have funded two new portable ultrasound scanners which will be used extensively by anaesthetists at the Oswestry-based hospital.
The purchase of the specialist scanners cost £50,000 and are essential for performing nerve blocks for pain relief and IV access.
These machines are traditionally used by radiologists to visualise deep structures like the lungs, heart and abdominal organs, however in the recent years' anaesthetists have found them invaluable in locating nerve structures.
Up to 15 years ago nerve blocks were done largely by using anatomical knowledge in a blind technique, but now these are done under direct vision using the ultrasound – as a result these pain-relieving techniques have become more successful and safer.
Dr John John, Consultant Anaesthetist at RJAH, said: "Portable ultrasound scanners are probably the most significant advancement in anaesthesia in the last decade.
"These machines help anaesthetists visualise nerve structures enabling us to do more effective and safe pain-relieving injections to help patients recover after painful major surgery.
"We are grateful and fortunate to have access to a very supporting League of Friends that readily fund these initiatives as they have such a direct and immediate impact on patient care."
Peter David, Chairman for the League of Friends, said: "The purchase of these ultrasound scanners demonstrates how charitable funds can make a significant difference to patient care and experience – we are delighted to provide the funding for these."
Photo caption: David Stuckey, Anaesthetic Fellow; Dr John John, Consultant Anaesthetist; and Peter David, League of Friends Chairman; with the new scanners.