0
25th August 2020 1:00 pm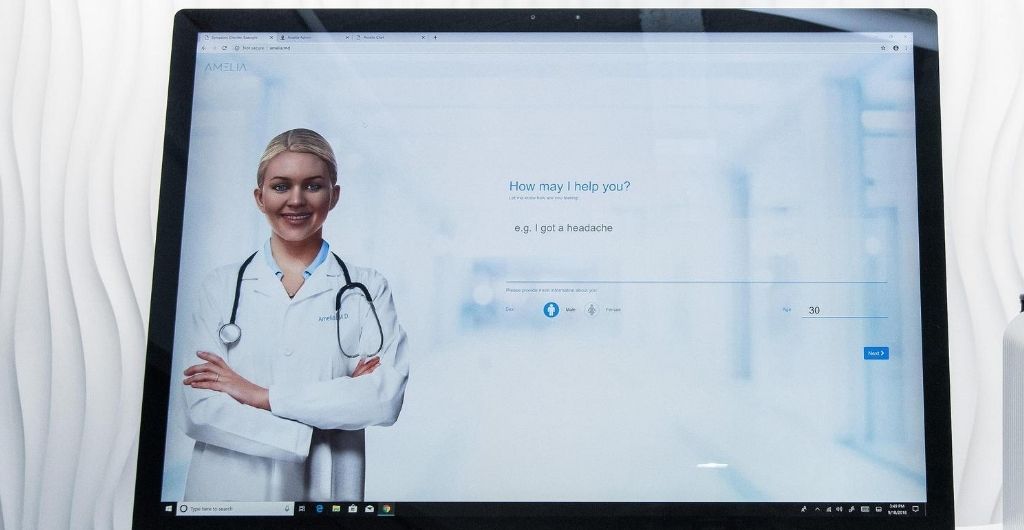 Dr Vincent Grasso, Global Healthcare & Life Sciences Lead, IPsoft
As the coronavirus pandemic spread globally, medical professionals became inundated with people contacting their GPs or worse, those coming into Emergency Rooms (ERs) with minor symptoms. The onslaught of panicked people quickly overwhelmed ERs and medical call centres worldwide and forced healthcare organisations to review how their workforce continued delivering care under such difficult circumstances, including finding ways to engage with patients under social distancing guidelines.
The flood of calls and enquiries of concerned people meant that many healthcare professionals had to divert time away from seriously ill patients in order to make (what was largely negative) COVID-19 assessments. As a direct response in dealing with this, medical professionals and administrative hospital staff put many non-urgent consultations on hold and designed systems to triage patients, whilst also creating COVID and COVID-free areas of hospitals to prevent uninfected patients and other hospital workers becoming exposed to the disease. More so than ever before, health systems started rapidly adopting digital and automated solutions to support them in the assessment process, catalysing a monumental shift in the healthcare industry.
The technologies driving this change
There was a critical need for those that were concerned that they had the virus to safely self-assess in order to take this immense pressure of health services that were already being tested to their max. From taking GP appointments by video or voice call to developing screening solutions to spot patients with indicators of the virus at home, a whole host of different solutions have been designed and deployed by tech firms and other start-up businesses repurposing their products to help support overwhelmed healthcare organisations in the fight against COVID-19. This rapid corralling of resources was aimed at trying to reduce person-to-person interaction (and in many cases, successfully did so) in order to 'flatten the curve'.
Cognitive agents, like Amelia, have been critical in helping healthcare organisations roll-out at-home assessments at scale. Members of the public, whether shielding or self-isolating at home, could reach an AI-powered cognitive healthcare agent by voice call or webchat to undergo a risk assessment, as well as receive additional information about the virus. Once an individual engages with the conversational assistant, they are assessed on the symptoms they are experiencing, alongside additional risk factors (such as underlying health conditions) – which are based on the latest guidance from the Centre for Disease Control and Prevention (CDC) and The World Health Organization (WHO). This has enabled thousands of vulnerable people to get screened without putting themselves or others in unnecessary danger.
The future of the healthcare industry
What this crisis has clearly demonstrated is that the healthcare industry – a sector that has historically been extremely risk-averse – can become more dynamic through investment in advanced technologies, whilst also making patient services more efficient and safer. Leveraging AI has not only proven to be valuable in patient screening environments during a pandemic, but also in tracking and tracing, managing medical inventory (namely PPE) and in pushing new innovations, such as ventilators capable of giving support to several patients at the same time.
Looking to the future to a post COVID-19 world, within the next few years I expect that both patients and doctors will become more accustomed to interacting with online services and, increasingly, conversational AI-powered assistants.
According to EMIS Group, following the NHS' introduction of the 'total triage' approach to deal with the impact of COVID, online-only consultations now account for approximately 40% of total GP-patient contacts in the UK. And as both healthcare providers and the public acclimatise to accessing digital healthcare services, I believe we'll see the same shift that we've witnessed in customer service of using automation to provide always-on support at scale.
This new patient services model could completely revolutionise healthcare, both for providers and patients. It can not only help filter out unnecessary hospital and GP surgery visits (something which is key in a time of crisis), but might also drive more people to engage with their regular healthcare needs, thanks to ease of use and convenience. This will support the government's population health objectives, as it will be easier to identify and treat health issues earlier, which in turn can prevent the need for hospitalisation.
That said, there will always be a need for face-to-face contact in many healthcare settings – so don't expect robots to take over your local hospital anytime soon.