0
18th April 2022 8:00 am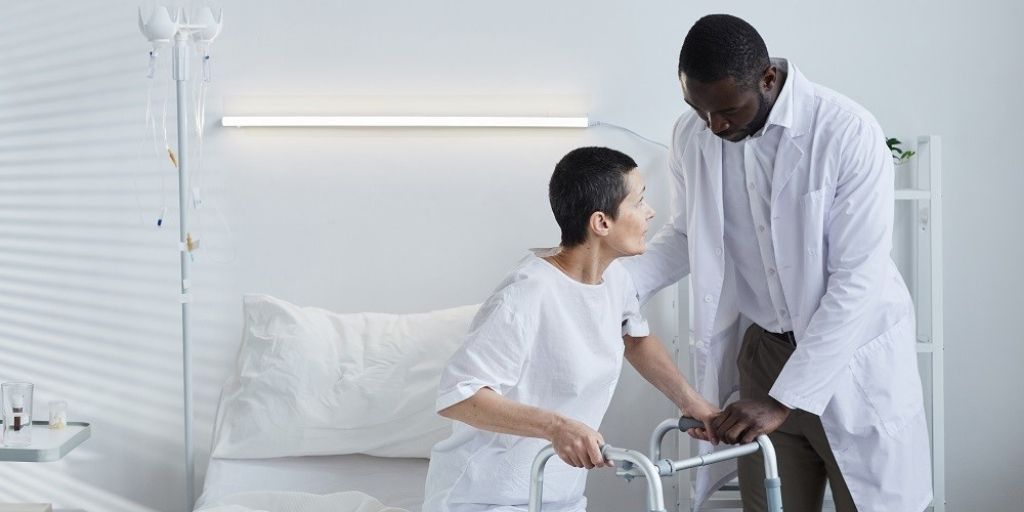 A recently published white paper projected that falls amongst older people will increase by 3.9% a year meaning an extra 110,000 older people are likely to have at least one fall per year. Overall, total falls are projected to rise by 124,000 in men and 130,000 in women per year, costing the health and social care system £210m.
There are a large number of factors that contribute to someone being at risk of a fall. Many of these factors can be mitigated against especially at home. Despite numerous initiatives, rates of falls in hospitals and clinical settings have remained consistently high. Hospitals in England and Wales report over 250,000 falls per year and these numbers are projected to keep growing as the population requiring hospital treatment ages.
Falls in hospital settings most commonly cause arm, hip and leg fractures. From a system perspective they lead to longer hospitals stays and increased costs of care. From a patient perspective they lead to lower quality of life, mobility, and independence. As a result, falls prevention is an absolutely key priority for healthcare systems across the world.
Historical fall prevention strategies can be labour-intensive or are ineffective. Healthcare resources are under unprecedented demand as a result of the COVID-19 pandemic. Effective fall prevention strategies that minimise staff workload and unnecessary direct patient contact are therefore vital for reducing the risk of falls and patient harm.
Using healthcare technology to prevent falls
Despite the widespread adoption of healthcare and medical technology solutions by the NHS in other areas, many hospitals still rely on more traditional falls prevention tools. Although these can be effective in some situations they can also be labour intensive and in some circumstances such as 'one to one care' actually require increased staff numbers. As the NHS continues to be stretched to its limit such falls prevention procedures can easily fall by the wayside.
Healthcare technology has huge potential to radically improve falls prevention strategies, especially as AI-powered solutions become more accurate and accessible. However, uptake of solutions has been sporadic to date, with no clear centralised strategy for bringing innovative new technology to the fore in this area.
Currently, some of the most commonly used products used by the NHS to prevent in-patient falls are pressure-sensitive alarm mats. However, first-hand feedback in recent years from a large number of nurses, clinicians, and patients across the UK strongly indicates that the pressure mats are not very effective due to false alarms and disturbance of patients which can be particularly problematic in some patient groups such as those with dementia.
Using AI to monitor and prevent falls
One health-tech solution to the growing falls prevention crisis is an AI-driven technology platform developed by clinician-led UK start-up, Rinicare. They have developed the SAFE™ platform (System to Avoid Fall Events) to alert staff when a fall is likely to occur. SAFE gives healthcare staff a safe, accurate, and secure way to monitor their patients who are most at risk remotely and without disturbing them.
The SAFE system uses a thermal sensor and a sophisticated deep-learning AI algorithm to automatically recognise a patient's position in the bed. The algorithm was developed using a library of hundreds of thousands of training images, and as a result can recognise a number of different bed positions with a high degree of accuracy, including: a patient safely lying in bed, a patient very close to the edge of the bed and in danger of falling out, a patient sitting on the edge of the bed, and a patient who has fallen to the floor.
SAFE works in light or dark conditions enabling remote monitoring of bed status without needing to enter the room, disturbing patients. It protects patient dignity, as only positional icons are displayed on the monitor and mobile application, and the thermal images are more private than a traditional optical camera. Alarms are generated on the mobile device and nurse station, meaning there is no audible alarm disruption to the patient area.
SAFE has already been evaluated in the NHS and the first European evaluation is currently underway at Odense University Hospital in Denmark. The European evaluation will assess the extent to which the SAFE platform can help protect patients by identifying unattended bed exits, the impact on patient sleep and the rate of false alarms. Discussions are also currently underway around wider adoption of the solution with a number of NHS Foundation Trusts.
Rinicare Managing Director, Anthony Holmes, commented, "It's great to be working with the Odense University Hospital team on this project. They really understand the potential that this technology has to make patients safer, and to significantly bolster their current falls prevention strategies. Falls prevention is an area where technology can have a significant and immediate impact on patient safety, so it's great to see hospitals like OUH willing to embrace new innovations. We hope that we can start bringing this exciting technology to more patients in the UK very soon."
Moving forwards with falls prevention technology
As the UK Government and the NHS work to address the projected rise in falls, fall prevention technology is going to play a more and more significant role. The Government's white paper, 'People at the Heart of Care: adult social care reform: Using the full potential of technology to support people's lives and aspirations ', specifically commits to using more falls prevention technology. In the context of increasing staff pressures, wider adoption of solutions that have a minimal impact on staff workload, preserve patient dignity and can predict falls before they happen are likely to be key to success.