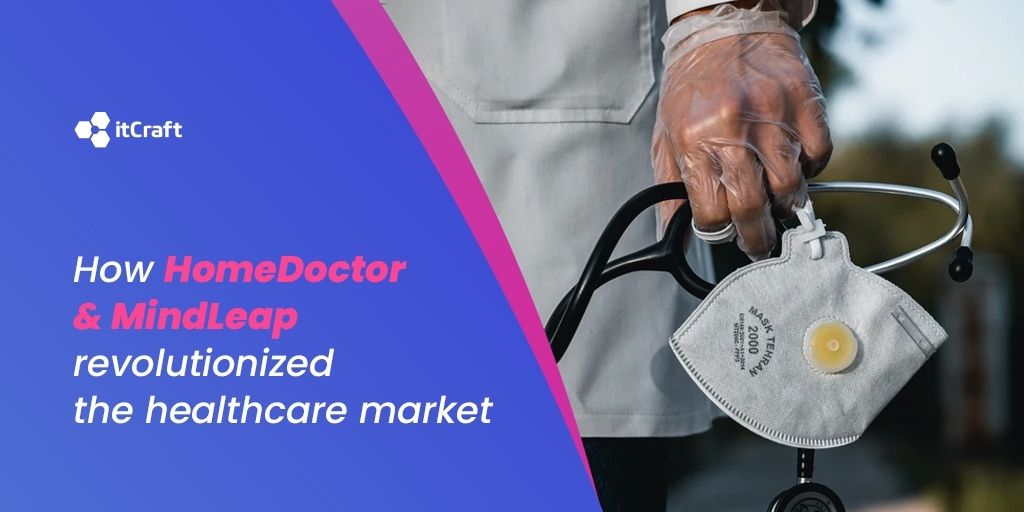 In recent months, we could observe the rise of digitalized healthcare around the world. Due to the COVID-19 pandemic, startups and enterprises started to invest in software that would provide remote medical services quickly. Isolated society needed robust, intuitive solutions that would help them in times of crisis. The result? Many mobile and web apps that became instant hits, supported countless people and will stay longer, as the users highly appreciate the comfort and easiness of telemedicine. Our habits regarding health changed forever at that point.
Suddenly we could get most of our medical problems solved in one video chat. Or at least get advice and further instructions without leaving our own homes. Booking appointments and even home visits are a matter of a few taps now. We've got almost limitless access to healthcare specialists regardless of our location, mobility or material status. Not to mention, it's easier to find the doctor quickly when you see a calendar of numerous specialists instead of having a tiny choice of MDs in our local clinic.
Apps also had a tremendous influence on this side. Unloading traffic in ERs, cutting costs for hospitals and medical facilities, or giving doctors multiple ways to reach out to their patients and give them professional treatment, are only some of them. Research proved that the number of patients and doctors skeptical about the whole concept of telemedicine significantly decreased after the coronavirus outbreak and the rise of telemedicine. We are proud to be a part of this skyrocketing trend.
Enter: innovative e-health mobile apps
We've been a part of several healthcare projects during our ten years on the market. When the pandemic began, we were uncertain about our future, but after a short time, we've noticed an exciting change within the IT industry. Some clients had to drop or postpone their projects due to restrictions, but others could expand their businesses or create new solutions. All they needed to do is act quickly and provide high-quality software.
One of these sectors was healthcare. Suddenly, hospitals and clinics were overcrowded. It was almost impossible to get an appointment with a doctor, and going to a medical facility was risky and inadvisable. Lockdowns negatively influenced people's mental well-being. Innovators had to act fast and provide their audience with tools that would make their lives easier, help them through the crisis and support their needs in that uncertain, challenging time.
The healthcare startups we've been working with for a few years now wanted to revolutionize the market for quite some time, even before the COVID-19 outbreak. Their modern approach to health based on mobile apps, convenience and understanding of their customers' needs is impressive. Now, they are leading solutions within their fields, and their success stories are highly inspiring. They are changing the world. We are confident that when the pandemic is over, Home Doctor and MindLeap will stay and thrive. Let's take a closer look at these two.
Home Doctor – a Polish telemedicine startup
Medical home visits are often more comfortable for the patient. Sometimes they are necessary. Still, it's not that easy to get an appointment when the system is overloaded, and waiting lines are enormous. Home Doctor had a bold plan. They wanted to let their patients book home visits quickly so that they could see the doctor within 60 minutes from the request.
They did just that. Home Doctor became a massive success around Poland. It was used in seven cities by more than 11 000 patients. Within months from release, they started to partner up with big medical providers and proved their services are efficient and helpful. They've been called "an Uber for medical visits".
In Series A funding, Home Doctor collected €3.7 million and became one of the most promising Eastern European telemedicine startups. The platform received positive reviews from the users and achieved all the business goals they came to us with. Right now, they are planning their expansion. The first step to it was introducing teleconsultations in the form of a pilot program in Warsaw. It was a huge success as well.
MindLeap – a mental health company from Canada
When MindLeap came to us, we were excited. This startup wanted to pioneer in a field that wasn't yet explored much but had a lot of potential. Psychedelics are now broadly discussed, and this company created a dedicated mobile app for customers that decided to try this type of therapy.
However, MindLeap is so much more. It not only provides before, during and after therapy support from specialists. It's also a holistic mental health system with a plethora of features, including a mood tracker, video consultations and analytics to monitor one's well-being. It's a truly innovative approach to mental health, where the users get everything they need to help themselves, aside from therapy.
The software product by MindLeap was released in 2020, and it caught instant attention. It was then acquired by Mydecine Innovations Group, which gave the company funding necessary to expand its digital solution further and add new functionalities that change the mental health sector.
Conclusion
Numerous telemedicine solutions provide completely new visions to the healthcare market. They are modern, advanced and user-friendly, which is crucial to succeeding in today's digitized world. Moreover, we are certain there's still plenty of space to introduce new products and services that will give this revolution even more momentum and make patients' lives much easier.
Why is it so important to invest in e-health? Mostly because people's views on remote, online healthcare really changed over the past few years. They still want sufficient medical attention, but they also need convenience, accessibility and low prices. That's when telemedicine comes in handy. We believe that it will become even more advanced with the development of machine learning, AI, and other innovations. It's time to embrace the revolution of health services with the power of new technologies and software.