0
27th April 2021 10:00 am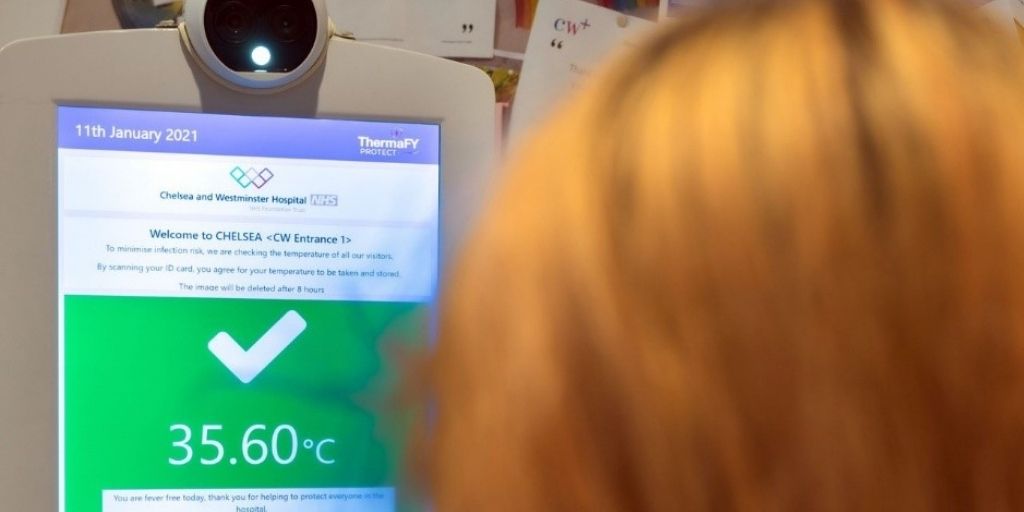 Chelsea and Westminster Hospital NHS Foundation Trust announce the successful pilot of ThermaFY Protect and the subsequent roll-out of the unique thermal screening technology across its hospitals.
As part of its CW Innovation programme, run jointly with its charity CW+, the Trust approached ThermaFY at the beginning of the COVID-19 outbreak to codevelop and install automated temperature scanning stations at Chelsea and Westminster Hospital and West Middlesex University Hospital to help reduce the spread of infection.
A unique project, ThermaFY Protect, was developed to provide bespoke thermal screening that combines temperature readings with staff identification. Following a successful pilot which involved six ThermaFY Protect screens being installed across the Trust's main hospital entrances, the Trust and CW+ will now roll out the programme at all hospital entrances and off-site clinics.
Amanda Pickford, Founder and Chief Executive of ThermaFY, explains: "It's been fantastic working with the team at Chelsea and Westminster, who share our entrepreneurial vision and have acted quickly and collaboratively to improve patient and staff safety. During the first pilot, our systems scanned over 500,000 people; now the stations are a permanent feature, scanning over 8,000 patients and staff every day putting patient and staff safety at the centre."
This partnership is one of a long line of collaborations between leading UK and international organisations and the CW Innovation programme, which identifies and tests new innovations and approaches in a real-world setting with the aim of scaling and replicating high-impact initiatives across the NHS.
ThermaFY Protect screens use a thermal camera which operates from a distance and uses face recognition to build a heat map of a person to calculate body temperatures within seconds replacing the need for hand-held devices. The screening stations are effective, reliable and fast, reducing queue times at hospital entrances as well as improving staff and patient confidence that the hospitals are a safe place to work and receive care. Using a combination of temperature readings and staff IDs and patient / visitor QR codes, the system also provides valuable data for the hospital in its fight against COVID-19 and other infections.
Dominic Conlin, Hospital Director at Chelsea and Westminster Hospital, said: "We are delighted to have been able to collaborate on this unique project, testing and scaling ThermaFY Protect across the Trust to improve patient and staff safety. Its visibility as soon as anyone enters one of our buildings is pivotal, improving confidence in our stringent infection control measures. Furthermore, the technology allows us to develop the approach for multiple scenarios."