0
4th January 2022 10:00 am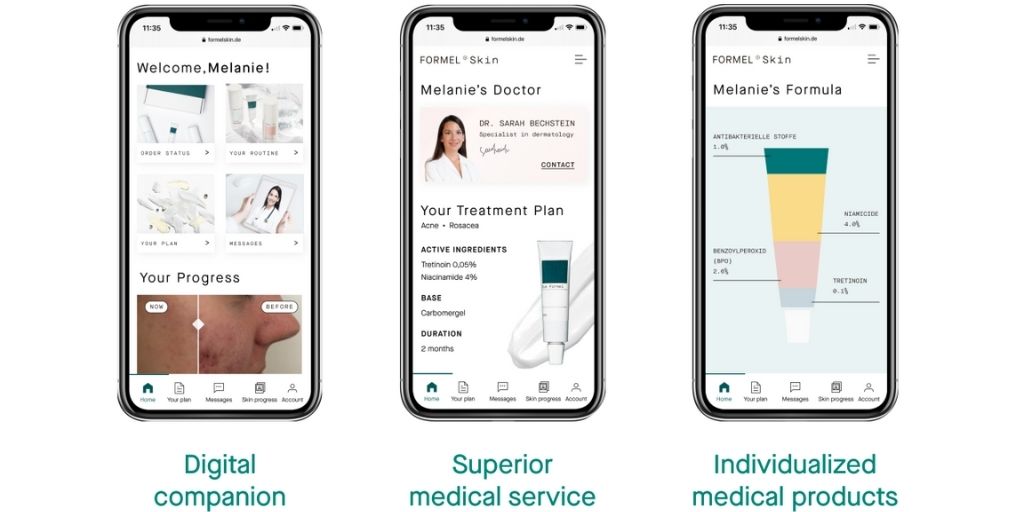 Formel Skin
, the HealthTech startup, today announced it has secured a €30M Series A round, led by . The funding will be used to expand the healthcare platform to new markets and launch additional medical treatments, as part of its mission to offer individualised, high-quality medical treatments online.
Other investors in the round include the HealthTech fund Heal Capital and existing investors Cherry Ventures, Heartcore Capital and Vorwerk Ventures. Since being founded in December 2019 Formel Skin has raised more than €36M and is now one of the fastest-growing European HealthTech companies. The company has grown 7x year-on-year since launch.
Over 1.5bn people suffer from dermatological conditions globally1, that can be diagnosed and treated remotely. FORMEL Skin was created to solve multiple challenges facing dermatologists and patients today. The company's digital platform allows doctors to provide faster diagnoses and personalized medical treatments directly to patients.
Florian Semler, Co-Founder Formel Skin, said, "Dermatological conditions are often lifelong and require regular treatment. The current method for treating dermatology patients is broken. There's a lack of dermatologists and an unfavourable reimbursement structure throughout Europe which incentivises doctors to spend less time with patients that have chronic skin conditions. For those who can go private, it's expensive and for those who can't, there is a long wait. Formel Skin tackles these issues, by providing better treatment outcomes and making high-quality dermatology more accessible."
Formel Skin saves time and effort for both patients and dermatologists. Patients can access a digital companion to support their treatment and are treated by in-house doctors with personalised medical products. Currently, Formel Skin can support patients with skin conditions including acne, rosacea, and melasma.
Dr Sarah Bechstein, Co-Founder and Medical Director of Formel Skin, added, "Roughly two-thirds of dermatological conditions are chronic, and we're still at the beginning in terms of what FORMEL Skin will be able to treat. These chronic conditions require a lifelong skin companion and medical treatment. At Formel Skin we're providing holistic treatments for the individual patient. We can educate patients directly on their condition and provide a maintenance plan for highly effective and life-changing treatment."
FORMEL Skin patients can register online, complete a questionnaire and upload photos of their skin concerns. A personal doctor is assigned to the patient and will remain the same throughout their treatment. The doctor will decide on the medical treatment required and adjust the treatment monthly in line with patient feedback and results. This treatment is created by pharmacies and then shipped to the patient monthly. The subscription to Formel Skin costs €49 per month.
Formel Skin was founded by Florian Semler (former project leader at BCG New York with a focus on healthcare), Anton Kononov (former CPO and CMO of marketplace startup, Caroobi) and Dr Sarah Bechstein (medical doctor since 2013 with a PhD in Dermatology).
This round will enable FORMEL Skin to become one of the leading European health platforms.
Florian Semler said, "We will heavily invest in our digital platform, patient experience, the development of new treatment approaches, and the expansion into new geographies."
In addition to expanding into new markets and adding new treatment approaches, the funding will be used to grow the Formel Skin team. The business is hiring across product, engineering, marketing, operations, and for its medical and pharmaceutical teams. The team of 70 is based in Berlin.
Since the platform launch in June 2020, Formel Skin has delivered more than 150,000 treatments to patients in Germany and Switzerland.
Jeremy Uzan, General Partner and Founder of Singular added, "We are deeply impressed by the complementary skill set of the team and what they have achieved in only two years. Globally, the treatment of chronic dermatological conditions is worth more than $200bn and I am convinced the team will build a leader in this space. Their digital approach creates patient engagement enabling superior medical decisions and therefore highly effective treatments."