0
13th September 2021 10:00 am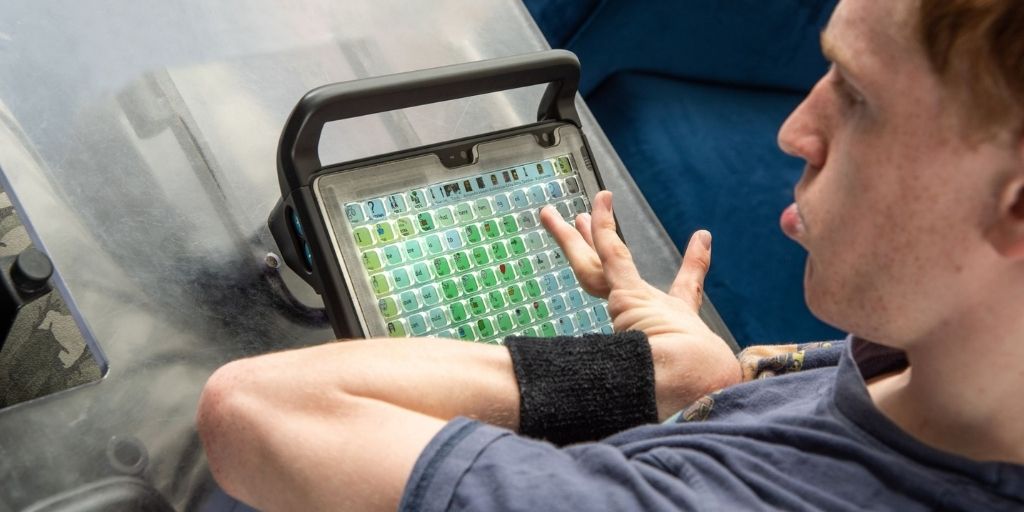 Global Augmentative and Alternative Communication (AAC) provider Smartbox Assistive Technology, today announce the launch of Grid Pad 10s, a high-performance communication aid that will give disabled children and adults a voice.
Grid Pad 10s will join the market-leading range of Grid Pad devices designed and manufactured by Smartbox and it has been built with user independence and durability in mind.
An Intel i5 processor, 8GB of RAM and a 256 GB SSD hard drive make it the fastest 10" AAC device available in the assistive technology market. Versatile access and positioning options make Grid Pad 10s suitable for a wide range of complex needs.
Dougal Hawes, MD at Smartbox Assistive Technology said, "With an ongoing commitment to research and development and a real passion for delivering a range of AAC hardware and software solutions that make a real difference to our global customers, Grid Pad 10s is an innovative new addition to our range of devices, offering a portable, communication aid that is robust, versatile and powerful."
Smartbox understand how important it is that AAC devices are reliable and built to last, so the highest quality components have been used throughout. An impact resistant magnesium-alloy chassis makes the case incredibly strong, protecting it from everyday knocks and bumps. The chassis also provides significant thermal conductivity – removing heat from the processor without the need for any fans or openings, making the device water and dust resistant (IP54 rated). Grid Pad 10s has also been drop tested to 1 metre.
The 10-inch antiglare screen is made with toughened industrial grade glass, which has been optically bonded to the display panel, protecting it against impacts and scratches. Extra strong ports have been used throughout to avoid damage, and rubber bungs add extra protection. The internal components have been carefully secured in place so there is no movement inside the device, making it shock-proof and ensuring the best quality audio.
The second screen adds a whole new way to communicate by showing the users message on the front of their device. This aids communication in a range of environments and situations. It could be in a noisy room where the text helps get the users message across or it could be used without audio in a classroom or library.
Grid Pad 10s is powered by Smartbox's market leading Grid AAC software – a complete solution for communication and independence. Grid is designed for anyone with complex communication or access needs and includes a wide range of resources from powerful communication tools for text users, to resources for communicating with symbols and developing literacy. Grid also includes a range of accessible apps to help users get online, use social media, listen to music, change the channel on TV and much more.
Dougal Hawes, MD at Smartbox Assistive Technology said, "With an ongoing commitment to research and development and a real passion for delivering a range of AAC hardware and software solutions that make a real difference to our global customers, Grid Pad 10s is an innovative new addition to our range of devices, offering a portable, communication aid that is robust, versatile and powerful."