0
1st September 2022 10:00 am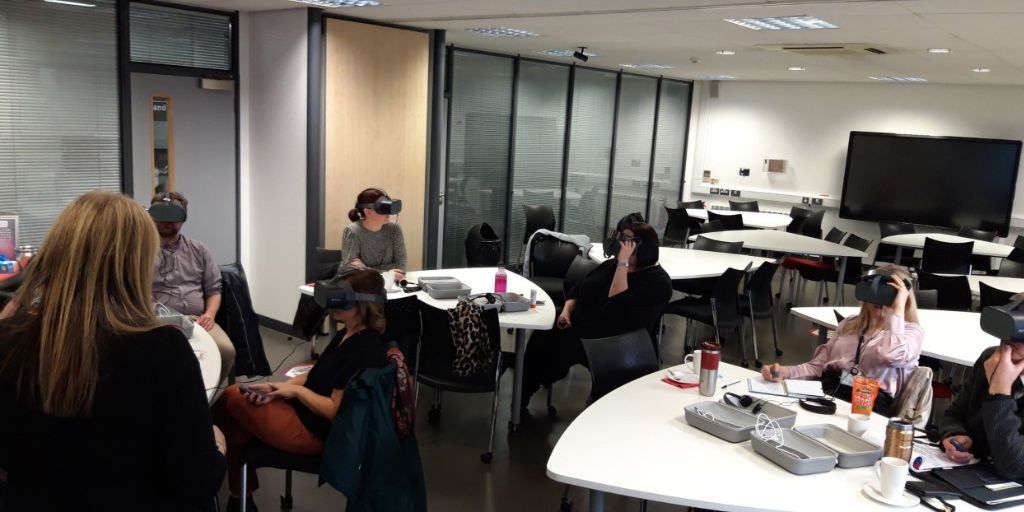 Antser has recently undertaken a new project with The West Midlands Social Work Teaching Partnership (WMSWTP), including Staffordshire University and Stoke-on-Trent City Council's Children and Family Services, to implement virtual reality (VR) when training social work students and newly qualified social workers (NQSW), and the wider children and family's workforce to better prepare them for their roles in direct practice with children, young people, and their families. 
 In their commitment to better prepare practitioners for life as social workers, the WMSWTP and the City Council made the decision to pilot Antser's VR programme to provide students and practitioners with the unrivalled opportunity to immerse themselves into the real-life experiences of vulnerable children and families.  
 As global pioneers of the first VR-enabled behaviour change programme for the health and social care sector, this innovative partnership with Antser means that social workers, who missed training opportunities during the pandemic, will be able to catch up on their learning quickly and efficiently whilst contributing to their training to adapt to real-life practice experiences.  
Due to the COVID-19 pandemic, it was identified within the WMSWTP that students and NQSW placements were in a specific area of disadvantage. In a bid to tackle this, the aim of using Antser VR was to improve the wider understanding of the impact of trauma on children, supporting continuous improvement whilst keeping the voice of the child at the forefront of social workers' and practitioners' minds.  
 Zoe Yeomans, Lecturer in Practice Learning at Staffordshire University Social Work said: "Throughout the pandemic, unfortunately, our students and NQSWs have had very few opportunities to experience placements. The knowledge that comes with that is invaluable, and so many students have not been able to access these real scenarios.  
 "Our students have primarily been focusing on situations they may face and learning how to understand their emotions whilst remaining professional. This partnership with Antser and the City Council has been so beneficial to us as our social worker students have been able to gain the vital knowledge and skills needed to carry out their jobs correctly and safely." 
 Since February 2022, the pilot has enabled multiple immersive sessions to be delivered across several educational partners within the WMSWTP, including Birmingham City University, and the University of Worcester. 
 As one of the largest partnerships of its kind in the West Midlands, to date, around 400 social work students and wider practitioners have benefited from this partnership, including more than 300 students and over 100 qualified children's service practitioners, each with future sessions scheduled to take place throughout 2022.  
 Across Stoke-on-Trent City Council alone, 100 practitioners in children and family services have had the opportunity to trial the VR programme. Speaking about the VR training, one practitioner said: "The training was amazing and probably the most impactful training I have done due to the immersive experience. I would like to think I was already a trauma-informed practitioner, but this training has pushed me further to think about what could trigger a child years later after experiencing trauma. 
 "It has also helped me to think more about what a young child (non-verbal) might be thinking about their environment which helps me to record their voice. I would now like to see the training develop to being able to use it with parents, schools, and foster carers." 
 One student social worker from the University of Worcester shared: "How would I experience these typical scenarios unless I had lived through them myself? This is the next best thing. I might be dealing with these types of scenarios as a social worker, so it has helped my understanding of them." 
 Another student social worker from the WMSWTP said: "It is really a very creative and excellent way of sensitising, especially new social workers, to what lies ahead. I believe it would go a long way to help social workers to be very reflective in practice, empathetic and effective." 
 Councillor Dave Evans, cabinet member for children and young people at Stoke-on-Trent City Council said: "Antser VR has been supporting the learning and development of our social work practitioners. It has been transformational to have this outstanding piece of innovative technology at our disposal to help prepare a new generation of social workers. This project through the West Midlands Social Work Teaching Partnership evidence collaborative working across the region during the challenges and recovery from the pandemic." 
Richard Dooner, CEO at Antser, said: "It has been incredible to oversee this new project with The West Midlands Social Work Teaching Partnership, as we have been able to begin bridging the educational gap formed by the pandemic whilst also revitalising practice in a modern way, ultimately reaching out to students and professionals to better support those receiving social care services. 
 "The unique aspect of our VR programme is that it has presented the next generation of social workers the opportunity to experience real-life placements in a 360-degree perspective, which has already shown to be so vital and beneficial to their learning when training to become fully qualified." 
 Richard continued: "We are so pleased with the feedback so far and glad to see our innovative partnership has already delivered better outcomes for those involved. Some of the results have demonstrated that VR provides social worker students and NQSWs the opportunity to reflect on their own emotions and manage them effectively before dealing with real-life cases. It can be life changing." 
 The WMSWTP plans to implement the VR technology at upcoming simulation conferences and across other disciplines at Staffordshire University and wider multi-agency partners to help develop staff's knowledge and experience. 
With expertise spanning over 30 years, Antser delivers transformational solutions to the health, education, and social care sectors in partnership with local authorities and independent providers with one goal in mind – to achieve better outcomes for children and families.