0
11th November 2021 10:00 am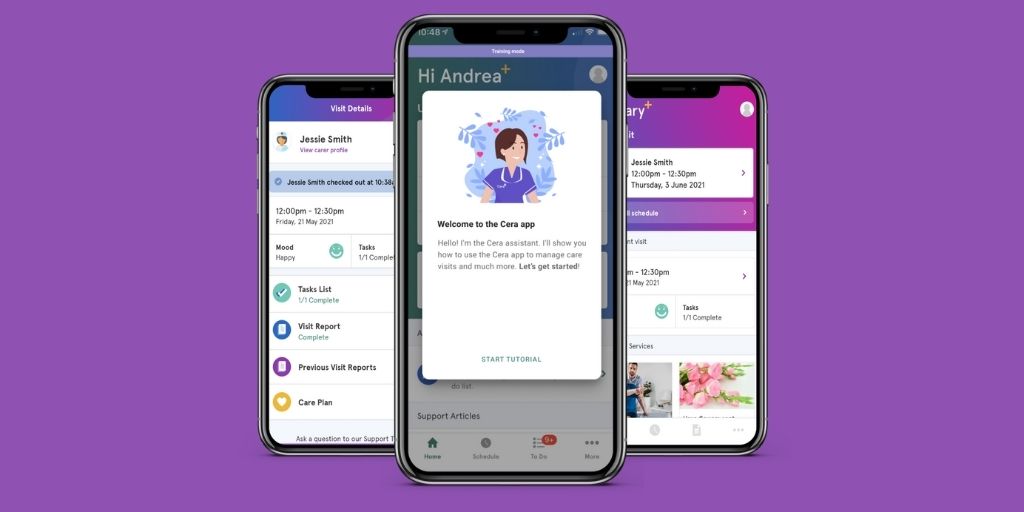 Cera, the London start-up and UK's second largest home care provider, has today launched a pioneering new Digital Flu Tracker and Treatment system, 'Flu-ID' to care for the UK's elderly through flu season and significantly reduce hospitalisations. The technology has been launched this week, to support tens of thousands of older people through flu season, whilst reducing hospitalisations and protecting vital NHS resources through the difficult winter ahead.
Flu-ID – which is powered by AI and Machine Learning – is proven to detect deterioration in an older person's condition from flu up to 30x faster than traditional methods, and reduces diagnosis time for the virus from days to minutes, enabling faster treatment. This ensures Carers and Nurses can treat flu earlier and, crucially, in older people's own homes rather than having them hospitalised.
What is Cera's Flu-ID system?
Cera's Flu-ID system runs through the company's central App. Each day Nurses and Carers collate an older person's vital signs, such as their temperature, heart rate and blood pressure, as well as other health indicators such as their nutrition, daily activity and sleeping patterns, into the App during in-person home care visits.
Through first of its kind AI and Machine Learning software, Cera's app monitors these data points and can detect any worsening in their condition due to flu symptoms 30x faster than traditional methods – reducing the diagnosis rate for flu from days to minutes. This means that the onset of flu can be detected and treated much earlier, and in an older person's own home rather than a hospital or surgery.
What impact can Flu-ID have?
Cera provides more than 45,000 in-person home care visits each day throughout the UK, through its network of almost 10,000 Carers and Nurses. The company already manages 5,000 alerts each day for conditions such as diabetes, infections and viruses. By treating these conditions faster, and remotely, Cera prevents unnecessary hospitalisations and improves health outcomes for older people.
By empowering it's Carers and Nurses with this technology, Cera can drastically reduce hospitalisations across its own community, whilst at the same time freeing up beds and capacity in local hospitals and surgeries through the country. Cera hopes this will contribute significantly in attempts to prevent the NHS from becoming overwhelmed by the combined threat of flu and COVID-19 over the next six months.
Why has Flu-ID been launched?
The announcement comes as a range of industry bodies, and independent research, suggests that flu season could overwhelm the NHS this winter in tandem with COVID-19. The Academy of Medical Sciences has projected up to 7,000 hospital admissions from flu every week through winter, and the potential for up to 60,000 deaths from the virus1.
Likewise, the Society for Acute Medicine has warned that routine services could stop for 'several months'2 as a result of the flu, and the UK's Chief Scientific Adviser Sir Patrick Vallance has suggested that flu rates could reach twice their typical seasonal level this winter3. The British Medical Journal has also launched research which found that those contracting the flu and COVID-19 at the same time were twice as likely to die, than individuals who caught either virus in isolation4.
Commenting on the launch, Dr Ben Maruthappu, CEO of Cera and healthcare policy expert, said:
"The key to protecting the NHS this winter, whilst at the same time preventing unnecessary challenges among our older community, is to reduce hospitalisations through faster detection and treatment for flu. Every time an older individual is admitted to hospital with flu, they risk catching secondary illnesses including COVID-19, and we've learnt from the pandemic that treatment at home, where possible, leads to better outcomes. By empowering our network through AI, Machine Learning and Digitalised technologies, we can support and protect our community through what promises to be a difficult winter for the health and social care sector."
Launched in November 2016, Cera is one of Europe's fastest-growing companies and has already established itself as the UK's second largest provider of home care services. The company delivers more than 45,000 in-person healthcare visits each day throughout the UK, and has grown to almost 10,000 staff delivering services such as care, nursing, repeat prescriptions and telehealth.