0
19th June 2019 10:00 am
The business case for investment in an EDMS solution is compelling, with the potential for significant improvements in operational efficiency, associated cash-releasing benefits as well as improving clinical decision making. IMMJ Systems are the provider of MediViewer™, which has been designed and built on the collective experience of their senior management team following many years in healthcare, supporting and delivering clinical systems. Having been involved at the 'sharp end' of delivering healthcare solutions involving the digitising of patient records, we have acquired extensive knowledge and understanding of the operational challenges facing NHS organisations who are beginning their paperless journey.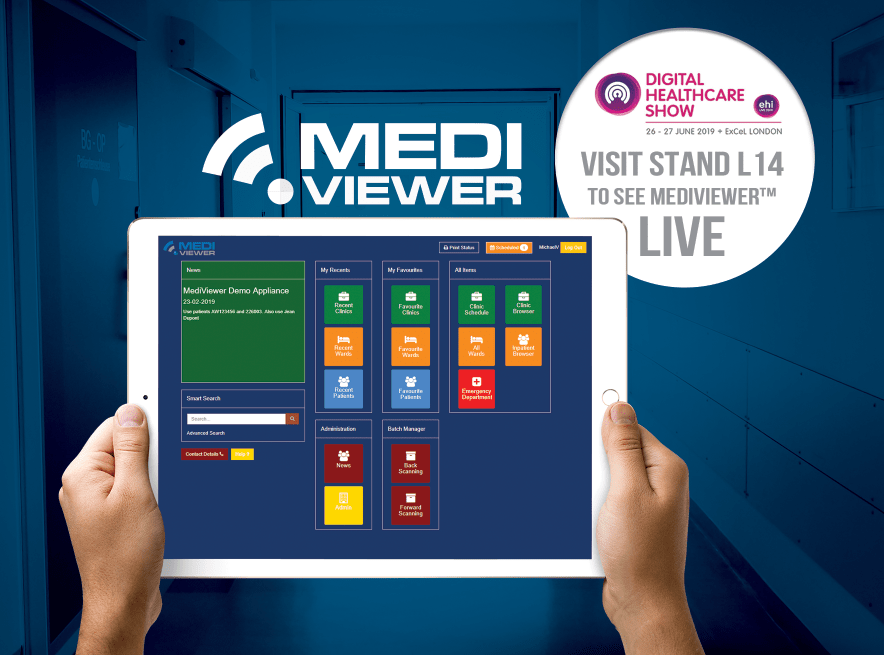 MediViewer™ enables the rapid digitisation of clinical content for use at the point of care and provides structure to patient paper records – inherently unstructured information.
MediViewer™ has been built specifically for healthcare providers and designed around the needs of healthcare professionals. MediViewer™ provides a device agnostic web-based platform for a true clinical mobile working experience. This intuitive EDRM solution provides niche functionality to support BS10008 compliance and a highly advanced document classification engine to make sense of large historic paper based medical records. It can also fully integrate with your EPR and provide a complete view of a patient's health record. MediViewer™ provides a best of breed eforms and workflow application as well as utilising a completely open product architecture and API's to support integration with other clinical applications including the MESH and the MIG to receive and export information (for example discharge summaries) into the primary care setting with ease.
IMMJ Systems provides complete end to end digital transformation, consultancy and implementation support services and operates as an agile business with the ability to adapt precisely to customer needs, allocating the resources each project requires. The IMMJ Systems delivery team is comprised of experienced NHS clinical and IT professionals who can respond quickly to customer needs and the rapid achievement of healthcare policy targets. One of the reasons IMMJ Systems deployments are so successful is the in-depth experience of the impact and challenges associated with delivering an EDMS to the NHS.
Thanks to our implementation methodology and new intuitive technology called MediViewer™, the Isle of Man is well on track to achieving its paperless digital milestone. The Isle of Man Department of Health and Social Care set a target to achieve the removal of paper records. The programme – which formed part of the Government-wide Digital Strategy – was a major commitment, building on the work already undertaken across many parts of their hospital.
"MediViewer™ is intuitively easy to use and its speed means response time between pages is almost instantaneous. Using MediViewer™ enables me to quickly surface the exact clinical information I need at the point of care and has definitely made my job much easier!" Dr Gregor Peden MBChB AMBCS, Chief Clinical Information Officer (CCIO), DHSC Digital, Isle of Man
The project enabled faster access to patient information, resulting in massive time savings and better care, a reduction in the space used to store paper notes by 100%, enabling multiple healthcare workers to view different records from almost any web-enabled device simultaneously and eliminating more than 16 million sheets of paper.
If you need help or advice on replacing or upgrading your existing EDMS solution we would be happy to advise. Take advantage of our complimentary options appraisal now by contacting us.
To arrange a demonstration or for further information please contact us on the details below:
Call: +44 (0) 203 790 7901
Email: info@immjsystems.com
Website: http://www.immjsystems.com/