0
6th August 2021 8:00 am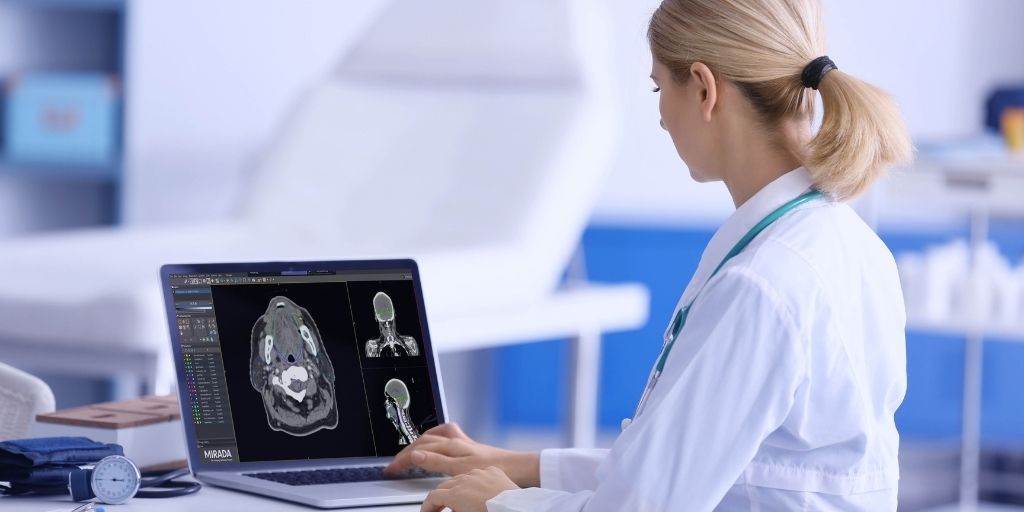 The improvements represent another step-change in the quality of AI-based Organs at Risk contouring, helping to deliver efficiencies and consistently high standards of care.
Mirada Medical today announced new updates to its ground-breaking artificial intelligence (AI) software that helps to accelerate cancer treatment planning. Mirada has an unrivalled track record in this field and was the first company to achieve regulatory clearance for clinical AI autocontouring for planning radiation treatment of cancer patients. Leveraging its own scientific insight and global in-clinic experience, Mirada has announced a suite of advancements to its WorkflowBox AI-automation platform. These improvements can deliver additional efficiency savings to radiation oncology clinics, assisting them in tackling their COVID backlog. Treatment centres will also now have enhanced abilities to prioritse the contouring of critical cases.
Enhanced AI delivers even better autocontouring quality
Organ At Risk (OAR) contouring is critical to radiation treatment planning, allowing damage to healthy tissue to be minimized, delivering the best possible outcomes for the patient. The WorkflowBox 2.6 update includes further improvements to the performance of the AI resulting in improved contour quality. This reduces the need for clinicians to manually adjust contours and so further increases time savings while helping to deliver consistently high standards of care. The updated platform will also provide new and improved support for prostate cancer treatment planning. Mirada's unique contour selection technology will allow users to integrate the new anatomical structures with those already in use enabling clinical users to select their optimal structure sets from the over 85 unique structures now available from Mirada's ever-expanding library.
Workflow prioritisation and optimization to fast-track critical work
The WorkflowBox 2.6 update will give users even greater control to schedule and prioritize contouring tasks, allowing critical work to be easily fast-tracked to the front of the queue. The latest platform updates include data routing enhancements that deliver even better flexibility and integration within the overall radiation treatment workflow.
Continuous push for innovation and improvement
Commenting on the updates, Hugh Bettesworth, CEO, Mirada Medical said: "We're committed to constant innovation and improvement and are confident that our latest Workflow Box 2.6 platform updates will deliver even better AI-based cancer treatment planning support for clinicians and their patients. The contouring updates represent yet another step-change improvement in quality, while workflow prioritization will guarantee that the most important clinical tasks come first." Bettesworth concluded: "The software updates will give treatment providers the tools and time they desperately need to tackle the rising number of cancer cases, and ultimately save lives."
About Mirada:
Mirada Medical is a leading international brand in medical imaging and AI-powered automation software. The company develops advanced technology AI-based applications that help healthcare professionals use medical images more effectively and efficiently to improve cancer care. Mirada's products are used across diagnostic radiology, molecular imaging, radiation oncology, medical oncology, tumor board, and elsewhere. The company specializes in simplifying technically complex image processing tasks, allowing clinicians to diagnose disease, assess response to treatment, and plan radiation therapy or surgical intervention more confidently. Mirada's advanced technology products are available throughout the world under its own brand, and on an OEM basis through a select number of the world's leading healthcare companies.