0
15th June 2023 10:18 am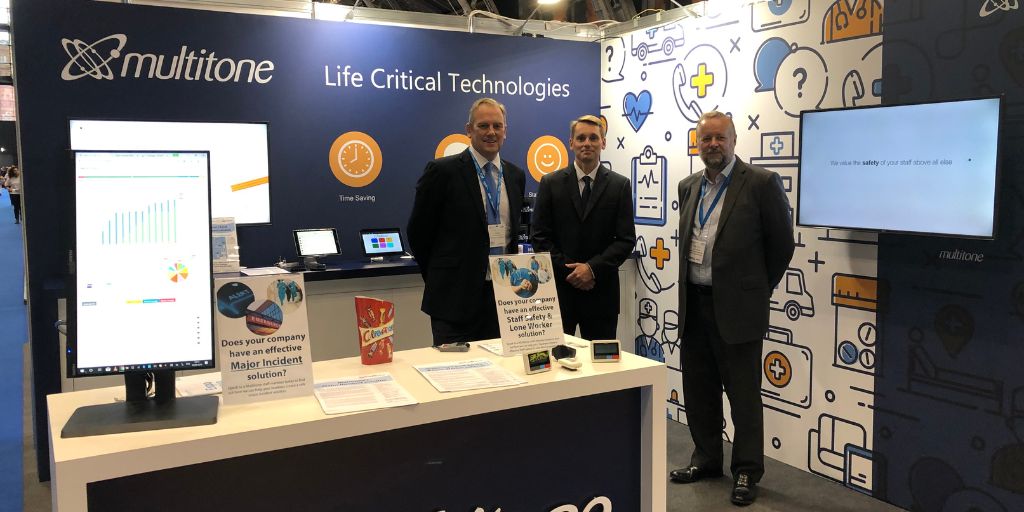 Transforming care and services through digital innovation is one of the key themes of this year's NHS ConfedExpo event on June 14 – 15. The Multitone Electronics team is attending this major two day conference and exhibition to showcase the company's integrated critical messaging platform, its new product solutions and to network with people working throughout the NHS and private health providers. In particular, at this year's Expo Multitone will demonstrate how smart technology is playing a crucial – and increasing role – to improve communications and provide enhanced patient care.
NHS 75: adaptation and transformation
Multitone's seven-decade relationship with the NHS enables the company to understand today's challenges better than most. This year is of course the Health Service's 75th anniversary; and since 1948 the NHS has continually evolved and adapted through advances in medical technology and telecommunications. Multitone has worked with NHS hospitals since the 1950s, pioneering the very first 'bleep' paging system at St Thomas' Hospital in London. This once revolutionary technology provided hospitals throughout the country with faster and improved critical communications.
Smart technology solutions for today's modern health service
In 2023, clinical and nursing staff need new digital tools and apps to facilitate easier collaboration, respond promptly to live incidents, promote staff safety and provide better patient care. The NHS and private health providers require secure and integrated workflow, asset management and communication solutions which can take advantage of the increasing opportunities offered by smart technology.
Now state-of-the-art technology such as Multitone i-Message and Multitone Appear are replacing older systems, enabling hospitals to upgrade their critical communications and build local resilience within their network operations. A recent example is the completion of a project to upgrade NHS Lanarkshire's critical communications infrastructure. The new tailored solution comprises delivery of a new version of the software and hardware, ensuring that the hospital has an even more robust system as well as facilitating 360° monitoring and anomaly detection, alerting system managers to potential problems.
Multitone at NHS ConfedExpo
Multitone will be exhibiting (stand B10) at the NHS ConfedExpo 2023 taking place at Manchester Central on 14 – 15 June 2023. The Multitone team in attendance: Rebecca Taylor, Nikoo Fullerton, Jason Humphreys, Gavin Reid and Rebecca Stevens. Further Information: please contact Peter Lomax on +44 (0) 1256 320292.