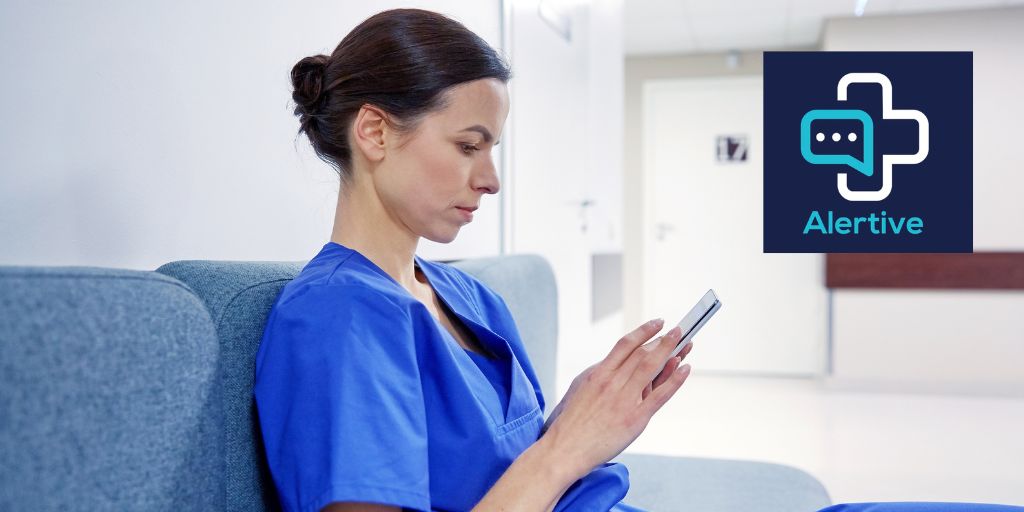 A new internal communications technology is significantly reducing the pressure on more than 6,000 NHS nurses and clinical staff at an NHS Foundation Trust in the East of England, reducing stress, improving the working environment and staff wellbeing, and supporting better outcomes for patients.
A survey of staff using the new Alertive App at the Norfolk and Norwich University Hospitals NHS Foundation Trust found that three quarters (75%) believe the App is helping them communicate more effectively than their existing Pager system.
Almost three quarters (70%) of respondents said they previously experienced stress or anxiety with colleagues taking too long to respond to a message or bleep. This was adding to a pressure where 38% of staff find their work emotionally exhausting, and 34% feel burned out.
The App enables colleagues to communicate securely with one another to ensure support is available, and information is received, in a timely manner, and in a format designed around the needs of the Trust and its users.
Providing appropriate detail where and when it is needed, and a quick way to respond, is allowing staff to better prioritise their workload, and promote greater staff wellbeing.  Staff now have the peace of mind of knowing that they can reliably seek help and advice or quickly escalate cases where they have concerns about a patient's health.
Emily Wells, Chief Nursing Information Officer at Norfolk and Norwich University Hospitals NHS Foundation Trust, says that accelerating response times, conversely, relieves that stress:
"Previously, with the use of bleeps, you'd bleep somebody, and you'd never know if they didn't respond, if they'd got that bleep or if they were busy in theatre and aren't going to come back to you. Whereas now, if the person that's being bleeped is busy in the clinic, for example, they can let the person know that and advise someone else that they can contact."
Kevin Douglas, Co-CEO of Alertive, says internal communications are known to have a direct impact on an employee's ability to do their work properly: "By eliminating commonly experienced communications issues, staff are empowered to work more efficiently and experience less frustration. In a hospital environment, a better supported workforce ultimately delivers better patient care."
He says that fewer, more targeted communications also reduce stress: "Having to send or receive  follow-up messages, often out of hours, adds to a more stressful day. Research conducted with consultants in a separate study found receiving more than the average number of messages was associated with 40% higher probability of burnout and 38% higher probability of intending to reduce clinical work time. (Ming Tai-Seale report 2019.)
"Communication is of course critical; but it needs to be appropriate, and delivered in such a way that makes it easy to respond."
Nurses and staff at the Norfolk and Norwich University Hospitals NHS Foundation Trust were asked to rate their current anxiety and stress levels based on a score between one and five. Comparisons were then drawn between Alertive users and non-users. By every measure, Alertive users are feeling better supported:
I feel completely burned out (1 reflects feeling burnt out):
Alertive users                3.81
Non users                     3.08
I feel stress in my job(1 reflects feeling stressed):
Alertive users                3.13
Non users                     2.13
The volume of messages I receive outside of working hours is excessive (1 being excessive):
Alertive users                4.00
Non users                     2.46
Communication issues within the Trust add to my frustration (1 being frustrated)
Alertive users                2.44
Non users                     1.71
Kevin says that it is rewarding seeing early customers' faith being repaid: "When Norfolk and Norwich University Hospitals NHS Foundation Trust entered into a contract with Alertive they were taking a calculated risk with a new product, but their leadership team believed in the potential of a better way for staff to collaborate in the high-pressure environment that exists in a hospital," he explains.
"We were confident that there is a better way for staff to communicate – but we needed a significant amount of feedback from our early customers to ensure that the product that we built would get adopted and realise its potential. This data shows that our collaboration with our early customers has really paid off in terms of delivering innovation that meaningfully impacts hospital staff."