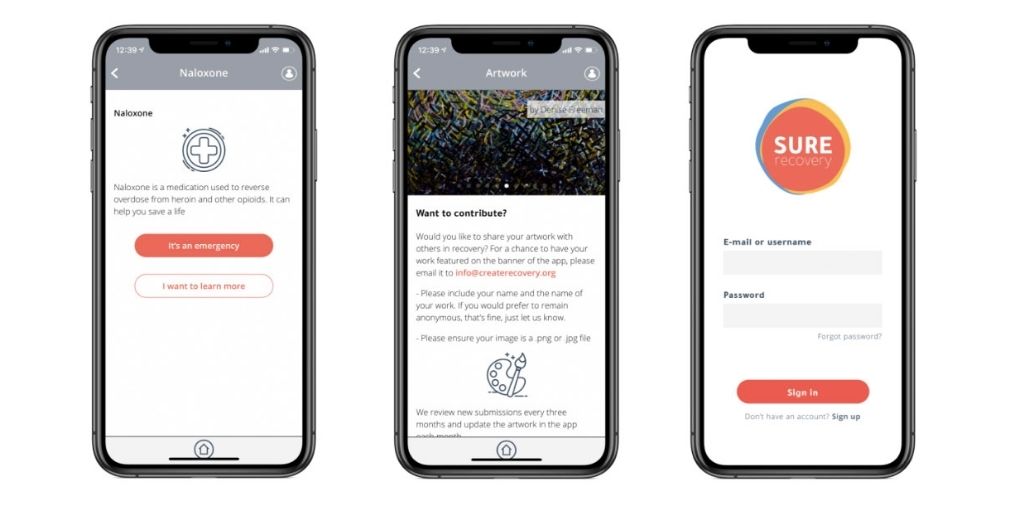 Researchers from the Addictions Department at King's College London have collaborated with people in recovery from alcohol and other drug problems and health tech specialist Mindwave Ventures to create the SURE Recovery app, an empowering self-monitoring tool which helps people with experience of addiction to evaluate how they are coping.
The app allows people to track their recovery and monitor progress across key areas of well-being and quality of life. The app will be of particular use for those who have been struggling during the lock down period, as many services and centres are temporarily shut due to the pandemic.
A key feature of the app is the ability to track all elements of recovery including drinking and drug use, self-care, relationships, material resources, and outlook on life. Individuals can track their scores over time and get personalised feedback, including information and tips each time they use the tracking feature.
The app also includes a diary where individuals can record their thoughts and feelings, things they feel happy about, or a simple note for the day, all in one safe place. Information and resources on sleep as well as how to recognise and treat an opioid overdose with naloxone are also provided.
Jo Neale, Professor of Addictions Qualitative Research at King's College London, said: "At any time, but particularly during periods of stress, such as this lockdown period, we all need to be aware of changes in our drinking or use of other substances.
"The recovery tracker in the app enables people to monitor when their drinking or drug use might be becoming a problem or, on the other hand, becoming less of a problem. There are a number of ways people can use the app. For example, they can monitor and track their own substance use in private. But they can also use the app to set goals and then share their goals, scores and graphs with someone that they trust, such as a family member or peer or drug worker.
"Some of the features in the app, like the recovery measure and the sleep measure, are designed to help people talk about what is important to them and any problems they are experiencing. Sometimes it is difficult to start these discussions, but the app can help with this".
Paul Lennon and Mel Getty, who are both in recovery and have been actively involved in the development of the app said: "There are a number of reasons why the app will be helpful for those struggling through lock down. Mainly, using the app will keep people's minds on their recovery – social connection is so important in recovery and with the government's advice on social distancing, many of us are finding it difficult to reinforce the positive message that encourages recovery and safety when dealing with substance use. The SURE app is a connection to many positive recovery messages.
"An important part of recovery is that we learn from those that have been through this before. Many of us will find this through support groups, though it can be hard to attend such groups as it can feel intimidating. We hope that the SURE app can ease people into the process, and allow them to test the water, by completing the measures and reading the guidance on what you might expect from accessing support".
Dr Victoria Betton, CInO at Mindwave Ventures said: "Looking after your mental and physical health during these uncertain times is so important, especially if you have previously used substances or are in treatment or recovery. With many people unable to access their normal services, it is important that digital alternatives are made available to help people through their recovery journey. We are thrilled to partner with the team at King's College London to create such a useful and supportive platform".
The Sure Recovery app is free and available to download on iOS and Android.
If you feel you might need professional support with your drinking, please contact your doctor or local drug or alcohol treatment provider.