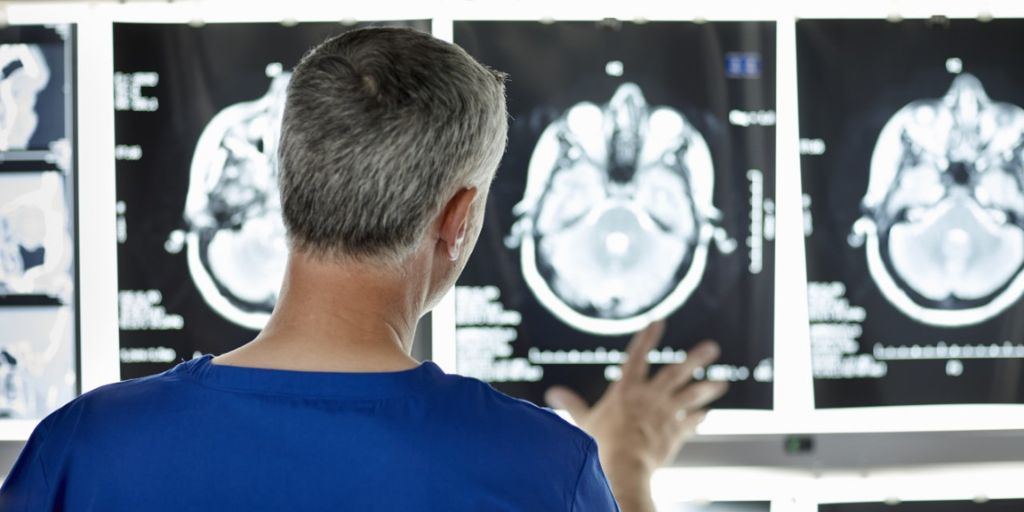 An innovative new digital training tool, which aims to improve the oncologist's ability to identify tumour for radiotherapy planning is set to be rolled out by the Royal College of Radiologists (RCR).   More accurate tumour delineation will help to both reduce the risk of unnecessary dose being given to normal tissues around the tumour and the risk of missing any areas of disease that need to be covered.
ARENA (Assurances in Radiotherapy through Education and Assessment) is a collaboration between Velindre University NHS Trust, Swansea University Health Board, Cardiff University and the RCR, funded by Velindre's Advancing Radiotherapy Fund and the Moondance Cancer Foundation.
It allows trainee oncologists to improve their skills in outlining tumours.  It will standardise high-quality training across the UK, allowing clinical oncology trainees to gain experience and get feedback on their performance from wherever they are, making first-class training widely accessible.
Variation in the quality and quantity of training in tumour delineation for clinical oncology trainees in the UK had previously been highlighted as a concern in a recent nationwide survey, conducted by the ARENA team.
The training will include specific modules on how to identify and delineate tumours for radiotherapy planning and then participate in a series of interactive cases where trainees can compare their own delineation attempt with that of a group of experts.
ARENA has been devised by clinical oncologists in at the South West Wales Cancer Centre, Swansea and Velindre Cancer Centre, Cardiff. It's due to launch on a national level in June, hosted by the RCR's e-learning platform.
Professor Tom Crosby, Consultant Oncologist and Clinical Lead of Velindre's Advancing Radiotherapy Fund said:
"The Advancing Radiotherapy Fund was created to fund projects that improve the way radiotherapy is delivered in Wales and across the UK. The clinical delineation of tumour and clinical target volumes in known to be the weakest link in the radiotherapy planning process. The ARENA project will address the current variation in the quality of delineation training for clinical oncology trainees by providing detailed instructions for outlining a range of cancer sites.
"We are delighted to be working with the RCR to offer this unique training package which we fully expect to improve outlining standards and lead to more effective treatment delivery and a lower chance of adverse side effects in patients."
RCR President Dr Jeanette Dickson, said:
"We are thrilled to be working in partnership with the Velindre University NHS Trust to launch ARENA nationwide. The RCR is committed to delivering high-quality training and ARENA is a leading example of how this can be done.
"Innovative advances in training such as ARENA help our doctors of the future treat tumours with a higher degree of precision, aiding both survival rates and post-treatment quality of life for patients."