0
27th April 2022 2:36 pm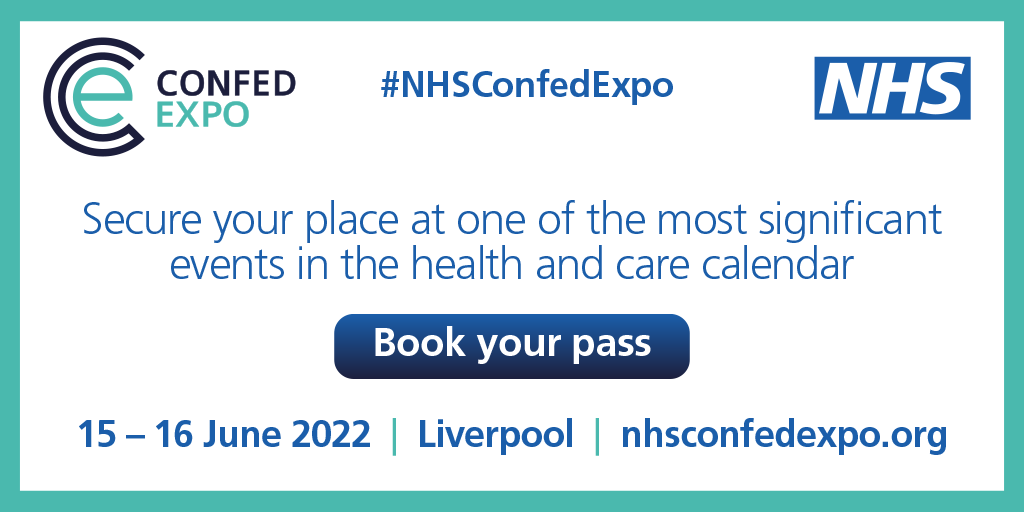 Delivered in partnership by NHS Confederation, NHS England and NHS Improvement, NHS ConfedExpo will bring together leaders from across the health and care profession for a two-day conference and exhibition on 15 and 16 June 2022 at ACC Liverpool. The landmark event will explore the five key themes of People, Quality & clinical improvement, Health Inequalities, Collaboration & partnerships and Driving recovery. Be inspired by our expert speakers, choose relevant sessions that matter to you from over 140 hours of engaging content, and meet experts and explore new products on our exhibition floor.
You can book your pass to attend, NHS employees can claim free tickets to the event.
Speakers include
Amanda Pritchard, Matthew Taylor, Lord Victor Adebowale CBE, Dr Karen DeSalvo, Professor Sir Michael Marmot, Dame Jackie Daniel, Anita Charlesworth, David Olusoga, Danny Mortimer, and many more.
Agenda highlights
As part of the 'Driving recovery' theme, explore the power of data and deep dive into sessions that respond to growing waiting lists and the Government's levelling up pledge, with a focus on key issues such as dementia diagnosis and inclusive recovery. Find out more about Community Diagnostic Centres and discover how we can support urgent and emergency care to manage demand. We'll talk about the role of genomics in transforming patient care and supporting NHS recovery to ensure it continues to operate at the limits of science. We will also look at the impact of COVID-19 and lockdowns on the nation's mental health and ask ourselves how systems will ensure they can keep pace.
With Integrated Care Systems becoming embedded across the system we'll focus on 'Collaboration & partnerships', looking at how we can put the patient first at all times. We'll explore how moving care closer to home could have positive impacts on both the patient and system, how to harness the power of the voluntary and community sector, and how we can implement ambitious social care reform. We'll deep dive into the NHS Confederation's Health on the High Street report and assess good practice in developing and nurturing beneficial partnerships with internal and external stakeholders. We will introduce you to the new NHS Innovation Service, explore virtual care and hear case studies of working effectively with provider collaboratives.
Health inequalities are prevalent across the world. At NHS ConfedExpo, a range of workshop sessions will explore the impact on sexual and reproductive health, digital inclusion, mental health provision and more. We'll discuss the levelling up proposal by the government and look at operational action we can take to address health inequalities. Engaging with the social, environmental and economic conditions within society, we will explore how care is going into the community and how houses are being adapted to meet individual needs, and hear about the role of communications in tackling health inequalities. During the event, we will share good practice and equip you with practical takeaways to support you in all stages of planning the care pathway and beyond.
Quality and clinical improvement will be at the top of the agenda for many at NHS ConfedExpo. Explore how Integrated Care Systems are having a real impact at system and local levels, learn how digital maturity can help us deliver a net-zero NHS and discover how pioneering transformation is taking place across the health and care system. Hear good practice examples and real-life case studies as we learn from peers and stakeholders from across the system. Explore new advances in quality improvement, uses for AI, and gain an understanding into how redesigning clinical pathways can improve safety and productivity.
From the ambition to making the NHS the best employer, to empowering diverse teams, our People theme at NHS ConfedExpo will cover diversity, inclusion, protecting the mental health of our colleagues and more. We'll look at inclusive leadership, self-managed teams and driving recruitment to attract and retain talent. Sessions will also explore opening our doors to broadcasters to gain empathy and understanding from service users, digital solutions and developing our boards.
We will also focus on the core of mental health services as demand on the system increases as a direct result of the pandemic. At NHS ConfedExpo, we'll deep dive into the nation's mental health and discuss how to best support individual needs. We'll look to shape the future vision of mental health, and explore how we can better support children and young people. Workshop sessions will also include how we can embed mental health practitioners into primary care and share ideas and actions on how we can reduce inequality and increase access to mental health support.
NHS ConfedExpo is on 15 – 16 June 2022 at ACC Liverpool. Passes are available online, along with conference rates and hotel information. You can now view the core agenda, explore the exhibition interactive floorplan and see who will be speaking at the event.
Event partners for NHS ConfedExpo: Google Health and Palantir Technologies, UK.
Website: nhsconfedexpo.org
Email: confedexpo@nhsconfed.org
Twitter: @ConfedExpo