0
22nd August 2023 10:00 am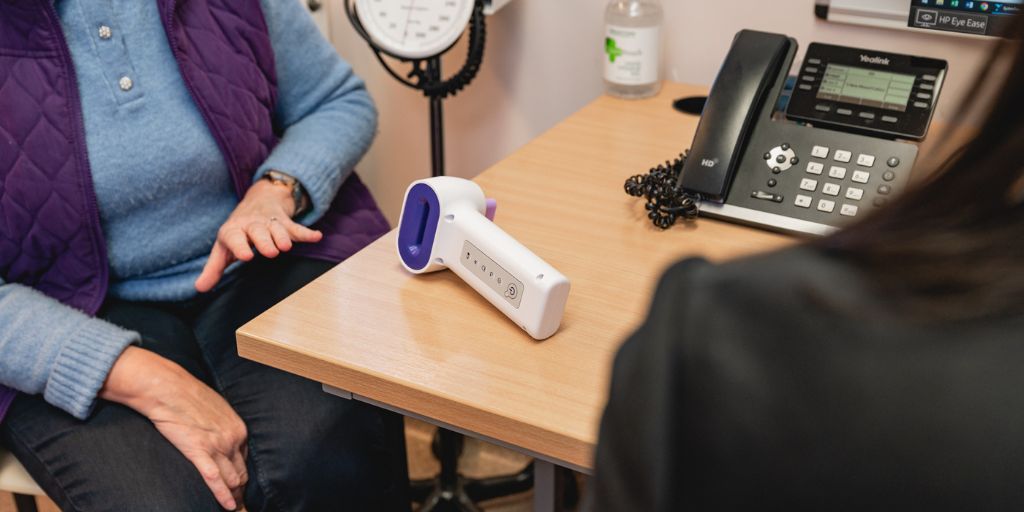 Healthtech company TidalSense launches new AI technology for assessing COPD using the N-Tidal device: a novel high resolution carbon dioxide sensor
Patients across Oxford will be the first to benefit as part of a new pilot which will see clinicians use the medical device to detect changes in patients' lung function – a step towards finding a faster, more accurate diagnosis of COPD
The N-Tidal device will initially test up to 600 patients with suspected or confirmed COPD – from breath to result takes under five minutes
COPD affects over 1.2 million people in the UK with patients currently waiting months, if not years, for a diagnosis, making early intervention difficult
People at risk of severe respiratory illnesses will have access to the newest and fastest technology currently available to assess them for Chronic Obstructive Pulmonary Disease (COPD), an incurable medical condition affecting over 1.2 million people in the UK.
This follows the nationwide launch of the regulated AI technology for COPD, which uses the  N-Tidal device. The technology combines N-Tidal's high resolution CO2 sensor data, with an artificial intelligence platform which measures changes in lung function that might point towards a diagnosis of COPD. The ground-breaking medical tool can provide an indication of a patient's risk of COPD within minutes.
GPs, practice nurses and pharmacists in Oxford will be the first to pilot the technology, as part of a collaboration with Healthier Oxford City Network, a primary care network with four practices. Over the next 12 weeks, they will use the device to assess up to 600 patients for possible and confirmed COPD. Where possible, results will be compared with spirometry, the existing diagnostic test, which is currently in short supply across the UK.
The N-Tidal device, which has been developed by health tech company TidalSense, comfortably assesses patients through one minute of normal, relaxed breathing. It takes under five minutes from a patient breathing into the device to a probability of COPD being available to a clinician (in comparison to spirometry which takes up to 30 minutes per appointment). Previous usability studies show that 98% of patients found the N-Tidal device very easy to use.
Over the next 6-9 months, in collaboration with researchers, including academics from the Nuffield Department of Primary Care Health Sciences at the University of Oxford, this AI technology will move towards becoming an automated diagnostic test, looking to replace spirometry in some NHS diagnostic clinical pathways. Clinical studies have already demonstrated that the technology can provide over 91 per cent accuracy in diagnosing severe COPD from a single breath recording.
Dr Ameera Patel, CEO of TidalSense commented: "The way patients are assessed for respiratory diseases needs reform. Clinical pathways continue to rely on spirometry, a test dating back to the 1800s, which is uncomfortable for the patient and often produces ambiguous results, meaning high misdiagnosis rates. Even worse, many patients are forced to wait months, if not years, for a diagnosis because delivery of spirometry in primary care is fraught with operational and logistical challenges.
"We desperately need to arm primary care doctors with accurate, easy-to-perform tests that enable the early and accurate diagnosis of patients, at the point at which they present with symptoms. In doing so, we can reduce healthcare inefficiencies and costs, reduce delays to diagnosis, reduce hospitalisation costs, and improve the quality of life for patients. As someone who waited 10 years to be diagnosed with severe asthma, I know too well how it feels to struggle to breathe and suffer attacks.
"We look forward to seeing the outcomes of the pilot with Healthier Oxford City Network who will be at the forefront of pioneering the test nationally."
Dr Helen Ashdown, GP Clinical Lecturer, Nuffield Dept Primary Care Health Sciences, University of Oxford, added: "The launch of the COPD AI technology and N-Tidal device across Oxford presents an exciting opportunity to change the way the diagnostic pathway for COPD operates. This potentially groundbreaking medical device may be able to provide clinicians with a faster and more accurate assessment of patients' lung function.
"Early intervention is crucial for managing COPD effectively and, with the N-Tidal device, we have the potential to transform the way we diagnose and manage this chronic respiratory condition, leading to improved patient outcomes and better care."
COPD is a chronic lung condition which is the third leading cause of death in England. It causes damage to the air sacs in the lungs and long-term inflammation of the airways. There is no cure for COPD and it worsens over time, especially without early diagnosis and treatment which can help patients keep the condition under control.