0
29th April 2019 4:00 pm
Demand for CAMHS across the UK has risen by 30 per cent in the last year.  Oxford Health NHS Foundation Trust, one of the new NHS Trailblazer sites, is tackling this problem head-on, and aims to reduce waiting times for CAMHS Getting Help and Getting More Help to four weeks by 2021.
As part of the drive to beat waiting times, Oxford Health NHS Foundation Trust is partnering with online healthcare company, Healios.
The new partnership will offer 600 Oxfordshire children and young people who present with symptoms of low mood, anxiety and stress, the choice to access mental health care via a new online platform created by Healios.  The web-based service provides eye-to-eye access to a trained clinician via video conferencing software and comes with a host of advantages, including:
Quicker access to care that fits around the lifestyle of children and young people
More convenience, as children and young people can login from home, from work or anywhere with an internet connection
Interactive technology with features that aid therapy and make sessions fun and engaging
Family-centric, with family members encouraged to login to the sessions from any location to be part of therapy
More choice – children and young people choose between traditional therapy or online, allowing clinicians to treat more children and young people in the comfort of their own homes, reduce missed appointments and reduce waiting times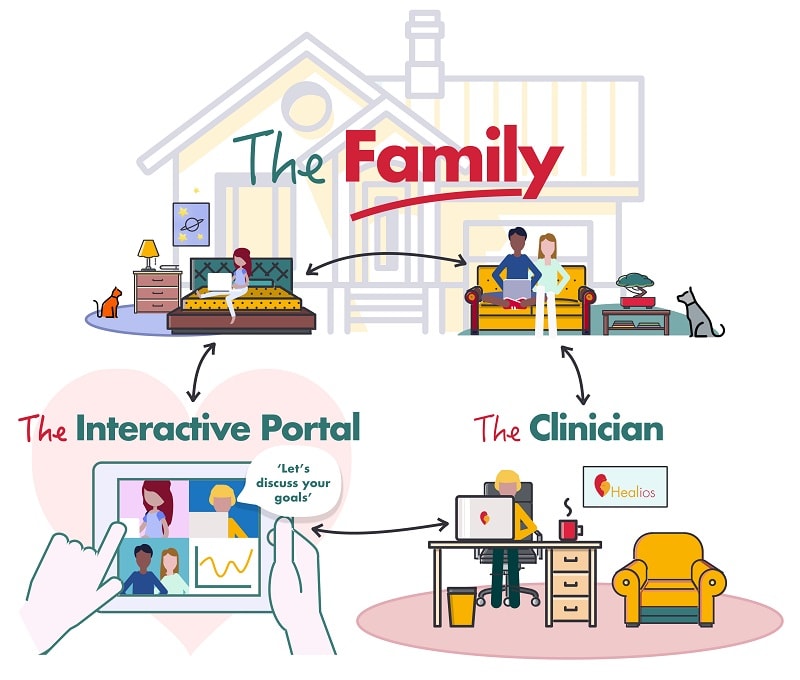 The partnership with Healios, forms part of the new integrated care pathways being created in Oxfordshire, and means children, young people and their families can access information at a place and time convenient to them and without the need to travel.
Oxford Health NHS Foundation Trust is also recruiting an additional 25 members of staff in Oxfordshire to meet demand and support emotional well-being services in schools.  New staff and the partnership with Healios are just two measures to enhance non-specialist CAMHS and are part of the blueprint that other NHS Trusts and CCGs will be looking at closely.  NHS England judged the plan "exemplary" for developing children's services to meet the needs of local families.
Donan Kelly, joint service director at the trust, said: "Nationally, demand for child and adolescent mental health services is rising, and that is reflected in Oxfordshire where we've seen a 69 per cent increase in referrals in four years. We're really pleased more families and young people are seeking help as mental health stigma has reduced. We are increasing the capacity of our core CAMHS services to meet this rising demand, with the aim patients and families will be seen more quickly and waiting times will reduce.
An extra 25 staff within the service, plus additional clinical support for patients via Healios, means we help more children and young people at any one time, which is really exciting.  The online service from Healios, offers families greater access and choice for when, where and how they receive their assessment or interventions.
Mental health care isn't just about medication and counselling during an appointment at a hospital in office hours. It's about offering children, young people and families a range of support, care and treatment at times that meet their needs, and that includes online, which is natural to our tech-savvy patients and their families."
Mike Catton, director at Healios said, "This is great news for children, young people and their families in Oxford who are now able to have an important choice in how they want access care. It is testament to the collaboration from everyone involved in designing a new model of care that fits more closely around the lifestyle of young people.  I'm really pleased to start this exciting partnership with Oxford CAMHS and look forward to beating the four week target!"