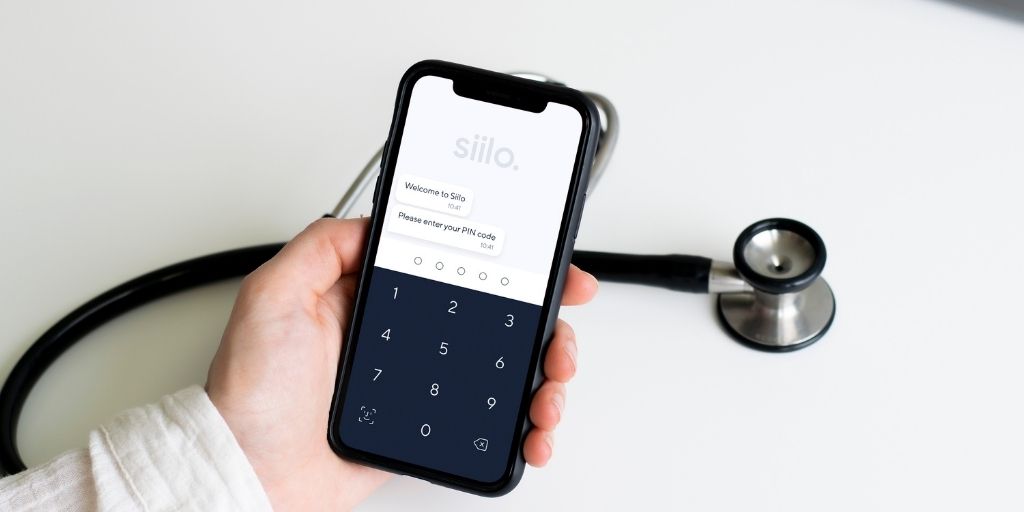 UK take-up of specialist healthcare messaging app Siilo grew by 33% in past 12 months
272% increase in messages sent since start of pandemic in March 2020
Importance of data security and compliance highlighted by recent spate of high profile hacking cases across the world
The global pandemic has provided a catalyst for the rapid adoption of specialist digital communications tool, Siilo, among healthcare professionals in the UK, according to statistics revealed today by the Dutch company. In the last 12 months, UK hospitals saw a 99% growth in registrations for Europe's largest medical messenger service as the need for secure information sharing and faster decision-making surged in response to Covid-19.
The unique situation caused by a novel pandemic created huge demand for healthcare professionals – from all disciplines – to collaborate on treatments and learn best practices from each other. Siilo was quickly accepted as a valuable tool for enabling medical practitioners to bridge the information gap because, in addition to adhering to the NHS code of governance, it also complies with the EU's General Data Protection Regulation (GDPR) for healthcare compliance – unlike general messaging apps.
Joost Bruggeman, CEO and co-founder of Siilo, believes the trajectory of growth for digital tools which support communication and collaboration will continue beyond the pandemic now that eyes have been opened to their potential."When Covid-19 emerged, there were so many unknowns and healthcare professionals needed a secure and agile communication tool. We were pleased to be able to step in and support them at such a critical time, and the resulting 272% increase in messages sent by users since the start of the pandemic paints a clear picture of the impact Siilo has had." 
Created specifically for the healthcare industry, Siilo is a messaging application that facilitates the sharing of medical information about individual patients without compromising sensitive data, which remains secure in the platform.
Siilo Connect, the company's offering for hospitals, associations, and other healthcare facilities, has been adopted for secure departmental collaboration by leading institutions such East Lancashire, Royal Bath and Midlands' NHS Trusts, in addition to St George's Hospital and The Cromwell Hospital, both in London.
Bruggeman adds: "We believe there is a massive opportunity to drive further collaboration within the healthcare sector. We started by connecting professionals treating individual patients, but during the acute phase of the pandemic, we've also been able to play a critical role in connecting different levels of healthcare to facilitate faster decision-making and information-sharing. Frontline care workers, public health officials, and everyone in between are able to practice medicine together. We're only just starting to uncover the different ways technology can facilitate collaboration and simplify workflows."
While messenger apps are not new, the ways in which they have been used since the start of the pandemic, in particular, have highlighted the importance of data protection and patient confidentiality. A recent survey by the European Heart Rhythm Association (EHRA) revealed that 88.3% of its members regularly use instant messaging apps for sharing clinical information with medical colleagues, yet 29.3% of respondents admitted they were unaware of EU data protection regulations when sharing clinical data. A further 46.7% of respondents indicated there are no regulations in place at their institution regarding the sharing clinical data via instant messaging.
Unique to Siilo is how it provides the security standards and needs specific to the industry:
All data is encrypted end-to-end and is not stored on servers.
Photos and personal data can be made unrecognizable with a special editing tool and stored in a separate app container so that they are not accidentally synchronized with cloud services.
Access to a fully verified medical directory is PIN-code protected.
Darren Lui, Consultant Orthopaedic Surgeon at the trauma centre at St George's University Hospitals' NHS Foundation Trust, recognised the urgent need for a flexible and iterative messaging tool in the early days of the pandemic.
"Maintaining open and up-to-date lines of communication is crucial with hospitals dealing with a growing number of patients and particularly when dealing with major incidents and through times of crisis such as Covid19. While, as medical professionals, we've all seen the benefits of common, high-profile, messaging apps in these situations, they, of course, come with the major caveat of confidentiality. Even at this time of crisis, in highly transient circumstances with constantly changing challenges and needs, we need to ensure we are communicating as safely and securely as possible — we owe it to our patients.
"As an Orthopaedic Surgeon at a level 1 trauma centre, we treat a large number of patients and communication is essential to ensure everything runs smoothly. Siilo has really helped us to communicate safely, effectively, and efficiently to discuss and share sensitive information and pictures while remaining compliant. For example, we take a lot of photographs and knowing that they are safe and secure is vital. It's also so liberating to discuss patient cases in confidence and in a streamlined manner with colleagues across multiple organisations, departments and disciplines. Instead of having to say 'that guy over there with the broken leg'—I can instead say 'John Smith, whose date of birth is X, Y and Z'. There is no confusion because I can use real names and I can examine photographs that show surgical procedures without any distortion. Siilo offers a solution that delivers the balance between convenience, practicality, and compliance and helps ensure patients are provided with the best possible care, delivered in the most effective and efficient manner."
The Siilo Messenger app is free for individuals and teams to coordinate patient care, expand their professional network, and significantly reduce time-to-decision by exchanging best practices. Siilo also offers services for hospitals, care organisations, and medical associations to facilitate staff-wide collaboration on patient cases, discuss internal policies, and consult with external specialists, all while maintaining organisational compliance.