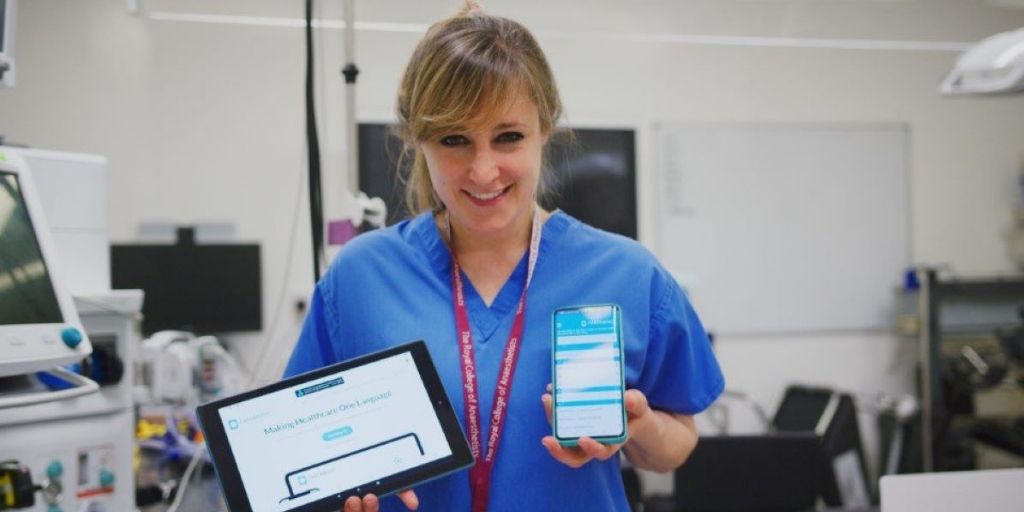 A group of midwives who are pioneering antenatal classes to help non-English-speaking pregnant women and other pregnant people through pregnancy and birth have adopted an award-winning mobile- and web-based healthcare communications app to help overcome language barriers.
The midwives from University Hospitals Sussex NHS Foundation Trust are the first in the south of England, and among only a handful in the UK, to offer Alternative Language Antenatal Classes (ALAC) to support pregnant women and other pregnant people for whom English is not their first language and/or they require interpreter support.
Pregnant women and other pregnant people attending the classes are encouraged to download the CardMedic app, which offers online flashcards to guide patients through common clinical interactions and is the first in the UK to support maternity in this way.
They can then use the app for subsequent scans and routine appointments, as well as in the hospital during labour and birth, or if they require emergency antenatal monitoring and care.
"A typical scenario is where a pregnant woman or their partner may call triage at 3am because their waters have broken," explains Maggie Myatt, Race Equity Lead and Senior Midwife at University Hospitals Sussex NHS Foundation Trust, who co-designed the ALAC programmes.
When that person arrives at the maternity assessment unit or labour ward, they can use the CardMedic app on their phone or iPad to discuss clinical options immediately and directly, rather than relying on a child or family member to translate.
"While the midwife is calling an interpreter, the [patient] can use CardMedic on their phone or iPad to start communicating straight away. That helps with clinical safety and healthcare efficiency, as well as the quality of patient experience, because we don't have to wait to begin their care," Maggie explains.
The ALAC classes are provided at local children's centres and at temporary government-assisted accommodation for refugee and asylum seeker families, in conjunction with an interpreter. The first four-hour class provides important information about labour and birth in hospital, including the different stages of labour, what's normal and abnormal, available pain relief, and when to call the hospital. A second class covers tips for breastfeeding and care of a newborn in the first few weeks after birth.
"It's a terrible thought that women might be excluded from antenatal education due to speaking a different language, and then they might not know what's normal, or not, during labour," says Peggy Osborne, a community midwife working at the Trust, who set up the classes with Maggie. "Face-to-face classes with four or five women not only provide crucial information, but also allow them to talk to each other."
The first ALAC class was held in October 2021 and Peggy and Maggie now hope to offer classes in a different language, each month.
Patients who have been trained in the CardMedic app can use it in the maternity assessment and delivery suites, as well as during routine scan appointments. According to Maggie, she's found it especially valuable in the transition between maternity assessment and delivery – when an interpreter has not yet arrived. "If an emergency interpreter can't arrive for a while, but procedures need to take place with consent from that individual, CardMedic works very well," she says.
She adds, "From a midwifery perspective. It's an incredibly innovative and useful communication tool. Crucially, it builds bridges of communication and enables human contact, which is essential in a service as intimate as obstetrics and maternity."
The CardMedic app uses flashcards to replicate conversations on a wide range of healthcare topics, ranging from obstetrics and maternity to end-of-life care and emergency situations. Staff and patients simply select a topic and choose from nearly 20 language options. They can use questions and explanations developed by clinical professionals or can add free text.
The content can be flexed to overcome different communication barriers, by converting it to different languages, sign language videos, easy read, or read-aloud mode, or using the integrated speech-to-text translation tool.