0
17th February 2022 10:00 am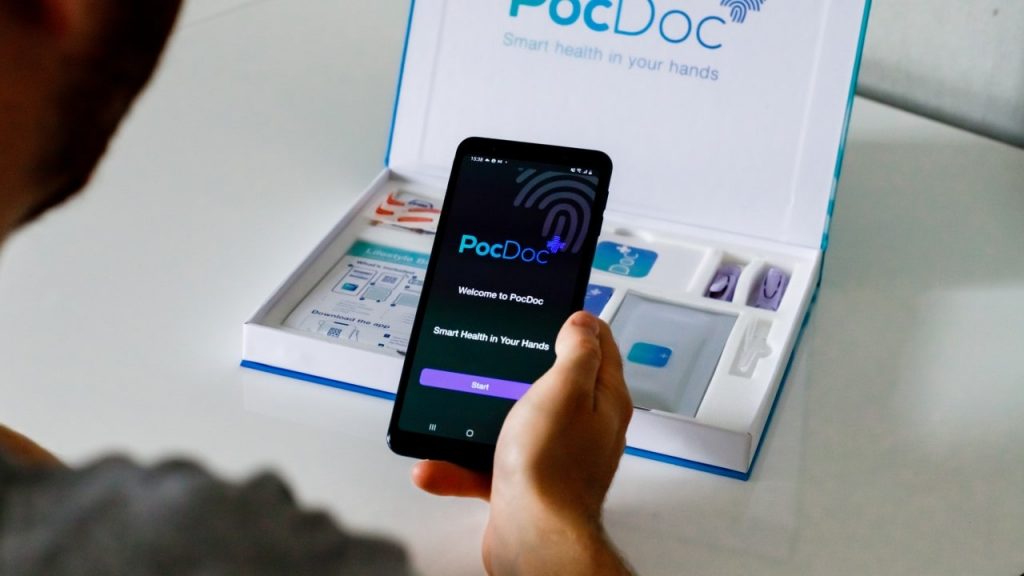 PocDoc, the digital health platform and leading personal diagnostics provider, today announces the launch of a world-first smartphone-based test for cardiovascular disease.
The PocDoc tests are on track to launch in the Spring and will initially be available to healthcare distributors and businesses such as private healthcare providers, pharmacies, care workers and NHS providers, with a wider public roll out planned for later in 2022 that will enable people to test themselves at home.
The PocDoc test will cover the full five marker lipid panel that has been established as the gold standard for cardiovascular assessment. In only six minutes, someone will get the same markers tested using just a smartphone anytime, anywhere, instead of waiting days or weeks for the same result through a standard lab test.
According to The World Health Organisation, cardiovascular diseases (CVDs) are the leading cause of death globally, claiming an estimated 17.9 million lives each year.
Cardiovascular disease is a major issue for health and social care in the UK, placing a considerable financial burden on the NHS and wider society. CVD-related healthcare costs alone in England amount to an estimated £7.4 billion per year, while annual costs to the wider economy are estimated at £15.8 billion*. Identifying those at highest risk of CVDs early on and ensuring they receive appropriate treatment can prevent many cases and reduce the strain on health services.
Currently finishing its NHS research trials with an aim to launching this Spring, this new, world-first personal diagnostic technology for cardiovascular disease will aid early detection, allowing anyone with a smartphone or tablet to take an accurate blood test from wherever they are, with results available via the PocDoc app.
Testing with PocDoc will be a five-step process that involves:
Downloading the PocDoc app and filling out a health questionnaire
Pricking your finger and dropping your sample onto the PocDoc lateral flow test
Letting the test develop for six minutes
Taking a photo of your test using your phone and the PocDoc app
Receiving results immediately via the app alongside a personalised health assessment
The idea for PocDoc was born after its founders, Kiran and Steve Roest, recognised how difficult it can be for people to get a blood test through traditional methods, which has only become harder due to the pandemic. The vision of the company is to allow anyone with a smartphone to give themselves a blood test for a range of major diseases and get results, a health assessment and guidance all within minutes, anytime, anywhere.
PocDoc estimates its technology could save the NHS millions per year from reduced staff costs, administrative savings, reduced pathology costs and improved health outcomes just for cardiovascular disease. The start-up is in discussions with numerous local NHS and pharmacy groups about piloting PocDoc tests in the coming months to support the NHS in clearing the backlog of patients needing health screening for major diseases.
PocDoc CEO & Co-Founder, Steve Roest, says: "Compounded by the backlogs caused by COVID, the lack of access to blood tests for regular health screening is creating a ticking timebomb in public health. 
Cardiovascular disease is the biggest killer in the world – but unlike cancer, it is largely preventable. We believe that the key to fighting back is to increase access to testing, as early detection and ongoing monitoring improves patient outcomes.  
 Personal diagnostics can free up desperately needed clinical time for the NHS while also helping people to detect potential health issues earlier for a fraction of the price of lab testing, helping to avoid long and costly treatment down the line and improve health outcomes across the board." 
 Dr Neil Paul, Clinical Director of NHS Primary Care Network (Cheshire), says: "I've been long convinced that digital blood testing has the potential to dramatically change the diagnosis and management of major diseases such as Cardiovascular disease and Type 2 diabetes. The PocDoc system has real promise in filling this role across primary care. Myself and the team in our network of GP surgeries are extremely excited to be supporting the team in rolling this revolutionary piece of technology out later this year." 
PocDoc became a pioneer in HealthTech in 2020 by launching the first app-based Covid 19 screening service in the UK, including being the first company to trial lateral flow testing for departing international passengers via a collaboration with Edinburgh Airport. Backed by the NHS Digital Accelerator as 'HealthTech set to transform the NHS,' it has since gone on to secure impressive partnerships with a number of major global partners including PATH, NHS Digital and the Department of Health and Social Care.
The PocDoc platform combines ground-breaking digital technology and a proprietary lateral flow system to allow for precise colour measurement to determine the quantitative concentration of key blood-based biomarkers associated with major global diseases. PocDoc has been working with Professor Graham Finlayson and the world-leading Colour Lab at the University of East Anglia (UEA) to advance its technology further.
Professor Graham Finlayson, Head of the Colour Lab at University of East Anglia and advisor to PocDoc says: "The Colour and Imaging Lab at the University of East Anglia is delighted to be working with PocDoc. Together, we are developing cutting edge algorithms that will transform a smart phone into an accurate colour measurement device to address major global health issues. PocDoc has huge potential to deliver significant real-world benefits and I am very excited about our collaboration." 
 The start-up has recently closed its seed round, raising a successful $3.2m from two top tier VCs, Forward Partners and MMC as well as notable angels including the Founder of Ada Health and founding CEO of DoctorCareAnywhere.
PocDoc's tech platform unlocks the ability to quickly and easily add different tests to the app.
Starting with cardiovascular disease in the Spring, PocDoc's ambitious roadmap will see it releasing tests that tackle Type 2 diabetes, Female Hormone imbalance, kidney and liver diseases and more in the near future.