0
12th February 2021 3:00 pm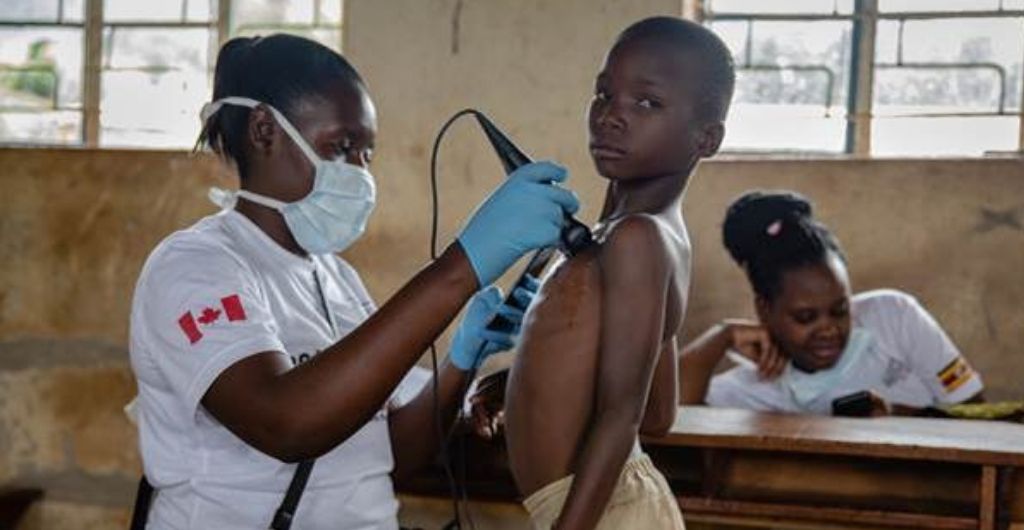 Two-thirds of the world's population, approximately 4.7 billion people, are unable to access medical imaging.
Without reliable imaging, accurately diagnosing numerous medical conditions becomes challenging or worse life-threatening. This was already the reality in many low-resource settings around the world, however the COVID-19 pandemic has shown how the provision of healthcare can be easily disrupted, even in the most developed nations.
Despite the challenges faced in healthcare today, new innovations and technologies are offering solutions which can help healthcare professionals diagnose patients, potentially helping them to get to treatment more quickly. Point-of-care ultrasound (POCUS) is one such example enabling medical imaging to be performed away from hospital without the need for cumbersome equipment.
Today POCUS technology is being used in many different settings from GPs using it as part of routine examinations, to hospital emergency departments in the fight against COVID-19, and charities and NGOs in remote and rural settings.
Through its Global Health Program, Butterfly Network – creators of the Butterfly iQ, the world's first handheld, single-probe, whole-body ultrasound system – partners with NGOs and charities that provide vital healthcare resources and supports them to bring ultrasound imaging to communities most in need.
POCUS is making medical imaging possible in low resource settings around the world, from countries as widespread as Syria, Yemen, Mexico, and Nepal. Global Response Management is one example of an international medical NGO deploying POCUS far and wide within emergency care. This includes in the Matamoros refugee camp on the US-Mexico border where their team is the only source of medical care and in countries with hostile environments where travelling a long way for scanning can be treacherous. The portability and simplicity afforded by POCUS devices allows imaging to be performed in challenging environments, for example charging the device from solar panels in regions with limited power supply.
At the Matamoros refugee camp, the Butterfly iQ has been crucial to responding to the critical health needs of the 750 camps residents. In one instance, a boy with appendicitis who was initially denied treatment was scanned with a Butterfly iQ, showing a burst appendix, and sent for treatment in the United States.
In Kenya, Bridge to Health is working with medical professionals to provide early diagnosis through medical imaging for people in remote villages. Bridge to Health educates local clinicians on medical imaging and conditions where they may be unaware it plays a role, such as in paediatric pneumonia or maternal health. Butterfly has supported Bridge to Health to train clinicians to not only use POCUS to assess the severity of COVID-19 patients, but also identify other conditions such as cardiac issues.
The NYAGI project in Haiti is supported by the Global Health Program and another example of how ultrasound imaging can save lives. They teach healthcare workers in resource-poor areas how to diagnose life-threatening health conditions through accelerated, low-cost ultrasound skills training. POCUS is being used extensively, as a triage tool in emergency situations, to assess malnourished children in hospital paediatric units, and to support limited MRI and CT scanning resources of the hospital radiology department – meaning healthcare professionals in Haiti can reach more patients than ever before. NYAGI also has teams in Nepal using POCUS in remote mountain areas.
"Through our Global Health Program, we support organisations across the world who are using the Butterfly iQ in low resource settings to create sustainable healthcare. POCUS is bringing medical imaging to remote communities often for the very first time, truly making medical imaging accessible to all" said Jeremy Hill, General Manager UK & Ireland, Butterfly Network.
Butterfly Network has recently launched Butterfly iQ+ which offers whole-body imaging via a smartphone-connected handheld probe and a secure, cloud-based server is the company's next-generation product. It uses are broad; it can be used by primary care doctors to scan organs such as the bladder, or by nurses to guide needle-based procedures, or by cardiologists to look deep into the heart. The upgraded capabilities help medical professionals perform ultrasound scans in even the most remote or hostile environments.
To find out more about Butterfly Network and its Global Health Program, please visit: https://www.butterflynetwork.com/our-mission