0
21st August 2023 10:00 am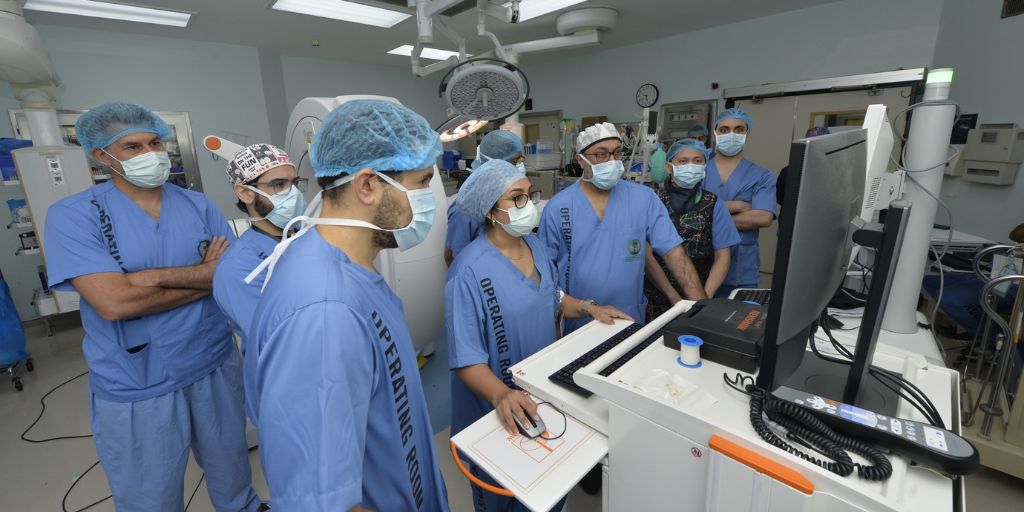 King Faisal Specialist Hospital and Research Centre (KFSH&RC) has achieved a remarkable milestone by successfully employing advanced robotic technology to implant electrodes into the brain of a patient with refractory epilepsy, unresponsive to conventional treatments. This groundbreaking procedure marks the Middle East's inaugural use of robotic assistance in identifying epilepsy foci.
The patient, who had endured unyielding epilepsy for years, underwent a transformative surgical intervention. A cutting-edge robotic system facilitated a minimally invasive approach, wherein minute apertures (no more than 2 mm in diameter) were discreetly created within the cranial framework to implant the electrodes. This method enabled the precise measurement of cerebral electrical activity, accurately identifying seizure origins.
The robotic system is a more accurate and efficient alternative to the traditional Leksell frame method, which requires more time and effort to calculate the measurements and determine the correct placement of the holes. Furthermore, the system augments patient well-being and extends to a broader spectrum of neurosurgical interventions, further underscoring its transformative potential.
Across leading medical centers worldwide, robotic surgery emerges as a pioneering trend, empowering medical practitioners with precision, adaptability, and control during complex procedures. Beyond its surgical prowess, robotic interventions bear the hallmark of reduced invasiveness, translating into expedited recovery periods and reduced postoperative risks.
This historic achievement stands testament to KFSH&RC's unwavering commitment to harnessing cutting-edge technologies in its relentless pursuit of enhanced patient outcomes, experience, and operational efficacy.
Renowned for its exemplary neurosciences department, KFSH&RC has consistently delivered exceptional care to adult and pediatric patients facing complex and refractory epilepsy. Recent breakthroughs include successfully implanting electrodes in an 11-year-old child's brain and a historic brain hemispherectomy on a 14-day-old infant, marking global milestones and reaffirming the hospital's pioneering spirit.
Ranked among the world's premier healthcare institutions, KFSH&RC secured 20th position in the 2023 world rankings, emerging as the Middle East and Africa's definitive leader in specialized healthcare, according to Brand Finance.