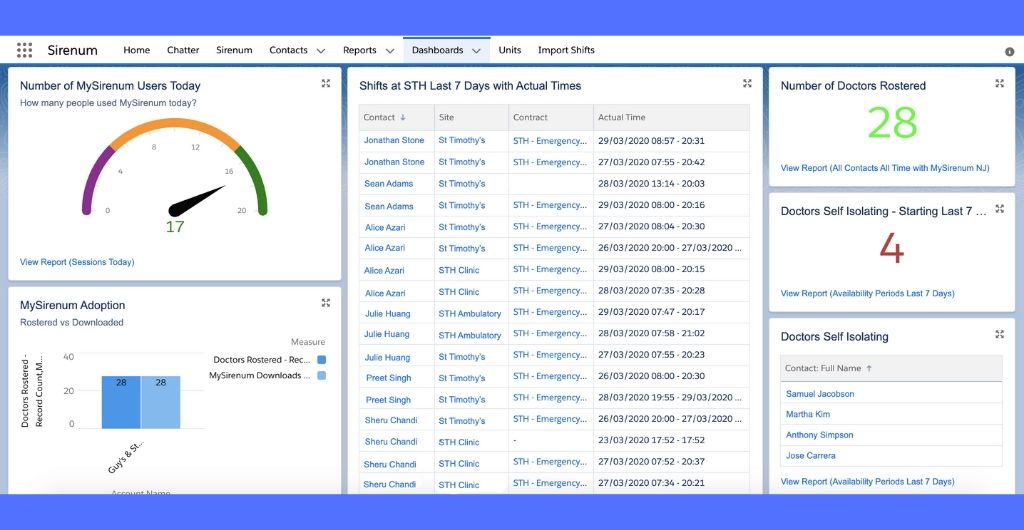 Sirenum, a leading cloud-based software provider for workforce management, has built a new, free product on its platform specifically to help hospitals and care homes during the crisis. One of the first beneficiaries of the free product is Guy's and St Thomas' hospital in London.
With the NHS in the process of onboarding 750,000 volunteer responders, in addition to hiring former employees, this expansive workforce needs to be managed efficiently to ensure workload is spread and reduce the risk of fatigue or burnout. Coupled with the unprecedented patient demand and unpredictable staff availability currently facing many NHS trusts, being able to roster teams efficiently and quickly has never been so imperative.
Using Sirenum for Covid-19, NHS and Care Home managers can manage their workforce and deal with covering unplanned leave caused by the complexities of Covid-19, such as staff needing to self-isolate. In addition, the app can predict and alert management of employees who are at risk of fatigue so they can take steps to reduce the intensity of their shifts and balance workloads more efficiently across the entire workforce.
"We felt it was vital to contribute our advanced technology to the public good. As a global company with clients from South Africa to Norway, from China to California, we can see how the pandemic is impacting everyone," said Benjamin Rubin, CEO and founder of Sirenum.
"While most of our customers are huge corporations that pay hundreds of thousands or even millions for our system, we can see the urgency of the situation facing the NHS and have made the decision to put people before profits at this critical time. The team and I plan to work around the clock to implement this and alleviate some of the administrative burden so that healthcare staff can concentrate on saving lives." Rubin added.
"Sirenum has been a powerful tool in not only rostering staff dynamically in real time, but also in tracking individual staff outputs. This has allowed us to see how workforce deployment decisions are being made to respond to the Coronavirus outbreak in real time. This is invaluable when staff resources need to be deployed in an agile way." Said Dr. Azra Zayad St. Thomas' and Guy's NHS Trust.
"I cannot praise the dedication and professionalism of the Sirenum team enough. They have truly stepped up to help the NHS during this difficult time." Added Zayad.
Sirenum has also created SirenumGo specifically for volunteer management, which is currently available for free to non-profit organisations and governmental bodies to easily mobilise and engage volunteers during the crisis.