0
28th July 2021 10:00 am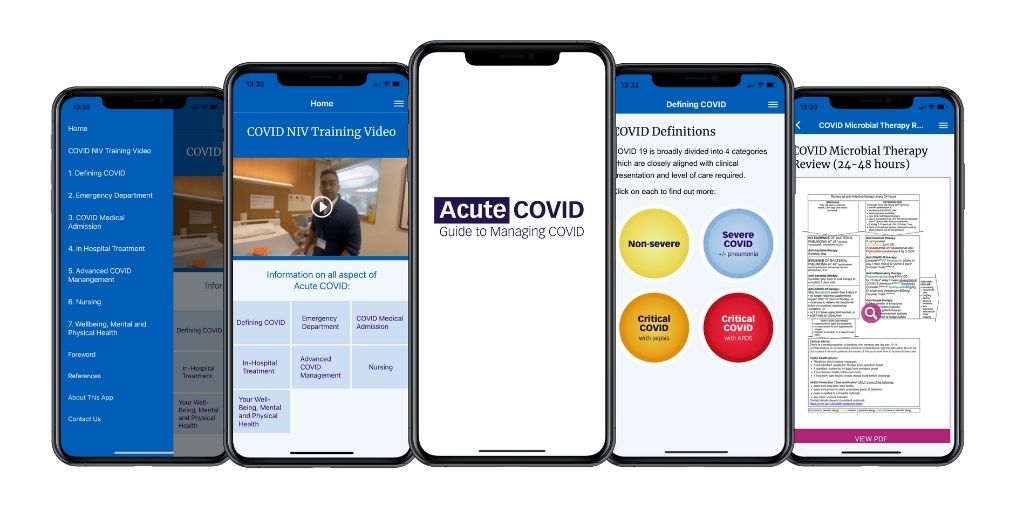 Chelsea and Westminster Hospital NHS Foundation Trust and its charity CW+ launch the Acute COVID app, codeveloped with Imagineear Health to support NHS staff redeployed to care for COVID-19 patients.
The unique Acute COVID app, designed to increase staff confidence and provide an easily-accessible, one-stop information resource, was originally created as a learning tool for staff at the Trust's two hospitals – Chelsea and Westminster Hospital and West Middlesex University Hospital. However, the app is now widely available for download in the UK on iOS and Android devices.
The Acute COVID app incorporates a step-by-step guide for both doctors and nurses, including defining stages of COVID-19, providing staff with vital information on triage at A&E, hospital admission, in-hospital treatments, and advanced care management.
Importantly, the app also features training on non-invasive ventilation, which was successfully initiated at the Trust during the first wave of the pandemic. The sheer number of patients needing treatment meant that non-invasive ventilation interventions such as continuous positive airway pressure (CPAP) were – thanks to the training – being delivered by staff who would not routinely use these techniques. When appropriately implemented, this method may reduce bed days and can prevent the need for invasive mechanical ventilation.
Additionally, the app signposts staff to mental and physical wellbeing support, acknowledging the toll that caring for COVID-19 patients can have on frontline staff, and supporting them to look after themselves and their colleagues.
Dr Ryan Dhunnookchand, Respiratory Registrar & Medical Education Fellow at Chelsea and Westminster Hospital NHS Foundation Trust, said: "During the first wave of COVID-19 in early 2020, we quickly realised that there were not enough staff with the specialist skills required to care for COVID-19 patients, and we had to rapidly train and redeploy many staff members across our hospitals. The goal was to develop a smartphone application that increased staff confidence in caring for COVID-19 patients, including setting up CPAP circuits, and provided an aid to troubleshooting problems that might arise, particularly when skilled staff may not be readily available to assist and thereby to improve patient safety.
"Working with Imagineear, and supported by a generous grant from Pfizer, we are pleased to be able to make this innovative and educational resource freely available to help all NHS Trusts and healthcare providers."
"The Acute COVID app was designed by staff for staff," said Niamh Woolven, Respiratory Nurse Specialist at the Trust. "The information on caring for patients with CPAP, and definitions of COVID, have been instrumental for nurses who have been redeployed during the pandemic – it's great to see our work become available via the app for nurses across the country who are looking to learn about non-invasive ventilation."
The Acute COVID app is part of the CW Innovation programme – a joint initiative between Chelsea and Westminster Hospital NHS Foundation Trust and its charity CW+ – which identifies, tests and scales high-impact innovations that improve patient care, patient experience and how we run our hospitals.
"This app is an ideal way of delivering clinical training pathways for clinicians who have been redeployed to work on COVID-19 wards in an easy to navigate and immediately available format," said Julia Laflin, Head of Healthcare at digital healthcare specialists Imagineear Health. "We worked with the respiratory specialists at Chelsea and Westminster Hospital NHS Foundation Trust to turn their excellent training material and video content into a structure with clear interface design that could provide education on defining the categories of COVID, the admissions and treatment protocols as well as quick reference aid and troubleshooting guidance."