0
26th October 2021 12:00 pm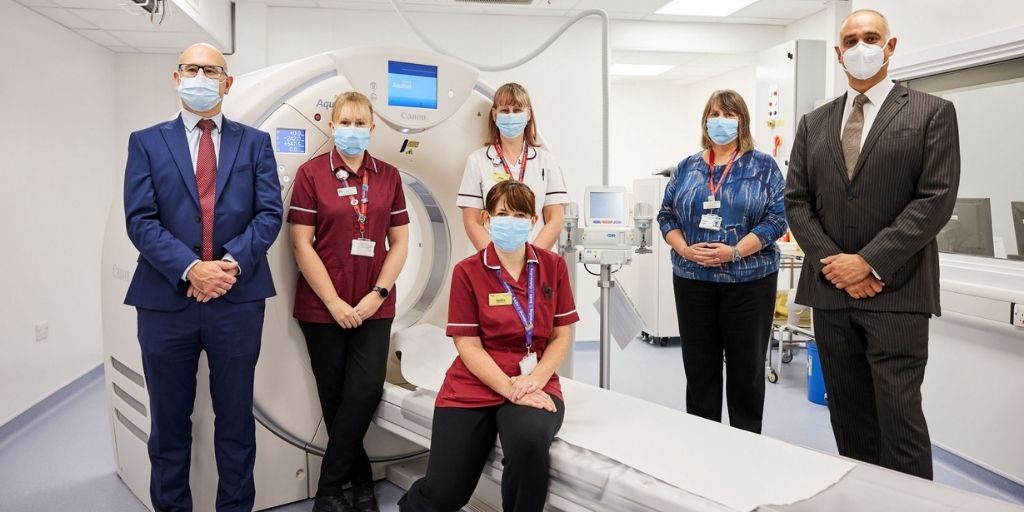 Surrey and Sussex Healthcare NHS Trust has installed two new CT scanners from Canon Medical Systems UK. An Aquilion ONE / PRISM Edition CT scanner has replaced an ageing system at East Surrey Hospital and an Aquilion Prime SP has been introduced for additional scanning capacity at Crawley Hospital. Together they will enable 1000 patient CT scans each month increasing outpatient imaging capacity.
"Daily work numbers have doubled at Crawley Hospital with the arrival of the Aquilion Prime SP from Canon Medical," states Janis Duff, Cross-site CT Superintendent at Surrey and Sussex Healthcare NHS Trust. "The extra imaging capacity has not only helped us catch up on backlog numbers since Covid-restrictions were eased, but also broadened the range of examinations we can offer to patients, meaning more flexibility and closer-to-home appointments. This includes aortic arch-angiograms, peripheral angiograms and some neck procedures."
Dr Tony Newman-Sanders, Consultant Radiologist and Chief of Cancer and Diagnostics, states, "We are pleased to be able to transform and improve patient care using the latest technology to perform specialised examinations. We have made significant investment within the radiology department to ensure that our services offer more flexibility to our patients and reduce wait times."
Both CT systems from Canon Medical will be used to increase capacity for outpatient diagnostic appointments for the local community in East Surrey, Crawley and Horsham. This includes many of the Canon Medical UK team living close to the UK headquarters in Crawley.
Matt Shepherd, Account Manager at Canon Medical states, "We're very pleased to provide the new CT systems to Surrey and Sussex Healthcare NHS Trust, supporting the local NHS hospitals closest to our UK headquarters. By future-proofing imaging capacity for local patients and choosing a provider that strives for 100% uptime targets, we are confident that the Trust will meet its care commitment to patients now and into the future."