0
29th January 2021 8:00 am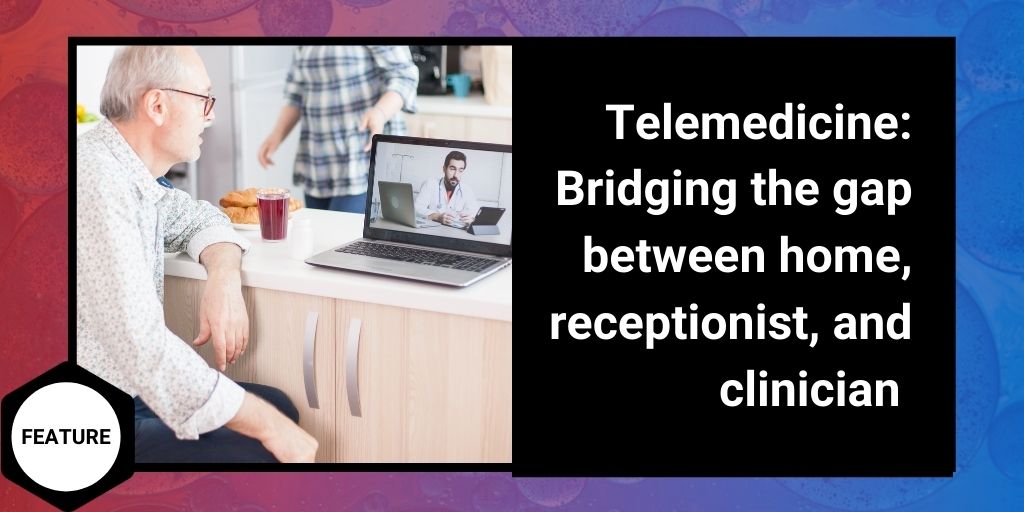 As Covid-19 swept across the globe, many nations ordered regulations of lockdown. But even in a pandemic, overall health and check-ups remain essential, which is why telemedicine has come to the forefront.
Even without a stay-at-home order, imagine not having to leave home anymore to see your GP for a consultation which could instead be done over the phone or via the internet? This reality is not so far off anymore.
Experts predict that telemedicine and remote solutions will become even more prevalent in the future. But these solutions will not only help bridge the gap between the patient and the carer – telemedicine can help streamline practices by connecting GPs and surgeries and allowing a patient to make various appointments without ringing surgeries.
A simplicity people need more than ever
But for telemedicine to work efficiently, the right technology solutions are required. The app, myGP, is a solution created to improve NHS patients' access to primary healthcare by making all services available in one consolidated app – options or services that often a lot of patients aren't eve​n aware exist.
According to Tobias Alpsten, founder and CEO of myGP, the simplicity of the app encourages users to manage their own healthcare more effectively, including taking advantage of options they might not have known were available to them such as video consultations and triage.
During the Covid-19 pandemic, Alpsten and team has experienced a significant growth in the app – in the last week alone, more than 6000 NHS patients have joined myGP to to pre-order repeat prescriptions, book appointments, have video consultations, view their medical records and access services at their GP surgery.
"It's the quickest and easiest way to access GP services today – a simplicity that people need today more than ever before. There has also been a 145 percent year-on-year increase in the number of myGP users using our digital services to order repeat prescriptions," Alpsten states.
Many healthcare professionals were wary of remote consultations before Covid-19, but they are now realising the benefits for both themselves and the patients, said Alpsten.
"This trend is set to continue as confidence in technology grows amongst the clinician community. Digital native patients, which accounts for a good 40% to 50% of NHS patients today, will always prefer digital over face-to-face appointments where there is the option, and where it is safe to do so."
Orion Health, a global technology company that develops software to support the delivery of optimised healthcare, also strives to deliver  flexible technology solutions to combine all types of health data to support the management of individualised patient care across a health system.
Its Remote Patient Monitoring (RPM) solution enables care providers to create a personalised monitoring plan for people living with chronic conditions such as diabetes and COPD and is already used by health and care systems internationally – and it will only grow from there
"Before the Covid-19 emergency, healthcare organisations were starting to explore how they could use RPM to reduce hospital visits for patients whose conditions were being well-managed, but who were still being called in for check-ups," said Orion Health product director Nicole Allan.
"Since Covid-19 arrived, we have seen a significant increase in interest, because it has become a priority to keep these patients safe at home, and to make sure they don't have to travel into clinics unless that is absolutely necessary.
"We have seen an increase in requirement for video consultations, so we have built that into the RPM solution," Allan said. "However, we recognise that many of our customers will already have a video conferencing platform, and we are working to integrate with their systems to create an effective toolset for them."
In the UK, Orion Health has well established integrated digital care record customers who are using or about to go-live with its patient portal, Orion Health Engage.
Bridging a gap
Of course, telemedicine can only be successful if the gap between all parties, including the clinician, receptionist and patient is bridged. And to do that, the tech platform at hand should be suitable for everyone to use.
Dr Farzana Hussain, a high-profile, award-winning general practitioner was extremely conscious of the need to continue to develop the ways in which primary care professionals communicate with their patients. For her, the phone was the key initial channel to support primary care.
As a result, she worked with X-on, a cloud telephony solution which is being used to facilitate digital triage and to provide an "omnichannel" approach in patient communication, which incorporates telephony, video, and instant messaging.
X-on's Surgery Connect provides unlimited phone lines, callback, and contact centre functionality to help patients get through to their practice during normal and extended hours. Self-serve appointments and signposting to self-care and online services reduces practice pressure. Real-time management dashboards enable staff to prioritise resources. Automated SMS appointment and prescription reminders increase convenience to patients and reduce missed appointments, which cost the NHS more than £216m annually, according to NHS England.
The technology allows patients to book appointments quickly and easily while providing staff easy access to clinical records.
According to Dr Hussain, this solution is not only convenient, but access to any call data can be invaluable to help improve practice efficiency at all the practices in a primary care network using the Surgery Connect service from X-on.
"The level of data that is captured by the system helps show how easy or otherwise it is for patients to get through on the phone and how long they are waiting for, one of the reasons at my practice I originally invested in the service."
"It has also provided strong back-up for medical legal issues. We had a patient complaint that a doctor had refused to refer them to a neurologist and was threatening to get the doctor struck off. It was a serious complaint but we were able to listen to the recording of the relevant consultation, share it with the patient, prove what was actually said and resolve the matter – it was very supportive for our colleague and a powerful asset in managing the situation."
"I have seen how communications technology can enhance efficiency within a busy practice and continue to ensure it remains a fundamental pillar in delivering effective care," she says.
Digital telephone systems have especially been vital during Covid-19 with the rapid move to a "total triage" approach by many general practices.
X-on's phone system has fully supported remote consultation, with no impact on care quality when at least 50% of practice staff were isolating at home.
"Even for our patients who aren't computer savvy, that's fine as they can ring through on the phone. Our high-risk patients can ring in as an emergency, and for most other patients if we can't finish the consultation online then it goes to a telephone call. And then if we can't work it out on the telephone, we'll do a video consultation, and if we can't sort the matter that way then we'll do a face to face, but that has only really happened recently in the case of a patient with acute abdominal pains," Dr Hussein explains.
She says that the pandemic has had an irreversible impact on the future shape of doctor-patient consultations, but even though digital solutions is a remote idea, it's important to understand that not all consultations are suitable for remote solutions.
"I think continuing remote working and digital solutions is fundamentally a good idea, but I don't think all consultations can be undertaken in this way. There will always be a need for face to face appointments, but I do believe this is on clinical need, not want."
A need for mental health care via telemedicine
One healthcare aspect we tend to forget about is mental wellbeing. With the onset of the pandemic, many who relied on the support of either family members, friends or a dedicated therapist had to isolate and couldn't see their regular support network, which could escalate mental health conditions.
With this in mind, Ashok Suppiah, in collaboration with a global clinician and psychologist advisory board, found Dynamedics, a tool which provides digital mental health "check-ins" for employees. This also connects them and others to therapists with a tailored plan for each specific need.
The pandemic has sparked an increased adoption of technology by clinicians and is driving new initiatives in the digital health sphere.
The conversations with psychologists have moved from adoption of technology to innovative channels and outreach programs, we're seeing clinicians embrace digital tech as teletherapy proves to be the preferred mode of patient care.