0
27th September 2021 10:00 am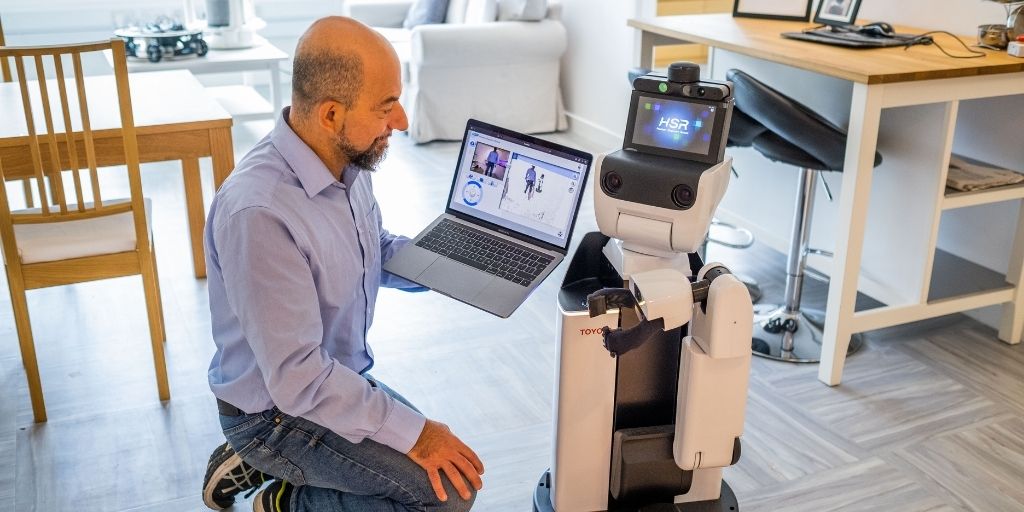 The National Robotarium, hosted by Heriot-Watt University, is pioneering intelligent sensing and tele-presence robotic technology to allow health practitioners to remotely assess a person's physical and cognitive health from anywhere in the world.
Working with Dr Mario Parra Rodriguez, an expert in cognitive assessment from the University of Strathclyde, the National Robotarium's assisted living lab believes this will aid cost-effective diagnosis, more regular monitoring and health assessments alongside assistance, especially for those living with conditions like Alzheimer's disease and other cognitive impairments.
The system was demonstrated for the first time to the UK Government Minister, Iain Stewart during a visit to the National Robotarium's construction site.
The research facility is part of the Data-Driven Innovation initiative and is supported by £21 million from the UK Government and £1.4 million from the Scottish Government through the £1.3 billion Edinburgh and South East Scotland City Region Deal – a 15 year investment programme jointly funded by both governments and regional partners.
Dr Mauro Dragone from the National Robotarium, hosted by Heriot-Watt University, is leading the research. He explained: 
"With gaps between assessments lengthening, the care and support that is being prescribed to assist vulnerable people may become unsuitable as an individual's physical and cognitive abilities change over time.
"Our prototype makes use of machine learning and artificial intelligence techniques to monitor smart home sensors to detect and analyse daily activities. We are programming the system to use this information to carry out a thorough, non-intrusive assessment of an older person's cognitive abilities, as well as their ability to live independently."
Combining the system with a tele-presence robot brings two major advances: Firstly, robots can be equipped with powerful sensors and can also operate in a semi-autonomous mode, enriching the capability of the system to deliver quality data, 24 hours a day, seven days a week.
Secondly, tele-presence robots keep clinicians and carers in the loop. These professionals can benefit from the data provided by the project's intelligent sensing system, but they can also control the robot directly, over the Internet, to interact with the individual under their care. They can see through the eyes of the robot, move around the room or between rooms and operate its arms and hands to carry out more complex assessment protocols. They can also respond to emergencies and provide assistance when needed.
UK Government Minister for Scotland Iain Stewart said:
"It was fascinating to visit the National Robotarium and see first-hand how virtual teleportation technology could revolutionise healthcare and assisted living.
"Backed by £21 million UK Government City Region Deal funding, this cutting-edge research centre is a world leader for robotics and AI, bringing jobs and investment to the area."
"Across Scotland we are investing more than £1.5 billion into city and region deals, helping communities to build back better from the pandemic."
Dr Dragone continues:
"In collaboration with Dr Rodriguez, we've implemented a full cognitive assessment technique that can be conducted without the patient leaving home or the clinician leaving their office. This has multiple benefits allowing clinicians but also carers and occupational therapists to spot cognitive decline more quickly, assessing how an individual is managing at home and adapting their treatment or support packages to their individual needs. This can have a long-term positive impact on the health of supported people.
"We are now testing our concept with different robot platforms. These include commercially available tele-presence robots – the same used to allow people to attend work meetings remotely – but also the latest examples of assistive robots, such as the Human Support Robot from Toyota. The latter comes with a range of advanced manipulation capabilities which means that, in the future, our system could help carers with the more physically demanding or repetitive aspects of their work."
The project combines the efforts of three National Robotarium students, including Scott Alexander MacLeod and Ronnie Smith, two PhD students, who are developing the sensing and artificial intelligence components of the project. In 2019, at the start of his studies, Scott's concept was awarded Best Collaborative Project by Blackwood Design Awards (BDAs), a scheme which celebrates the best new inventions that enhance independent living.
Additionally, Rakin Sarder, who recently graduated from the MSc programme, is building a cloud platform for tele-health robotic applications using tele-presence robot software delivered by the National Robotarium's technological partner, Cyberselves. Sarder's concept was the runner up in the National Robotarium's recent Robotics+Care Mashup, a weeklong hackathon that examined the use of robotic technology in partnership with several health and social care collaborators.
Now that the team has successfully tested the feasibility of their concept in the laboratory, they will launch further co-design activities with clinicians and potential users of the technology, before running a pilot study in collaboration with Blackwood Homes and Care, using a robot embedded in the company's care facilities.
Dr Mario Parra Rodriguez from the University of Strathclyde said: 
"The experience of inhabiting a distant robot through which I can remotely guide, assess, and support vulnerable adults affected by devastating conditions such as Alzheimer's disease, grants me confidence that challenges we are currently experiencing to mitigate the impact of such diseases will soon be overcome through revolutionary technologies. The collaboration with the National Robotarium, hosted by Heriot-Watt University is combining experience from various disciplines to deliver technologies that can address the ever changing needs of people affected by dementia".
Mr. Colin Foskett, Head of Innovation at Blackwood Homes and Care said: 
"Blackwood is always looking for solutions that help our customers to live more independently whilst promoting choice and control for the individual. Robotics has the potential to improve independent living, provide new levels of support and integrate with our digital housing and care system CleverCogs™. Our partnership with the National Robotarium and the design of the assisted living lab ensures that our customers are involved in the co-design and co-creation of new products and services, increasing our investment in innovation and in the future leading to new solutions that will aid independent living and improve outcomes for our customers."