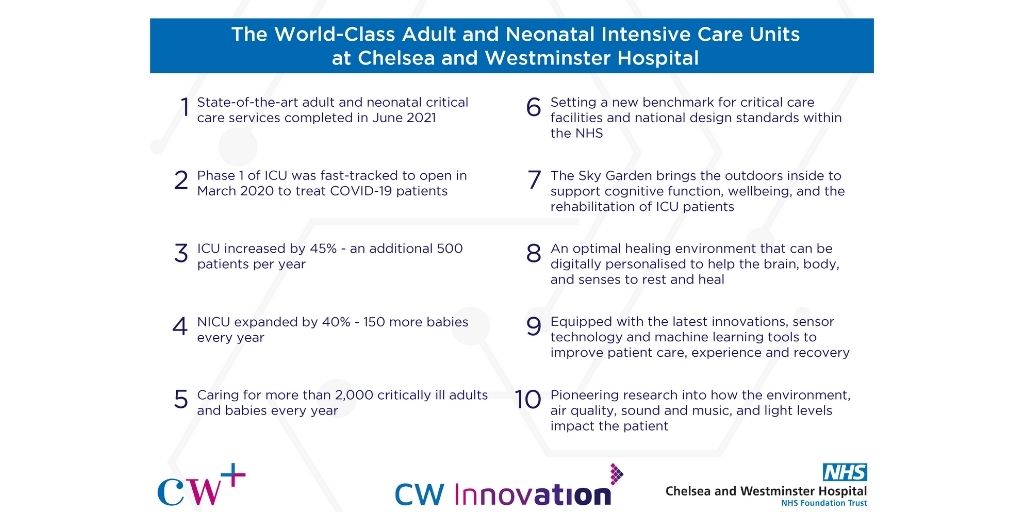 The new critical care units at Chelsea and Westminster Hospital have been developed based on extensive research into best practice for intensive care and, as part of the CW Innovation programme, include the latest innovations and digital solutions that can be customised to reduce anxiety, pain and stress, improving patient experience and recovery and providing staff with vital data and control over the critical care environment.
In each ICU room, the acoustics, lighting, layout, furnishings and equipment have all been selected for the patient's brain, body and senses to rest and heal far more effectively. For example, lighting can be adapted to suit the personal needs of patients to help improve circadian rhythm by controlling day and night cycles.
Airthings technology measures environmental factors including temperature – which can be controlled from a patient's bedside – air quality, CO2 levels and virus risk.
Digital sensors also monitor sound levels. This project is part of the first research study of its kind in the UK – in partnership with Imperial Health and Sonitus Systems.
Staff can also remotely monitor patients' vital signs and track physiological responses using Sensium sensors to measure heart rate, breathing rate and temperature every two minutes, compared with current monitoring standards of 4-6 hours.
Our eye-tracking technology is the first-of-its-kind delirium recognition system that uses artificial intelligence to track the movement of patients' eyes to determine whether they are about to go into, or are already in, a state of delirium. Nearly one third of patients who are admitted to an ICU develop delirium, and up to 80% of ventilated ICU patients are affected by this condition. Delirious patients have an increased rate of mortality, length of stay, and potentially long-term cognitive impairment risks.
Clinicians have codeveloped an AI algorithm with Sensyne to provide ICU clinicians with near real-time risk prediction for COVID-19 patients, predicting the risk of ICU admission, the need for mechanical ventilation and in-hospital mortality.
Our award-winning RELAX Digital programme uses moving imagery and installations to distract and relax patients, and bring the outside world into our hospitals.
Innovative uses of music and sound technology have been shown to have benefits for patients in clinical environments. In-room media screens in each ICU room enable patients to engage with our Arts in Health programme – including, for example, live musical performances – as a means of empowering patients, connecting them with the outside world and their loved ones.