0
18th June 2021 10:00 am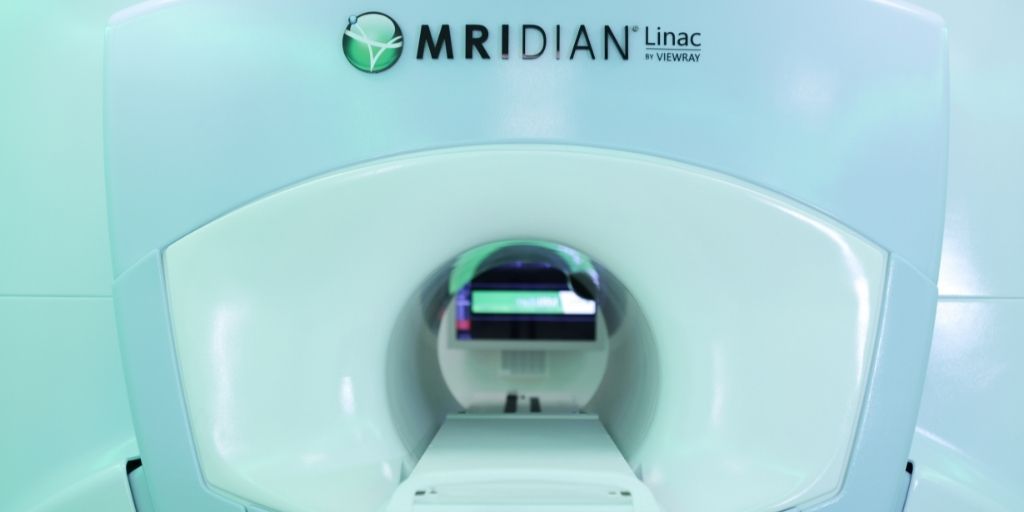 London, United Kingdom – Patients from across the UK with difficult to treat cancers such as prostate, bowel, pancreatic, liver and certain lung cancers, can now access the revolutionary ViewRay MRIdian MR linac at GenesisCare's Centre for Radiotherapy at Cromwell Hospital in London.
Now, for the first time in London (outside of research purposes) patients will have access to the ground-breaking radiotherapy treatment, at Europe's most advanced radiotherapy centre.
GenesisCare has invested to build and install the MRIdian MR Linac at its radiotherapy super centre in the heart of London. The centre is also home to the Gamma Knife® Icon and Varian Edge®, offering patients access to the latest cutting-edge technology and treatment techniques.
An innovative combined radiotherapy machine and MRI scanner, the MR Linac uses magnetic resonance imaging (MRI) to provide live, detailed images of the tumour and surrounding tissues, allowing clinicians to see what they are treating with highly focused radiotherapy in real time, rather than acquiring separate MRI scans.
Dr John Conibear, Clinical Lead, GenesisCare at Cromwell Hospital, "The introduction of the MRIdian MR linac cements GenesisCare's Centre for Radiotherapy at Cromwell Hospital, London, as the most advanced radiotherapy centre in Europe.
"GenesisCare has long been committed to investing in the latest evidence-based treatments that hold the greatest potential for improved life outcomes, and this has continued throughout the pandemic. This technological investment is crucial as predictions suggest that there will be a wave of new cancer diagnoses when patients come forward to present symptoms once social distancing is relaxed. The great news is that with this new technology patients can receive the best care possible with fewer hospital visits required, when it's most needed."
The MRIdian is the only linear accelerator model that has automated beam control, meaning that if a tumour moves even a few millimetres, the treatment will automatically pause until it comes back into position, to avoid missing the target and irradiating healthy tissue unnecessarily.
The increased accuracy from these live images and automated beam control gives clinicians greater confidence that they are hitting the cancer target 100% of the time. This has been shown to be particularly advantageous in cancers that are situated close to major organs which can move, and if damaged, can lead to severe side-effects. These include prostate, lung, bowel, pancreatic and liver cancers. It can also treat cancers that have spread to other sites in the body.
The greater accuracy offered by MR Linac technology also allows doctors to administer a high dose of stereotactic ablative radiotherapy (SABR) without reaching prohibitive levels of toxicity, resulting in fewer treatment sessions and potentially fewer side effects for patients. While conventional radiotherapy can involve up to 37 treatments, patients treated on the MRIdian MR linac typically only require between 3-8 treatment sessions.
Justin Hely, General Manager at GenesisCare, said "With predictions that we are likely to see a backlog of cancer cases as we ease out of lockdown, we're committed to ensuring people have access to world-class cancer care. The installation of the MRIdian MR linac in London is yet another example of our commitment to delivering innovations in cancer treatments which are available for patients throughout the UK."
Philip Luce, CEO at Cromwell Hospital, said, "As a centre of excellence for cancer care, we're very proud to be able to treat our patients with the MRIdian MR linac."
"GenesisCare's centre for Radiotherapy at the hospital shows our commitment for investing in the latest technology, ensuring our patients have access to the very best treatment that we can offer."
GenesisCare's centre of excellence at Cromwell Hospital allows for treatment of the most complex and difficult-to-treat tumours including cancers of the abdomen, central nervous system (brain and spine), head and neck and lung, as well as offering the latest techniques for breast and prostate cancers.