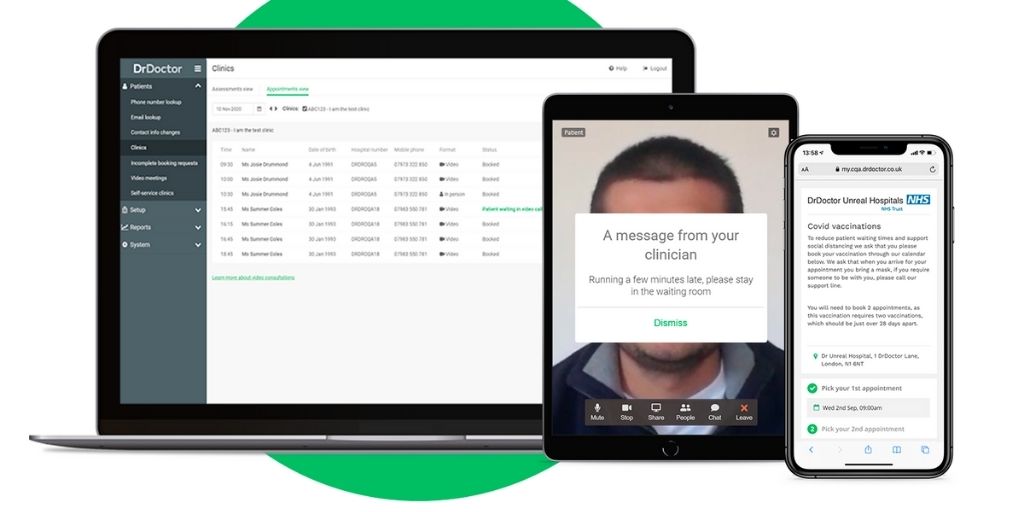 University Hospitals Birmingham NHS Foundation Trust (UHB), working with DrDoctor, has launched a suite of digital patient engagement tools as it looks to introduce new ways of delivering outpatient care.
The Trust, which sees over 2 million people each year, has introduced technology used by more than 30 other trusts that will give patients more control over their care, maximise the number of available appointments, and maintain effective communication with patients.
These products will save time for staff and patients and reduce the number of in-person hospital visits. Patients can continue to be seen at home where clinically appropriate, without the need for them to travel into the hospital.
Patients can now view hospital letters online and take part in video consultations on their phone, tablet, laptop or computer, providing more convenient access to care.
Hospital staff can now use digital tools to reduce the time spent managing the booking process, with appointment reminders sent automatically to patients.
Since the new solutions were introduced, staff at UHB have sent almost 55,000 appointment notifications to patients by text messages and email. It is anticipated that this will reduce by 35% the number of appointments patients do not attend (DNA) – the same rate as seen by its neighbouring specialist trust the Royal Orthopaedic Hospital NHS Foundation Trust.
More than 24,000 digital letters have been sent out, with around 60% of patients choosing to view these online. Patients who do not view the letters online, letters are sent in the post.
The video consultation functionality integrates with the electronic patient record at the Trust, allowing UHB to deliver digital-first healthcare, and avoid the need for some to travel to the hospital.
Nick Barlow, Director of Applied Digital Healthcare at UHB, said: "Like all NHS trusts, we have had to transform how care is delivered to our patients. By working with DrDoctor, we have been able to move the Trust's digital-first plans forwards, allowing us to deliver some consultations remotely. The digital appointment tools should also provide greater patient choice in the future, with patients currently able to read outpatient appointment correspondence online. These tools are an important building block in our longer terms plans to improve patient care by introducing new technology and innovations."
The digital solutions were rolled out quickly, following a series of successful rapid-fire pilots of the digital patient engagement platform in February and March 2021. Implementation plans were streamlined to introduce the technology quickly and effectively.
The digital letters, appointment management and video consultation platforms are now available for use across all outpatient specialties at the Trust.
"This programme saw many months of work shrunk into just a handful of weeks," said Wahida Jabarzai, Delivery Manager at DrDoctor. "UHB rapidly embraced our digital patient engagement platform to meet the needs of their local populations. This is testament to their future-orientated mindset, commendable work ethic and collaboration skills. UHB are true leaders in their area and showed dedication to their patients through great organisation skills and thorough testing of trust-wide technology."
Later this year, the Trust is intending to introduce new features, allowing patients to choose their appointment time and choose an earlier appointment if one becomes available. This aims to provide patients with online tools that help them access the care that best meets their needs.