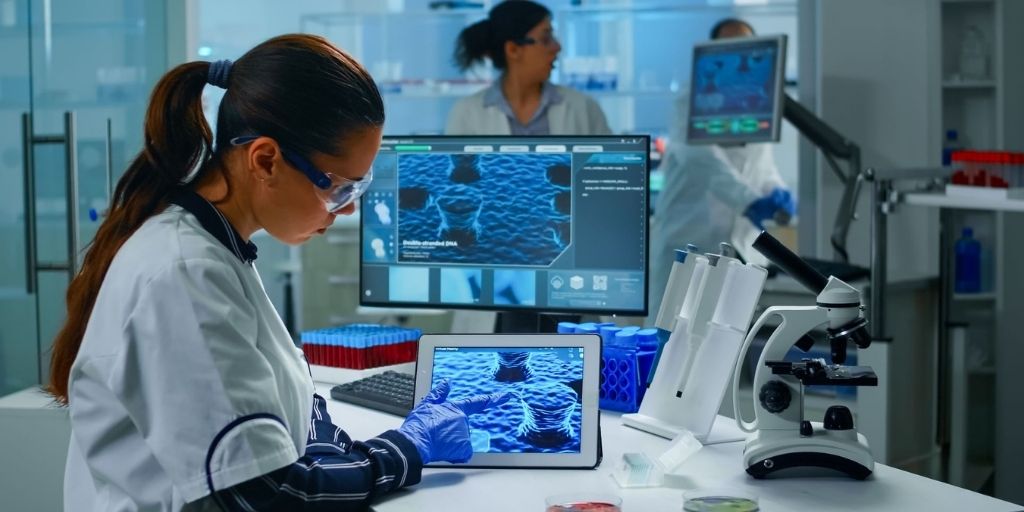 Artificial intelligence (AI) is creating solutions to some of the world's most pressing healthcare problems. But one company, FPT Software, is on a mission to equip people with the tools to help themselves.
In 1996, reigning chess world champion Garry Kasparov played a computer called Deep Blue in a six-game chess tournament. The world of chess, though perhaps not the world of artificial intelligence (AI), was shocked when, in game one, Kasparov was forced to resign.
Kasparov won the tournament by four games to two, but in a rematch the following year, lost 3.5 to 2.5. Today, with further advances, chess simulators are lightyears ahead of people. This, in a nutshell, demonstrates the quick evolution of AI into a technology that can calculate and analyse far faster than even the smartest humans.
The applications of AI are wide-ranging, from fintech to food production, but nowhere is its potential more obvious than in the fields of healthcare and medicine.
There is a huge opportunity to improve patient outcomes with better diagnoses, save lives and improve health with drug development, but also to relieve the burden on medical practitioners with technology that can monitor patients in the home instead of surgeries and hospitals.
This last benefit has the potential to increase both efficiency and efficacy in health systems around the world, while also reducing the need for hospital visits.
Dr. Nguyen Xuan Phong is chief artificial intelligence officer at FPT Software – a subsidary of Vietnam's largest IT group, FPT. He leads a team of developers working on new AI solutions to common healthcare challenges and is excited by the technology's potential.
"Digital technology brings a huge number of benefits to healthcare," he explains. "With big data, we can do a huge amount of analysis in a short space of time. With 5G, its possible for surgeons to operate on patients remotely."
Innovations in Healthtech
But Phong is perhaps most interested in connecting people with healthcare solutions via their smartphones. Two examples developed by FPT Software are Deep Clinics and Sound Dr., both of which are simple apps aimed at the consumer market.
"Deep Clinics was developed to help the early diagnosis of skin disease," says Phong. "By capturing an image with your smartphone's camera and uploading it to the app, the software can tell you whether it is something harmless, like an allergy, or evidence of something more serious. If the latter, the app can connect you with a dermatologist who can help you further."
The innovation, which is still in development, aims to combine two things people are accustomed to doing already: taking selfies and searching online for information. In an era when most of us self-diagnose via internet searches before visiting a doctor, Deep Clinics could represent a logical progression.
Sound Dr., meanwhile, was created to give users an alternative test for Covid-19. The software listens to your breathing or coughing and can tell, to a high degree of accuracy, according to Phong, whether you have Covid or not.
"It was inspired by the pandemic," says Phong. "AI can hear better than humans and the sound of your breath is very different when you have a problem. So we wanted to create a convenient tool that you can use before you go shopping or travel to work. If the test comes back positive, then you can either stay at home or confirm it with a test kit."
Sound Dr. is going through various medical approval procedures, but Phong says it is already in demand from industry, so FPT Software is already working at production level in preparation to offer the app more broadly.
"Imagine you run a factory; this is much more efficient than testing your entire workforce every day. So we have huge demand from retail and manufacturing, among other sectors, because it's not only quicker and cheaper, it's also much better for the environment because there's a huge reduction in plastic waste."
Asked how Sound Dr. can differentiate between body types, genders and age ranges, Phong explains that the solution lies in big data. Essentially, the more people take the test, the more information gets loaded in for the machine learning model to learns, the better it gets. To create both apps, FPT Software has taken vast numbers of samples from people around the world, helping the team to differentiate demographic factors for more consistent results.
All of this information builds towards better rates of accuracy. According to FPT Software's own studies, Deep Clinics' precision is around the same as a human diagnosis, while Sound Dr. has about the same success rate as a lateral flow test.
Combined with the plethora of other AI-based healthcare advances, apps like these could help the world return to something like normalcy in the aftermath of the coronavirus pandemic, while creating new opportunities for diagnosing similar conditions.
A new AI Valley?
Phong is evangelistic about Vietnam's potential as a technology hub and, on paper at least, it seems a strong candidate to lead Asia's charge in the field of AI. In 2019, the last year unencumbered by the pandemic, its economy grew by 7%, it enjoys a strategic location to the south of China and, as Phong puts it: "We are pretty good at math".
Combine picturesque scenery, good food and an inviting climate, and you have many of the ingredients required for a thriving technology hub. FPT Software is investing heavily in Quy Nhon, where it is creating a new 'AI Valley', which Phong says takes inspiration from the – perhaps surprising – example of Montreal in Canada.
"We are similar in many respects,' he says. 'We have created a very supportive community and we are great at attracting talent and investment to the area. We picked Quy Nhon because it's a very beautiful city in the middle of Vietnam, where there is rich local talent when it comes to mathematics."
In future, the city will transform into a hub of innovation supporting industries including manufacturing, automotive, finance and, naturally, healthcare. FPT Corporation, a global business which turns over more than $1.6bn a year, is building a Silicon Valley-style campus to accommodate the projected influx of talent, with housing, schools and leisure facilities.
Phong says the new campus will act as a springboard to propel Vietnamese technology to the forefront of Asia, fuelling new AI projects that will improve life for businesses and individuals in the years to come.