0
7th April 2022 10:00 am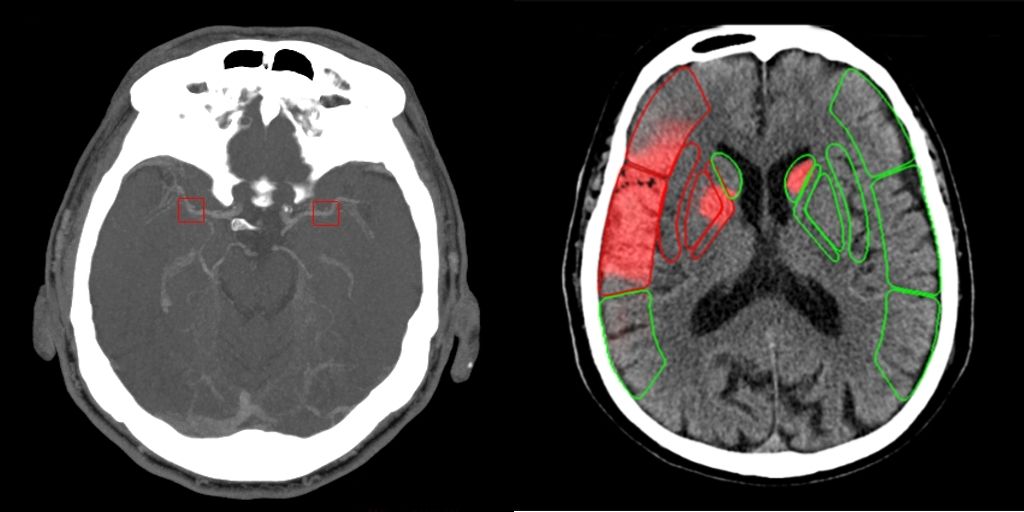 A new stroke triage tool, Stroke, powered by Artificial Intelligence (AI) is now available in the UK. The imaging innovation analyses and categorises diagnostic brain images automatically following a CT scan to detect signs of ischemic and haemorrhagic stroke in 30 seconds, compared to a 30-minute scan to manual-reporting timeframe, which is even more challenging in the middle of the night which is often the case.
With stroke being the fourth single leading cause of death in the UK and occurring every five minutes*, this latest technological innovation has the potential to save lives and improve the long-term outcomes of neurological damage by speeding up the 'golden hour' of stroke diagnosis to drug treatment.
Stroke automates diagnosis with zero clicks from CT scan to a clinical decision, consolidating scan results into a single summary and alerting clinicians to any abnormalities. It can help a radiological team prioritise urgent patient cases, refocus valuable human resources and speed up diagnostic reporting. This, in turn, has the potential to reduce the time taken to make a clinical decision on incoming query stroke cases and administer life-saving treatment faster.
"While we have approximately 90 minutes to treat a patient with stroke, up to 30 minutes of that time might be spent on imaging alone. Using AI for strokes enables rapid interpretation within half a minute from when images are acquired, facilitating rapid and robust treatment and turnaround times that would be very difficult without that type of system," states Dr. Peter Chang, Assistant Professor in Residence for the Departments of Radiological Sciences and Computer Science at University of California Irvine (UCI), who worked closely with Canon Medical Systems Corporation on the development of the new tool. Stroke is used at UCI to automatically triage and evaluate every patient with suspected stroke that comes into the Emergency Room – it helps us in our workflow to augment and maximise the time that we have to focus on and take care of patients."
"The faster stroke patients get treatment, the better their outcome as time saved is brain saved," states Mark Hitchman, Managing Director at Canon Medical Systems UK. "As part of our innovation strategy to automate clinical workflows and layer AI into existing diagnostic imaging processes and equipment, we have launched AUTOStroke. It is not a concept or at research stages, but a market-ready solution that works as a triage software tool on CT scanners that are already in place in many UK NHS Trusts."
Mark Hitchman continues," It will help speed up the full scan-to-reporting process of suspected stroke cases and aims to avoid the extent of brain damage that can cause paralysis and loss of speech. This has wide-reaching recovery implications, not only for an individual and the family, but also for the entire stroke healthcare continuum of physio, occupational, speech and language therapists."
Stroke from Canon Medical integrates a comprehensive set of stroke applications including: Non-contrast CT Intracranial Haemorrhage that helps quickly locate multiple variations of intracranial haemorrhage when time is critical; Non-contrast CT ASPECTS delivering scoring of early ischemic stroke signs that are routinely challenging to detect; CT Large Vessel Occlusion to help locate occlusions in cerebral infarction patients; and CT Perfusion maps created using validated Bayesian CTP+ algorithms to help indicate potential regions of penumbra and infarct core.