0
8th October 2020 2:14 pm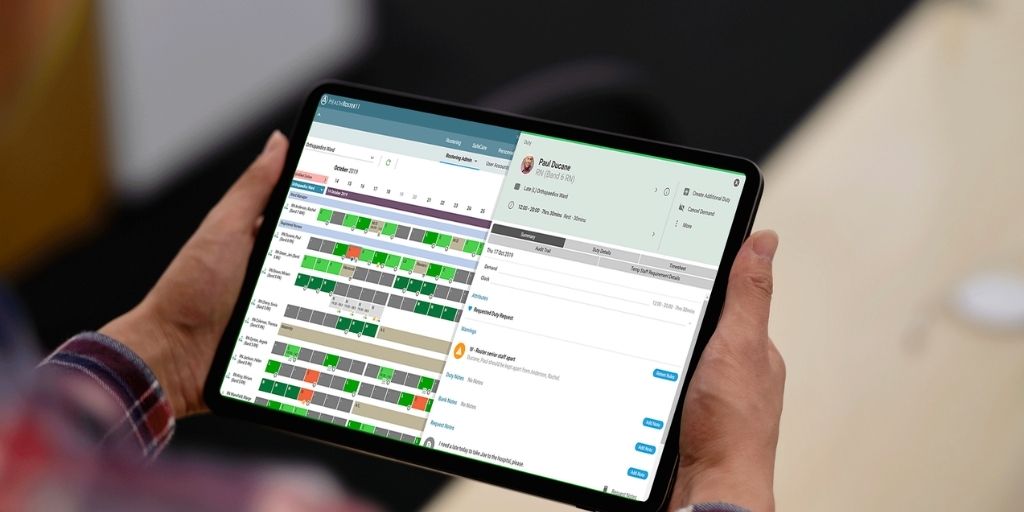 Allocate changes the face of clinical electronic rostering with HealthRoster 11, the staff experience focused next generation version of its leading Healthcare People Management platform.
Working closely alongside nine health and care organisations HealthRoster 11 frees up time to care, supports rostering on the move and makes it easier for organisations to create people and care centred rosters 
Allocate, the world's leading healthcare people management software provider has unveiled the latest evolution of its flagship e-Rostering software platform, making it easier for staff to do clinical eRostering at time when roster management is under significant pressure in responding to the demands of Covid-19.
HealthRoster 11 is the first e-Rostering system that has been designed for tablets as well as computers and will help with the management and rostering of staff whether at their desks or on-the-go.  The new platform offers an improved user interface, together with dashboard display, summarising all information on one screen to create a faster user experience freeing up more time for patient care.
Simon Courage, Chief Solutions Architect, Allocate comments:  "We have seen a significant shift in e-Rostering over the last ten years and its one that is constantly evolving.  Whilst initially e-Rostering was focused on linking shifts and hours worked to payroll, now it plays a vital role in safe staffing, staff experience and organisational responsiveness.  With Covid-19 forcing a transformation in the deployment of staff, e-Rostering is once again a vital tool in the management of resources as healthcare organisations rapidly assess and redeploy skills based on acute needs as they continue to respond to the pandemic. HealthRoster 11 supports this by delivering an improved rostering experience for clinicians and administrative staff alike, which will improve efficiencies and will allow healthcare professionals to spend more time caring on the front line."
Developed in conjunction with nine private and NHS Trusts, Allocate has collaborated with e-Rostering staff and clinicians to understand how best it can support healthcare workers, particularly during increased times of peak demand.
Andrew Stocken, E-Systems Implementation Officer,  Aneurin Bevan University Health Board comments:
"HealthRoster 11 is much more visual,  intuitive and user friendly and will make a big difference when it comes to training new teams.  Reporting is more streamlined meaning you don't have to export reports into Excel.  But the biggest win is being able to use the software on a tablet which means staff can be more mobile which is especially important for clinicians."
Simon Courage added:  "Healthcare teams have faced mounting pressure during the pandemic with staff burnout being a very real and prevalent issue.  Effective rostering is key to managing a constantly changing workforce whilst tracking the monitoring of and management of sickness and absence by both at a department level and an individual level.  With the rate of Covid-19 infections currently increasing and the winter pressures faced by the NHS, workforce management challenges are only going to increase and therefore the need for simple and effective e-Rostering tools is paramount when it comes to staff planning and deployment."
HealthRoster 11 is available now – for further information visit:-www.allocatesoftware.co.uk/healthroster-11