0
8th November 2023 4:30 pm

misty the smart cloud:
4 in 1 night light

Introducing misty the smart cloud, 4 in 1: Nursery thermometer, sleep inducing light show, sleep trainer and personal assistant, all combined into one super cute and super smart product. Misty links to a mobile phone app meaning you can easily monitor your baby's sleep environment, together with controlling her functions wherever you may be!
We were able to test this product and it is still our favorite night light that we use every night for our baby.
non-contact infrared baby thermometer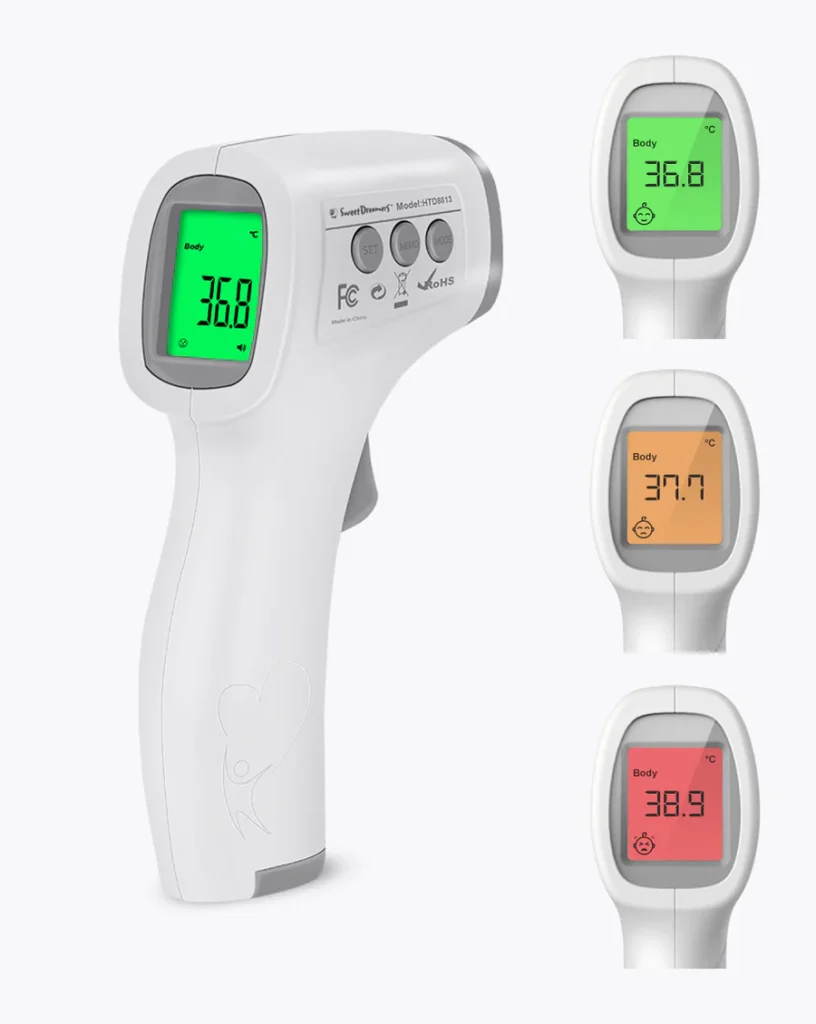 Easily get temperature results within 2 seconds, after pointing the thermometer to the target from a distance of within 1cm to 5cm. The advanced infrared temperature sensor with high sensitivity ensures highly accurate readings, giving you peace of mind that you are providing the very best possible care for your family. Quickly identify a fever with the smiley face and colour backlight system enabling you to take swift and appropriate action. A temperature in the normal range will show green with a smiley face – giving you the reassurance that all is well. If the temperature is above the normal range, the LCD will show yellow or red with a sad face. The thermometer is also easy to read in the dark, so is ideal to use when your baby or child is asleep, plus it can be muted so that it does not disturb your little one while they are sleeping. It also has 2 different modes so it can be used on both body and surface – meaning you can measure the temperature of not only your baby but their milk as well! The thermometer comes with a handy travel pouch to help keep it clean.
This thermometer has been very useful for peace of mind and to check the temperature of our baby especially in the hot summer months.
Philips Avent Baby monitor: 
Digital Video Baby Monitor

The Philips Avent SCD845 enables you to maintain a secure and private connection with your baby at all times. Hear your baby with great sound quality and also see your baby on the monitor (3.5″ LCD), day or night. Private, secure connection with adaptive FHSS technology, High-resolution 3.5″ screen with clear night vision, Hear your baby with clear sound, Energy-saving eco mode with connection indication, Range up to 300 metres*.
This has been one of the most used items we tested keeping an eye on baby while she naps and you can get some house chores done with peace of mind.
Medela Freestyle™ Hands-free double electric wearable Breast Pump

SnuzCloud Baby Sleep Aid

SnüzCloud is the new stylish and portable baby sleep aid from Snüz. With super soft plush fabric, 4 soothing sounds and two light options; help comfort and settle your baby when you need it most! Your baby's perfect sleep buddy, in the home and when out and about. SnuzCloud features 4 soothing sounds including pink noise, the new deeper sounding alternative to white noise, and heartbeat, to mimic that of pregnant mum's womb. SnüzCloud has two light options to give you the choice of a calming pink glow or a brighter soft white light that's ideal for feeding in the dark or as a night light when they get older. The lightweight cosy design and handy Velcro strap makes SnüzCloud the ideal sleep buddy for use on a cot, crib or when out and about, easily attaching to your pram and car seat. SnuzCloud's super soft plush fabric is tactile and comforting, helping relax and calm your child.
A great tool to have when the baby is unsettled and is not going to sleep the other ways that you tried.
Soothing Light Projector

This musical nightlight and starry sky projector is ideal for soothing tiny stargazers to sleep. This product features six musical selections and three natural noise choices with a ten minute auto off timer to calm and comfort your child. If baby wakes during the night, the unit's smart sensor will detect sound and then activate the tranquil blue light. This crib-mounted nightlight easily transitions between a projector and a night lamp and also converts to a dresser top projector for continued bedtime use as your child gets older. Age grade 0 month+, Plays six musical selections and three natural noise choices, 10 minute auto-shut off timer, Smart sensor recognizes sound and turns on calming blue light, Projects stars onto ceiling, 3 x AA Batteries required (not included).
The music is calming and the light is great.