0
11th April 2023 10:00 am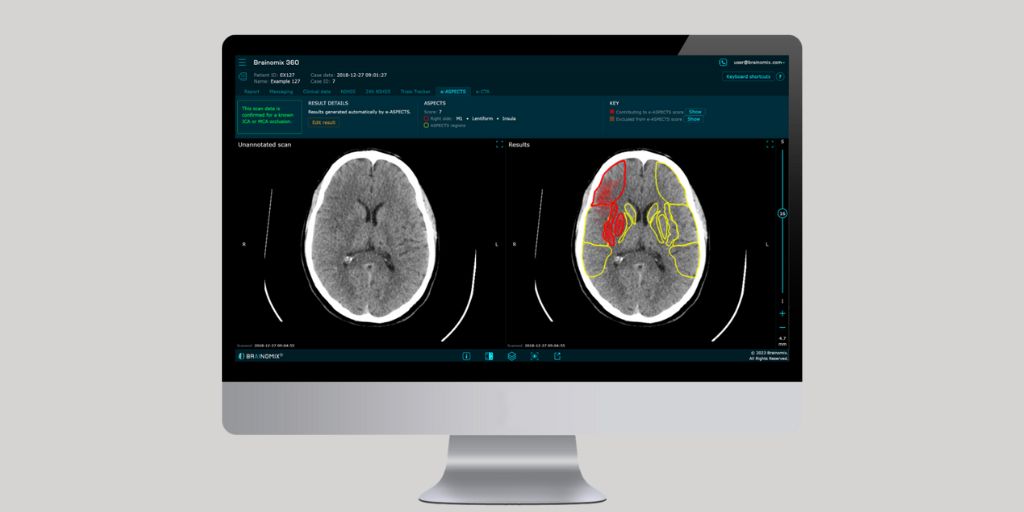 Brainomix, the AI-powered medtech solutions company, today announced that its Brainomix 360 e-ASPECTS tool for stroke has received FDA clearance, enabling the Oxford-based company to deploy its cutting-edge stroke AI imaging platform to US stroke centers.
With deployments across more than 30 countries, Brainomix's AI stroke software has been studied and validated in more than 60 publications. The Brainomix 360 stroke platform is a collection of tools that use state-of-the-art AI algorithms to support doctors by providing real-time interpretation of brain scans to help guide treatment and transfer decisions for stroke patients, allowing patients to be treated in the right place, at the right time. Powered by explainable AI, the Brainomix 360 e-ASPECTS tool assesses non-contrast CT scans to automatically generate an ASPECTS score and features a unique overlaid heatmap to visually assist clinicians to assess the output.
ASPECTS, a globally recognized quantitative scoring system created by Brainomix co-founder and Professor of Stroke Medicine at the University of Oxford, Alastair Buchan, is used to measure the extent of early ischemic changes and cited as a key selection criterion for endovascular treatment in all major stroke guidelines. Newly published clinicals trials have elevated the role of ASPECTS in helping to determine the best course of treatment for a now expanded group of eligible stroke patients.
"This is a very exciting technology. For several years, I have had the pleasure of working as a consultant with Brainomix, who are driven by a philosophy of maximizing the clinical value of simple imaging, accessible in all stroke centers," noted Prof Raul G. Nogueira, Director of the University of Pittsburgh Medical Center (UPMC) Stroke Institute. "Brainomix has generated an impressive breadth of evidence and validation data for its e-ASPECTS tool."
Recent studies have shown that the implementation of Brainomix software enabled faster treatment by reducing door-in-door-out times by more than one hour, and improved patient outcomes by tripling the number of patients achieving functional independence after stroke,1 while also increasing the rates of both thrombolysis and thrombectomy by more than 50%.2
"We are delighted to have the opportunity to now take our technology to the US, where more than 800,000 patients suffer a stroke each year," said Dr Michalis Papadakis, CEO and Co-Founder of Brainomix. "Our e-ASPECTS tool has been shown, in multiple countries and healthcare systems, to improve physicians' interpretations of ASPECTS scores on non-contrast CT scans – which carries particular clinical value for primary stroke centers, where there may not be around-the-clock specialist expertise, but where most stroke patients are first admitted. Our technology supports these physicians who are making time-sensitive, critical decisions around transfer and treatment, strengthening networks and facilitating an improved stroke service."
Brainomix has an established US field team that will introduce the Brainomix 360 platform to stroke centers across the country and provide dedicated ongoing support. The company also recently announced a strategic partnership with Blackford, the pioneering imaging AI platform and solutions provider, who will distribute the software across its extensive network.
To learn more about the Brainomix 360 platform https://www.brainomix.com/media/5rsfivnu/brainomix-360-brochure-us.pdf.
1 Nagaratnam et al. Int J Stroke. 2021;16:28-29
2 Gunda B, et al. Cerebrovasc Dis Extra. 2022. https://www.ncbi.nlm.nih.gov/pubmed/35134802