0
27th April 2023 8:00 am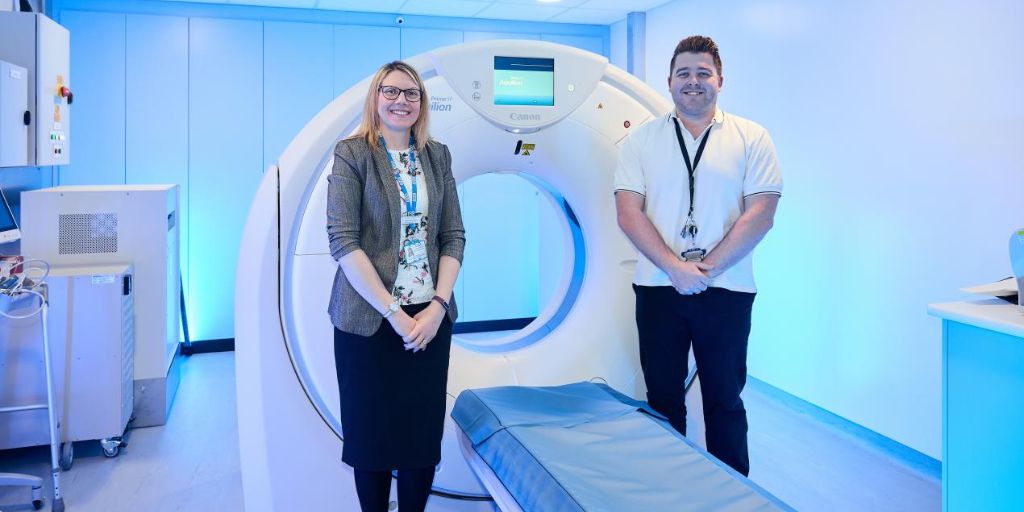 The success of Northwich's Victoria Infirmary (VIN) Community Diagnostic Centre (CDC) has enabled more patients to be seen in Cheshire for quick frontline diagnostic imaging, reducing waiting times and freeing up pressure on other acute hospital scanners. In less than a year, thousands more patients have attended for CT scans and other tests at this same day, improving the quality of care experience and reducing the need for multiple attendances at different hospital locations.
The modular CT building has been fully integrated onto the existing Victoria Infirmary listed building by Canon Medical Systems UK. The turnkey project involved creating the additional CT scanning facility by demolishing an old casualty building, knocking through and adding an integrated modular building containing an AI-assisted Aquilion Prime SP CT scanner.
Karen Bowman, General Manager, Victoria Infirmary, part of Mid Cheshire Hospitals NHS Foundation Trust states, "Two thousand outpatient, follow-up or high-risk query CT scans have been enabled in 9 months due to the creation of the CDC at VIN. This means more people have been seen sooner than would have been previously possible – we're even calling people to arrange CT scans on the same day they have seen their GP. The dedicated CDC also means that the pressure burden on our acute hospital scanners at Leighton Hospital has been relieved. That's thousands of CT appointments removed from our front-line acute scanners giving them the dedicated focus they need for emergency or advanced imaging such as cardiac and CT colonoscopy. We're now seeing happy, grateful patients and this has had a direct impact on our radiology team, increasing morale with reduced pressure."
"The future aim of outpatient diagnostics is making more tests available and closer to patients," continues Karen Bowman. "The CDC model has proven itself here and given us confidence. As we start to plan our new hospital, we will look to focus on provision for acutely unwell patients and those with higher-risk, elective care needs and move more diagnostics and non-hospital reliant services closer to our patients' homes. The success of the CDC so far has also enabled us to start conversations about enhancing other care pathways via a 'one-stop-shop' approach such as our cancer services."
Michael Potts, CDC Imaging Lead at VIN adds, "Canon Medical worked closely with us on the modular building and kept construction noise and disturbance on a hospital site to a minimum. The Aquilion Prime SP CT scanner will be our fourth Canon Medical scanner at the Trust and it keeps meeting our expectations. It brings the renowned Advanced Intelligent Clear-IQ Engine (AICE) for phenomenal image quality at low dose and high speed, plus provides additional advanced applications that help with clinical procedures. This includes Single Energy Metal Artifact Reduction (SEMAR) to work around visualising elderly patients with prostheses, stents, pacemakers or tooth replacements; and SURESubtraction to enhance iodine imaging with colour mapping."
Billy Erwin, Account Manager at Canon Medical Systems UK states, "Separating acute and outpatient care is at the heart of the CDC philosophy to create efficiencies and speed up patient diagnosis. Victoria Infirmary has achieved so much already by embracing its CDC opportunity and we look forward to supporting them to optimise future plans to streamline pathways and evolve its community service offerings."
Image 1 – Pictured L to R: Karen Bowman, General Manager and Michael Potts, CDC Imaging Lead at Northwich's Victoria Infirmary (VIN) part of Mid Cheshire Hospitals NHS Foundation Trust with the Canon Medical Aquilion Prime SP CT scanner.