0
25th April 2023 3:00 pm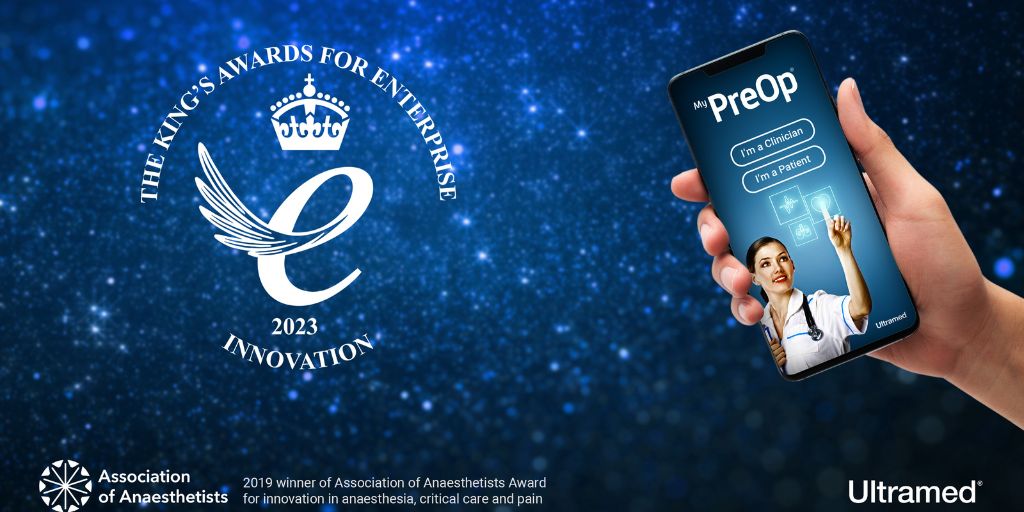 Cornwall, 21st April 2023: Ultramed, a market-leading digital health technology company, has been awarded The King's Award for Enterprise for Innovation, one of 148 organisations nationally to be recognised.
The King's Award for Enterprise is a celebration of successful and innovative businesses, that are leading the way with pioneering products and services – the award is held for five years. It is the most prestigious business award in the UK.
Ultramed was established in 2014 and combines clinical NHS executive experience with international design expertise, to provide elegant, patient-focused solutions to common problems. Trusted by patients and hospitals across the NHS, Ultramed's products include MyPreOp®, MyPreOp® kids, MyEndo® and MyCardio.
MyPreOp, the UK market leading digital preop solution, removes the need for up to 50% of patients to attend in person for a preoperative assessment. Patients complete an online questionnaire, with algorithms ensuring a consistent approach to questions and decisions on tests or actions, that might need to be taken by the clinician. The hospital's preoperative assessment capacity can increase by 40%, as demonstrated by London North West Healthcare Trust. Patients are sent scheduled SMS messages automatically for example to attend for their operation. Once the preoperative assessment is complete the MyPreOp system produces lists of patients who are ready for surgery, under the care of a particular surgeon. This allows the use of operating theatres to be optimised, assisting with the elective care backlog.
Ultramed's product MyPreOp was awarded the Innovation award for anaesthesia, critical care and pain by the Association of Anaesthetists in 2019. Following the win of the Association's Innovation Award, MyPreOp was selected to join the NHS Innovation Accelerator, of which CEO Dr Paul Upton completed his Fellowship in 2023.
Dr Paul Upton, CEO of Ultramed, commented: "Since Ultramed first started nearly nine years ago, we've focused on growing the functionalities of our products through our gained knowledge, in line with technological advances. The impact of the global pandemic rocketed the demand for pioneering healthcare technology.
The King's Award bolsters our credibility in the industry, and it goes without saying that we are incredibly proud. We'll be celebrating with the whole team, who've helped to build Ultramed into the business we are today!"
The King's Awards for Enterprise was previously known as The Queen's Awards for Enterprise, and the new name reflects His Majesty The King's desire to continue the legacy of HM Queen Elizabeth II's by recognising outstanding UK businesses. The Award programme, now in its 57th year, is the most prestigious business award in the country.
Ultramed was founded in 2014 by Dr Paul Upton and Alan Sanders at the Health & Wellbeing Innovation Centre in Truro, Cornwall. Due to growth and expansion, the team relocated to the Tremough Innovation Centre and now embraces remote working.