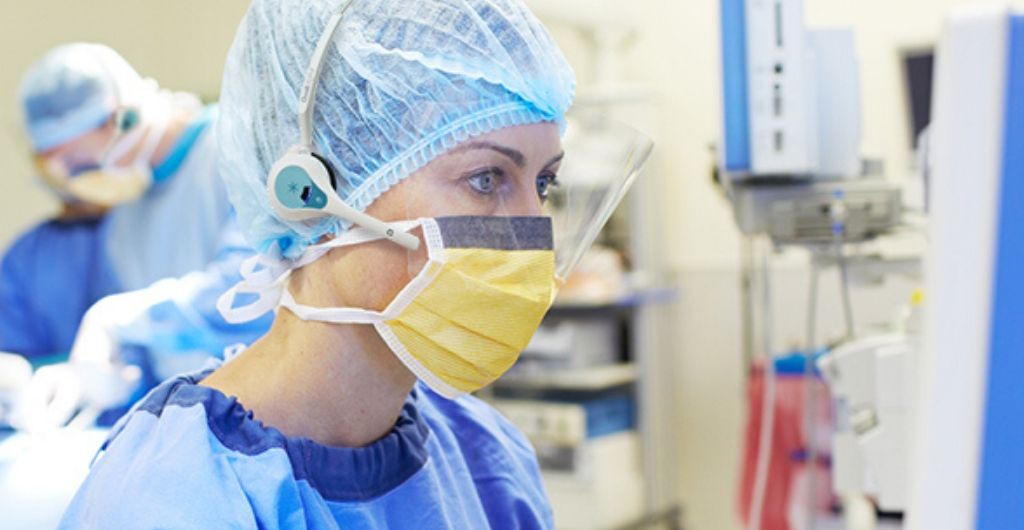 A recent discussion paper by Nuffield Trust has highlighted the medium- to long-term implications of the Covid-19 pandemic on NHS services.
Entitled 'Here to Stay? How the NHS will have to learn to live with coronavirus' raises myriad challenges on our health service and front-line staff – from a potential reconfiguration of services, building (re)design, and a review of clinical staffing models.
Amongst the most pressing of these challenges is the requirement for clinical staff to wear enhanced Level 2 and 3 PPE (Personal Protective Equipment) in all operating rooms, to protect staff against droplet and airborne infectious agents.
It's widely documented that this enhanced level of PPE brings challenges – such as additional weighted kit, pressure on the face and body, and a build-up of heat and condensation in the equipment. However; one aspect of working in fully enclosed PPE, that is perhaps less talked about, is that of communication, as Tom Downes, CEO, QuailDigital, explores.
Communication without Compromise
While critical, full PPE places constraints on healthcare workers' ability to communicate. According to Dr. Ziv Tsafrir, "Protective suits afford no ability to communicate, so people resort to using sign language. When that doesn't work, fewer members of staff wear the suits, which risks exposing them to the virus." In other cases, front-line staff have had to physically leave their unit to resolve a communication issue, resulting in wasted PPE and a loss of time to care.
Clearly, finding a way of improving communication without compromising either healthcare workers' own health and safety, and impacting patient care, is critical.
And yes, technology has stepped up, with healthcare staff finding innovative ways of using digital apps to solve the issues of the day. However, a more robust and clinically tested means of solving communication issues is needed.
Effective Communication and Patient Safety
Indeed, there is strong evidence pointing to the importance of effective communication and teamwork in patient safety more generally.  Deficiencies in teamwork and communication contribute to adverse events, thus demonstrating that non-technical skills are as important as technical surgical skills in preventing adverse patient outcomes. A further study discovered that surgical errors increased significantly with increased disruptions and that teamwork and communication problems were the strongest predictors of surgical errors.
Dr. Tsafrir's recent study "Improving communication in robotic-assisted laparoscopic surgery" set out to evaluate the effect of using a wireless audio headset device on communication, efficiency and patient outcome in robotic surgery, where full PPE is also worn. The controlled trial of individuals participating in gynaecologic and urologic robotic procedures, evaluated the quality of communication, performance, teamwork and mental load. The study also measured ambient noise levels throughout the duration of the procedures.
Participants reported better overall communication in cases where headsets were used; while there was also a measurable impact on reducing the ambient noise level when headsets were deployed. The report confirms, "Our study shows that the use of wireless headsets improves communication in the robotic OR. In addition, the percentage of time above a peak sound level of 70 dB is reduced while using headsets."
These findings support the impact of wireless headsets in ensuring high quality, effective and encrypted communication during general procedures, while also reducing stress levels amongst frontline staff when wearing PPE.
Conclusion
For now, and the foreseeable future, the implications of living with the virus are profound. Indeed, as the NHS begins to consider the longer-term implications of coronavirus, the reality is that a more sustainable approach to the communication challenges presented by full PPE is required.