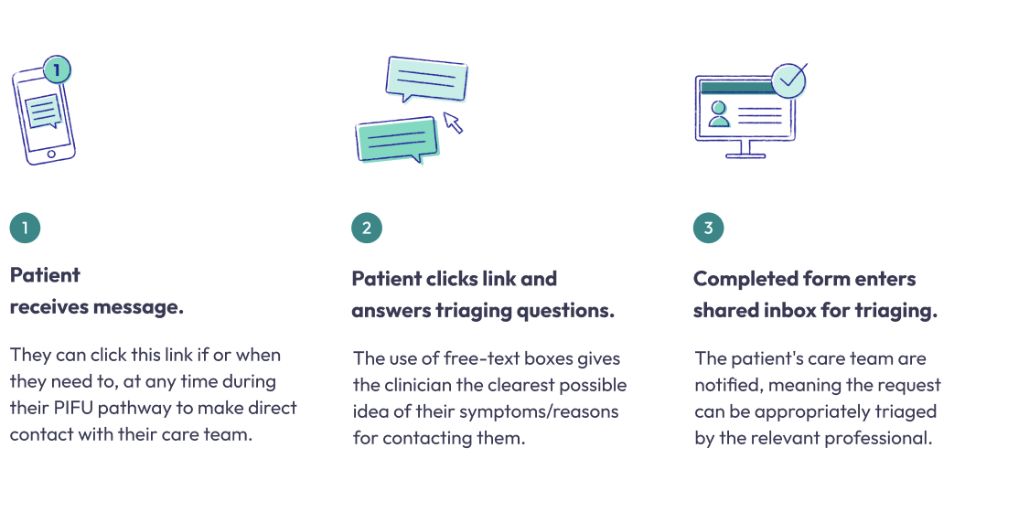 Accurx, the communication platform that works with the NHS to help everyone involved in a patient's care communicate, has published a new report looking at the impact that implementing triage across the NHS could have in reducing the elective backlog of 6.5 million patients1, starting with Patient Initiated Follow Up (PIFU)*.
The report projects that implementing a digital PIFU pathway, with triage at its core, could reduce unnecessary patient follow up appointments by a further 2.5 million,** in line with current NHS targets of reducing outpatient follow up appointments by 25%. This would save the NHS £300 million*** that could be used towards caring for other patients in need. This projection is based on the NHS requirement of 5% of outpatient attendances to be moved to PIFU pathways2, but Accurx believes that the elective backlog could be reduced even further if extra focus was put on moving the many more eligible outpatients onto PIFU pathways.
The backlog stands at 6.5 million and growing, with over 320,000 patients waiting more than a year for treatment once they've been referred3. Currently, two-thirds of hospital outpatient appointments are follow ups, yet 22% of these are unattended4, resulting in a longer wait list.
As part of Phase 3 of the NHS Recovery Plan, staff are being asked to free up outpatient slots and move patients to pathways where they can book into follow ups when needed (PIFU), instead of these being scheduled at set intervals5. Using PIFU, the NHS is targeting a reduction in follow up appointments of 25% by March 2023 to make hospital visits more efficient, reduce the waiting list and improve patient experience.
Accurx's report argues that the current ways in which PIFU is being implemented are not fit for purpose. They largely approach outpatient pathways as a matter of patient-led appointment booking via phone or online, which won't meet patient or NHS needs because:
                   1. Phone lines see high call volumes where often there's not enough resource to handle them
                   2. There aren't typically empty appointments available, given most clinics need to schedule appointments months in advance
The knock on impact is that patients can't access care at the point they need it, waiting lists won't be reduced, and workplace pressures and burnout will only increase. The report explains that patients on a PIFU pathway get in touch with a variety of queries that don't always require a hospital appointment, like advice to manage a condition or flare in symptoms, or a prescription from the hospital. In many cases, appointments aren't the quickest or most effective solution.
Accurx maintains that NHS providers should use PIFU to open a digital channel of communication with in-built triage, that allows patients to get the specialist support or advice they need, without always needing to book an appointment. This means that patients receive more appropriate and timely care, healthcare professionals can easily collaborate to prioritise patients' needs, and unnecessary appointment slots are reduced – something which Accurx believes could benefit many more eligible outpatients. Accurx's PIFU solution allows patients on a pathway to get in touch the moment they need support, while healthcare providers can make use of the web inbox to triage patients and respond as required.
Jacob Haddad, CEO and co-founder of Accurx said: "Until now, Patient Initiated Follow Up  has predominantly been framed as a matter of appointment booking, predicated on the idea that an appointment is the default of what a patient needs. But this way of implementing PIFU doesn't harness its full potential, and is also likely to add to the root cause and original need for PIFU pathways – high demand for appointments. PIFU needs to speak to a wider truth about today's healthcare system: that patient care doesn't just happen in appointments but through other means, from remote monitoring to advice and guidance.
"Triage is widely missing from the growing conversation around PIFU today. Now is the time to take valuable learnings from other services, like primary care, and capitalise on the power that digital triage and messaging capabilities can have on delivering patient care. Only then can we unlock PIFU's true potential and expand its uptake to all eligible outpatients."
Simon Pizzey, Head of Strategy and Planning, University Hospitals of Leicester NHS Trust said: "Having worked with Accurx over the last six months, we've already seen the impact it's had on our patient communications. Our teams have saved countless hours as a result of being able to easily and securely message patients with Accurx. We currently have 55,000 patients on a follow up waiting list and 8,500 patients already on a PIFU pathway. We believe that by implementing Accurx's PIFU solution, we'll be able to serve even more patients on a PIFU pathway, giving them a clear route to medical support when they need it, and supplying staff with the ability to seamlessly triage their patients to provide them with the best care. We're really passionate about providing a clear and consistent experience for patients, and we're excited to see the impact that Accurx's PIFU solution will have."