0
11th September 2023 8:30 am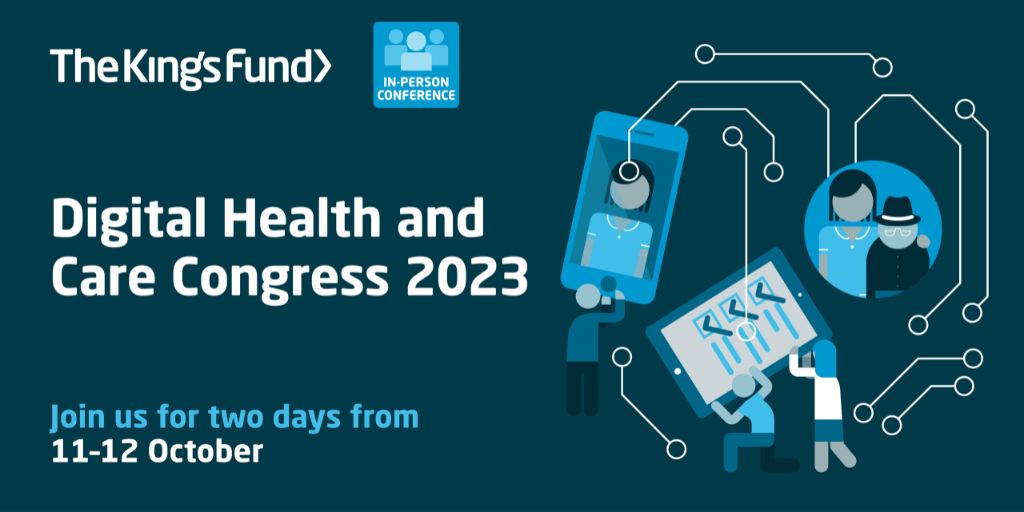 Digital technologies have paved the way for ground-breaking advances in health and social care. These technological innovations are redefining the landscape of health and care services improving efficiency, accessibility, and patient outcomes.
This article delves into the transformative power of digital technologies in health care and previews the upcoming Digital health and care congress, which will take place in London in October. At the event, experts from The King's Fund and across the health and care sector will explore the intricacies of adopting digital solutions across health and social care.
Confirmed speakers and chairs already include more than 60 experts, such as the Director of Google Health UK, the President of the Association of Directors of Adult Social Services, the Director of Transformation at NHS England, the Chief Executive of the Patients Association, and the Chief Information Officer at NHS England.
Exploring the event
The King's Fund's annual Digital health and care congress 2023 promises to be an enlightening experience for stakeholders in the health and care sector. Attendees will gain valuable insights into successfully implementing digital solutions in health and social care through panel discussions, keynote speeches and interactive workshops.
The event's focus is not only on the potential of digital technologies but also on the practical aspects of their implementation.
Innovations in workflow and patient experience
Health and care professionals will share their experiences of harnessing digital solutions to streamline workflows, improve efficiency and alleviate workforce pressures. These innovative practices demonstrate how technology can enhance the overall quality of care and patient experience. As the health and care sector continues its digital transformation, the event will address the critical question of whether the health and care workforce has the necessary support and skills for this digital future.
Including all voices: breaking barriers
We will highlight lived experience, shedding light on how digital solutions can break or build barriers around exclusion and inequality. Co-design, where patients are actively involved in shaping health and care services, will be a focal point, ensuring that digital solutions meet the diverse needs of communities.
Empowering the social care workforce
The event will delve into how digital technologies can support the social care workforce and enhance adult social care services. By streamlining administrative tasks and providing tools for better communication, digital solutions can improve the quality of care for people and communities.
Digital technologies on display
The event will also feature discussions on a wide array of digital solutions, including virtual wards, artificial intelligence (AI) and the NHS app.
The power of data
We will explore how data-driven approaches can lead to improved patient outcomes within integrated care systems (ICSs). We'll discuss how the responsible use of data can support health and care services to enable more personalised and effective treatment approaches.
Conclusion
The upcoming Digital health and care congress 2023, offers a unique opportunity for health care professionals, policy-makers, and people who use health and care services to come together and explore the vast potential of digital solutions in health and social care. From virtual wards to AI, from co-design to data-driven decision-making, this event promises to be a thought-provoking journey into the future of health and social care. As the health and care system faces increasing challenges, it is imperative that it equips itself with the skills, leadership, and culture needed to harness the full potential of digital transformation. This event is a step in that direction, promising to enlighten, inspire and drive the health and care sector toward a digitally empowered future. 
For more information about the event, please visit: 
Day one programme www.kingsfund.org.uk/events/digital-health-and-care-congress#day-one
Day two programme www.kingsfund.org.uk/events/digital-health-and-care-congress#day-two 
To book your tickets for either day one, day two or both days, please visit: www.kingsfund.org.uk/events/digital-health-and-care-congress#ticket-prices