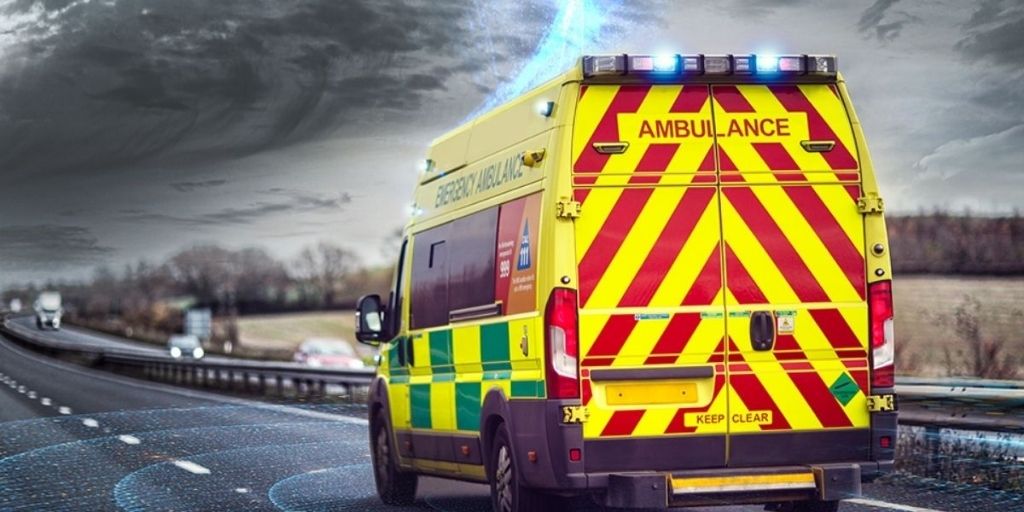 Cardiff-based connectivity specialist Excelerate Technology is leading the consortium on one of the most exciting projects ever undertaken on behalf of NHS ambulance services; a €5.7m initiative co-funded by the European Space Agency (ESA) ARTES 5G Strategic Programme Line (SPL) and the UK Space Agency (UKSA) to create the prototype for pioneering an always connected and cloud-based digital ambulance of the future.
The Hybrid Connex Digital Ambulance of the Future project is a technology initiative that is working with the NHS to provide the UK ambulance sector with a resilient connectivity solution which combines 4G, 5G and satellite connections, meaning that the crew onboard the vehicle will never be offline (5G connectivity will be the primary connection, falling back to 4G when 5G is not available and then onto satellite connectivity in deep rural locations and total 'not-spots').
This will enable a whole range of applications to be able to work together to significantly improve patient experiences while transforming a large part of the way ambulance services deliver 'see and treat' care. With the ability of a connected ambulance to function as a remote consultation room, paramedics can access medical records remotely through secure connection to the Health and Social Care Network, as well as call on the support of specialist clinicians to assess patient conditions and provide treatment en-route to hospitals and medical centres.
The connected ambulance also supports the deployment of new technology in the field, such as healthcare Internet of Things (IoT) sensors, with data being transmitted to healthcare facilities in real-time. Access to this information will allow staff in hospitals and medical centres to prepare for patient arrivals, as well as adjust preparations should conditions change.
Alongside Excelerate Technology, the consortium includes NHS technology champions NHS Arden & GEM Commissioning Support Unit (NHS Arden & GEM), network provider Vodafone and specialist technology companies Satellite Applications Catapult and Livewire Digital.
Bethan Evans, Operations Director at Excelerate Technology, said: "We are delighted to be the Prime Partner in this exciting technology initiative which aims to create the blueprint for the fully connected digital ambulance of the future".
"We believe this will be a genuine and significant game-changer in the way ambulance services will be able to provide the majority of care to patients without unnecessary conveyance to emergency departments, while providing a whole range of new on-the-spot services such as diagnostic procedures, tests, diagnostic imaging and greater use of technology to enable specialists located remotely to treat patients immediately through telemedicine."
"There is now a significant opportunity to take the next steps towards better care and patient experience, improved operational capability through enhanced connectivity and significant and measurable improvements in performance across the whole urgent and emergency care system. These include reductions in avoidable conveyance to Emergency Departments and the eradication of many unnecessary handover delays."
Another key benefit of an effective hybrid solution will see the complete resolution of the current problem where many ambulances are fitted with multiple SIMs supporting different devices and requirements, which is unnecessary, confusing, costly and requires the management of multiple contracts.
Currently in its 'definition' development phase, the project will combine the improved bonding capabilities and network optimisation of Livewire Digital's software with Excelerate Technology's Hybrid Communications Module (HCM) hardware platform and Hybrid Communications as a Service (HCaaS). It will integrate High Throughput Satellite, WiFi and 4G / 5G networks to host the various technologies required across an ambulance service's fleet.
Professionals from across the healthcare and technology arenas – especially ambulance services – are being asked by NHS Arden & GEM to become involved in the project through contributing ideas and feedback and attending online and in-person showcase events as the two-year project progresses.
The prototypes will be tested at the Satellite Applications Catapult's Future Networks Development Centre in Westcott, Buckinghamshire, where Vodafone is upgrading network coverage to facilitate research and development.
Sally Eason, Associate Director of Digital Transformation at NHS Arden & GEM said: "While the NHS has been improving ambulance connectivity over a number of years, Hybrid Connex has the potential to help us take another leap forward, transforming our ability to treat at the scene and safely reduce avoidable conveyance and handover delays."
Nick Gliddon, Business Director at Vodafone said: "Connectivity is quickly becoming the foundation of every part of our lives, but there are few use cases where the benefits are as apparent as in the healthcare industry. Not only can connectivity support the transition to preventative medicine, but in the case of the connected ambulance, remote diagnosis, support and treatment could make the difference between life and death."
Gary Carter, CEO at Livewire Digital said: "We are delighted that our RazorLink technology is being integrated into the Excelerate solution to deliver fast, bonded and encrypted connectivity as it will serve to radically improve emergency care services on the frontline."
John Vesey, Head of Health and Wellbeing at the Satellite Applications Catapult said: "The Satellite Applications Catapult is delighted to provide vital facilities and expertise to this new project. It builds on the ongoing work of our Healthy Living Lab at Westcott and will use the full range of capabilities available at our Future Networks Development Centre, which specialises in delivering connectivity solutions to support new applications development in the UK and beyond."
Antonio Franchi, Head of 5G SPL at European Space Agency said: "Hybrid ConneX will offer a fully managed Hybrid Communications as a Service (HCaaS) cloud-based solution that will provide ambulances and other emergency services, along with mission critical verticals with fast, hybrid satellite, 5G and 4G fully optimised connectivity wherever the vehicle is deployed. This demonstrates how ARTES Programme supports very innovative technology solutions while having a significant societal impact."