0
24th October 2023 8:00 am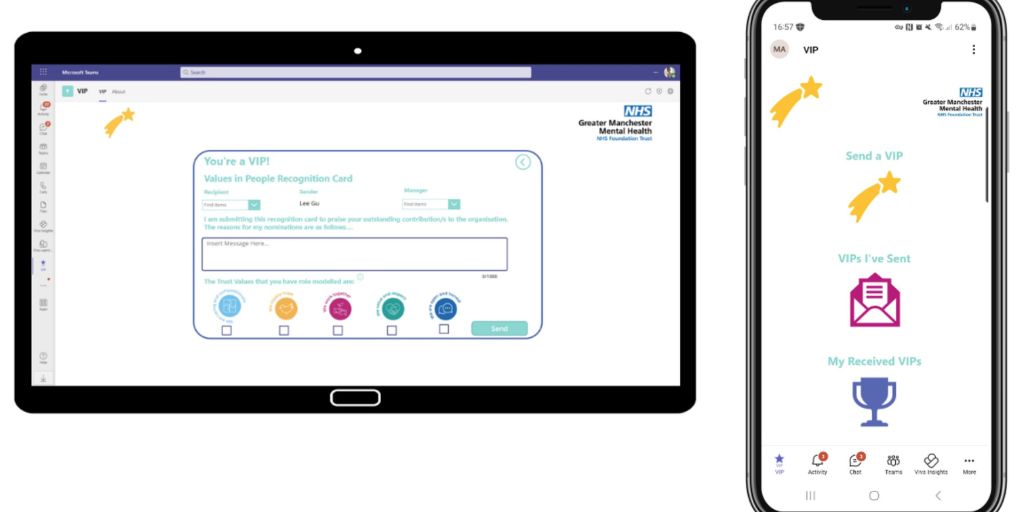 Greater Manchester Mental Health NHS Foundation Trust (GMMH) is the first NHS Trust in the UK to introduce the Values in People (VIP) Recognition app-based scheme.
Launched in July 2023, the scheme aims to improve the culture of recognition at GMMH and make it easier for all staff to give thanks for the brilliant work that is done by their peers every day.
Closely aligned to GMMH's values, it particularly enables staff to recognise and celebrate behaviours that the organisation strives to achieve.
It was developed by staff for staff, with input and ideas from a range of departments and people across GMMH.
Compatible with Microsoft Teams on laptop, desktop computer, mobile phone, and tablet device, staff are able to send a VIP Recognition card to a member of staff of their choice in just a few easy clicks.
The card includes a reason for the nomination and which of GMMH's values the app-user believes their nominee has role-modelled, and just like that – they have made someone's day.
The tool is also linked to GMMH's Business Intelligence reporting systems, meaning that examples of best practice highlighted through the scheme can be captured, analysed, and replicated across other GMMH teams and services.
So far, the scheme has been hailed a success, with 745 VIP cards having been sent by staff across GMMH since July.
Anna Hobson, Organisational Development Lead at GMMH, who was involved in the design and implementation of the VIP Recognition Scheme, said: 
"We really do believe that our people are our biggest and brightest asset and this engagement initiative contributes to our culture of recognition and compassion for our people. Recognising colleagues is a great way to boost overall energy and engagement in work, and aligning this tool to our values was the pivotal part in this scheme. Knowing that we contribute to the values, live and breathe them and embed them in every day recognition, keeps them alive." 
Tom Hewson, ST4 Psychiatrist at GMMH, who was involved with developing the VIP Recognition scheme, said: 
"I have a strong interest in staff wellbeing, and I was keen to improve staff recognition. I met with lots of excellent colleagues in Human Resources, Organisational Development, Medical Education, Quality Improvement and IT services and we worked together to design and implement the VIP Recognition Scheme using feedback and ideas from staff themselves. 
"We know that feeling valued and supported by colleagues is an important aspect of staff morale. The VIP Recognition Scheme provides an opportunity for praising excellent performance and making somebody feel appreciated. 
"We drew some ideas and inspiration from other NHS Trusts when designing VIP; however, to my knowledge, we are the first in the country to launch our staff recognition scheme through Microsoft Teams with a dedicated app! 
"In my job, particularly when working on-call across multiple locations, I interact with lots of inspiring colleagues from different roles who go above and beyond their duties. What I really like about this scheme is that it allows anybody within GMMH to recognise and praise a colleague in a formal way, including colleagues in different roles and locations to themselves. This makes staff recognition available to everybody, rather than being seen as something which is primarily undertaken by those in supervisory positions. 
"Other special functions of the scheme include abilities to access it on your smart phone, view and download recognition forms that you have received (e.g. for safe-keeping or uploading to professional portfolios), and to share and discuss positive feedback with your line manager." 
Rob Cleaver, ST5 Psychiatrist at GMMH, who was also involved in the development of the VIP Recognition Scheme, said: 
"I've been completing a special interest session within postgraduate medical education in GMMH since August 2022. Tom approached me with the VIP Recognition Scheme, as he recognised that staff members were accustomed to receiving constructive or negative feedback but that there wasn't a recognised avenue for praising great work when it happens. I thought that it was a brilliant idea that we needed to take further. We took it to GMMH who shared our enthusiasm for it and helped develop the idea into reality. 
"VIP is important because everyone can be a part of it. You can recognise the outstanding work of anyone and everyone. It helps to build staff morale and enable better teamwork. The recognition is also fed through to the individual's line manager so it can feed into yearly appraisals. 
"On a personal level, it can be deeply meaningful to receive thanks; we are not always praised for doing our jobs so when it does happen it can lift the person's morning, their day, or even their week. In the long term, the scheme is likely to benefit on a service level – as we recognise outstanding practice, this can be fed back to teams to improve overall performance and provide better service to the people that need it most."