0
26th April 2021 10:00 am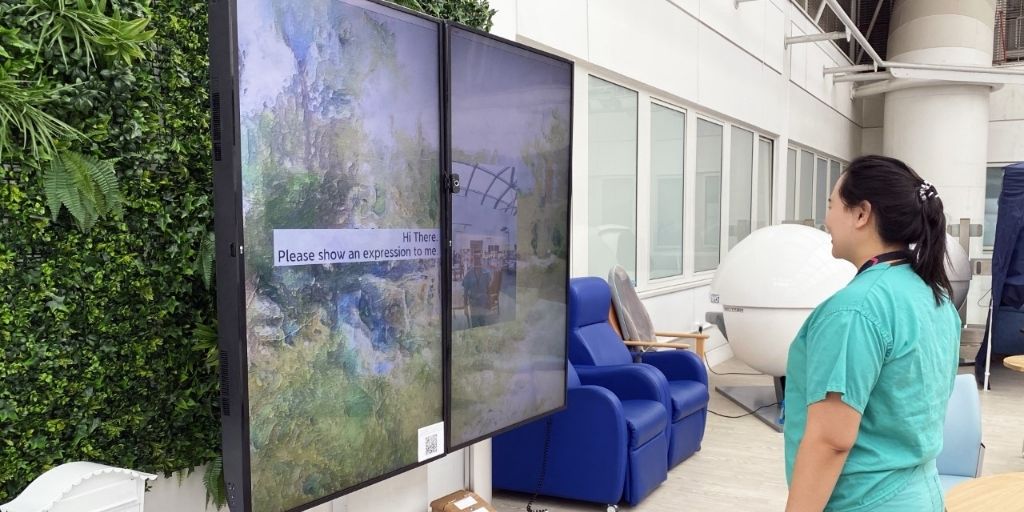 An innovative, interactive digital art installation is officially unveiled today at Chelsea and Westminster Hospital in London, for patients and staff to experience interactive audio-visual art that induces positive moods and emotions.
The Immersive Healing Art System (IHAS) uses sensors and facial scanning software to identify and interpret an individual's emotions and then aims to influence a positive reaction by creating a unique audio-visual art piece that calms, relaxes and improves mood. The artworks are generated using tailored-built AI algorithms capable of creating an infinite number of visual artworks according to specific emotional styles, including calming, sad, happy and uplifting moods. The smart art system has been designed to contribute to the mental wellness of individuals in spaces such as hospitals, offices, public stations and even homes.
In response to the pandemic and the major impact the last 12 months is having – and will continue to have – on mental health, the IHAS installation is part of a holistic model of care at Chelsea and Westminster Hospital NHS Foundation Trust where design and environment plays an important part in patient wellbeing and experience.
The IHAS has been developed by digital art start-up, Genesis Arts, who is working with CW+, the official charity of Chelsea and Westminster Hospital NHS Foundation Trust, to conduct research into how the technology can help mental wellbeing.
"We know how important art is in helping patient rehabilitation, recovery and wellbeing. We're excited to work with companies and partners like Genesis, who are creating innovative approaches and digital solutions that optimise recovery for our patients," says Trystan Hawkins, Director of Patient Environment at CW+.
Zheyuan Zhang, Director of Genesis Arts, explains: "We are thrilled to see our work set up in the hospital where staff are already enjoying the installation. Together we recognized the importance of getting the screens set-up for staff as soon as possible as caring for staff mental health became more and more critical during the pandemic. We look forward to making the technology and its healing potential more widely available to patients."