0
22nd September 2021 10:00 am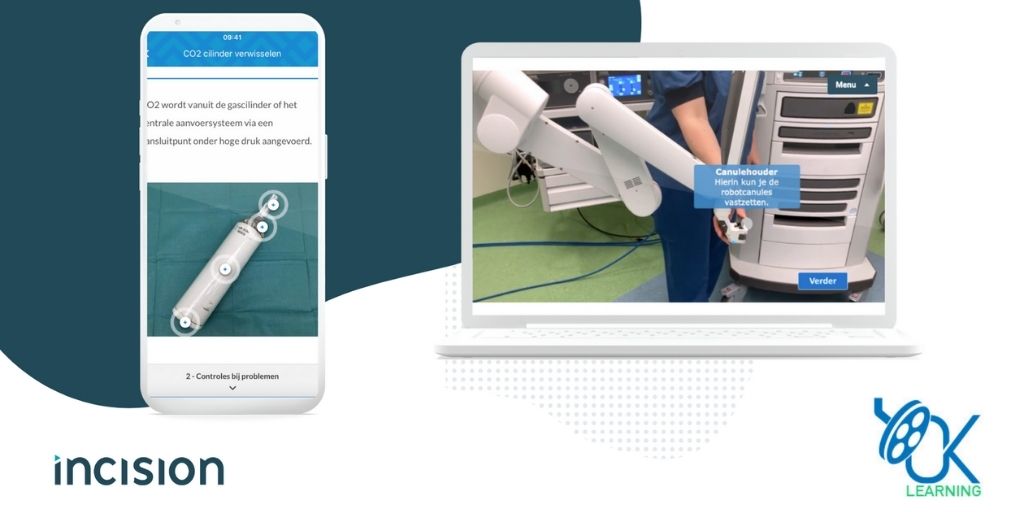 Incision, a platform for surgical performance and online training, is expanding its platform by acquiring OK Learning, a company that supports perioperative practitioners in developing their knowledge and skills with interactive video. The surgical knowledge on the OK Learning platform is presented in interactive units. A unit consists of attractively presented information, questions and tips. This bite-sized knowledge supports perioperative practitioners in their performance and development. Incision will integrate the interactive courses into its new 'Incision Interactive' platform.
Ritsaart van Montfrans, CEO of Incision:
"The team of OK Learning has managed to create a highly practical, interactive learning tool with great medical content. We are excited to add their interactive content to the Incision Academy, enriching it with instructional materials for perioperative practitioners to further improve engagement and time-efficient learning. It will help us to better satisfy our clients' needs, and accelerate our international expansion."
Bart de Graaff, Co-Founder of OK Learning:
"In a dynamic environment such as the operating room, keeping up to date with professional knowledge is of great importance. With e-learning modules and a performance support tool, OK Learning has developed a practical solution to respond quickly to developments in the OR. We support the professionals in their development in an attractive and measurable way."
By acquiring OK Learning, more than 50 new interactive courses and features will be added to Incision's interactive platform. The platform will contain educational modules to prepare surgical teams for high-risk tasks concerning equipment, medical skills, disposables, implants, and surgical procedures. Examples are educational modules on Endovascular aneurysm repair (EVAR), Thoracic endovascular aneurysm repair (TEVAR), chest drainage and various modules on hygiene and infection prevention such as drip isolation and contact isolation.
Cherida Louz, Co-Founder of OK Learning:
"As a scrub nurse, I was enrolled in educational courses that did not match my work in practice. At that time, there were no learning modules specifically for scrub nurses. Being an educator myself, the lack of content motivated me to develop educational modules for practice oriented learning."
Interactive learning: a powerful learning method
While many hospitals are struggling to motivate surgical teams for critical learning activities, the growth of interactive education is gaining momentum. On Incision's interactive platform, interactive Q&A is used to prompt active learning, making learning more fun and enabling users to learn faster. This in turn helps hospitals to engage their teams in learning and preparing for the operating room.
Incision's platform rollout strategy isn't stopping anytime soon
This is Incision's second acquisition in the field of interactive learning. Earlier this year, they added 'Snijgerei's' to their platform, an app that hosts interactive content on surgical instruments. With its recent expansion into the UK, Sweden, Belgium, and the Middle East, Incision is accelerating its growth. Rumour has it that Incision is launching a new product at Intelligent Health AI on the 12th of October, aimed at improving surgical workflows.