0
7th November 2023 10:00 am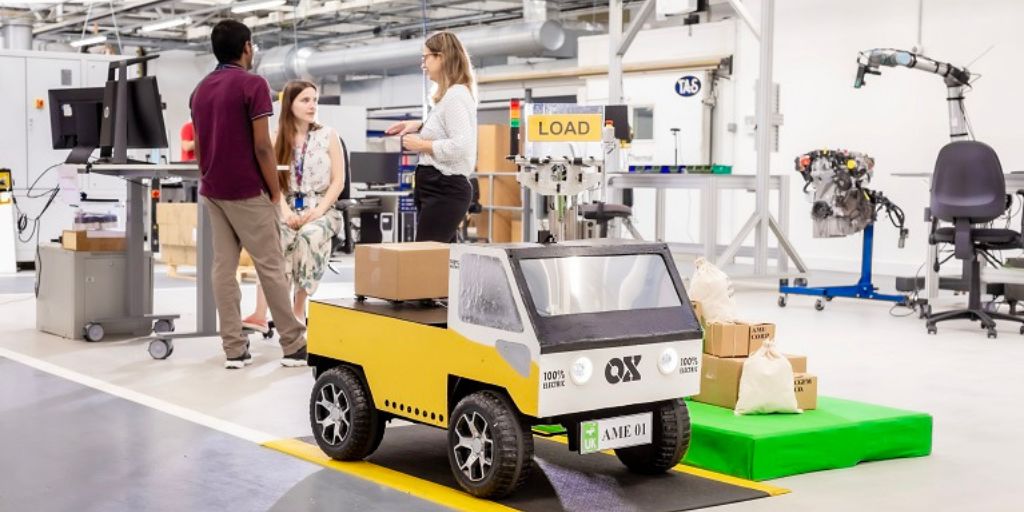 Coventry University's Institute for Advanced Manufacturing and Engineering (AME) is relaunching after a £6million investment – with guests from across the world thanks to an incredible metaverse.
The AME's 'Faculty on the Factory Floor' base in the city has expanded thanks to the huge cash boost, with the new nearly 2,000 square metres of space boasting state-of-the-art equipment, new teaching and research facilities, as well as six new laboratories and a robotics and testing area.
AME was born out of a collaboration between Coventry University and Unipart Manufacturing that delivers teaching excellence alongside the delivery of innovative research and allows students to learn while being involved in real projects being run by businesses in the city.
The AME expansion was part funded via a £1m grant from the Government's Local Growth Fund though the Coventry and Warwickshire Local Enterprise Partnership (CWLEP) and the brand-new facilities will be officially launched on November 8.
As well as a large number of guests attending in person, high-fidelity 3D models of the facilities and equipment will be used to create a digital universe – known as a metaverse – meaning people from countries right across the globe can take part in the live event using a digital representation of themselves.
They will be able to move their avatar around a digital replica of the AME base and join in the physical sessions remotely, as well as interacting with other people in the metaverse and those at the event in person.
Marcos Kauffman, Director of AME and Centre Director of the university's Research Centre for Manufacturing and Materials, said: "We are proud of the AME expansion which is more than just a physical growth of an additional nearly 2,000 square metres; it's a testament to our unwavering commitment to bridging the gap between academia and industry.
"As we begin this new chapter, our focus is providing our students and collaborators with world-class facilities, equipment and people to support their journeys into a clean, sustainable and digital world. We are more energised than ever to open our doors to the wider manufacturing and engineering supply chain in the West Midlands to shape the future of manufacturing and engineering in the UK.
"From our inception in 2014 to today, AME has consistently aimed to be at the forefront of innovative teaching and research with our Faculty in the Factory Floor Model. This expansion is a beacon of our dedication to nurturing industry-ready talent and fostering pioneering research that has real-world impact."
Other new research facilities at AME include a digital twin pilot environment, which represents a physical manufacturing production line but as a digital representation, and a series of physical stations with fully configured digital systems to represent real, individual manufacturing businesses of varying complexity at each point in the value chain.
Professor John Latham CBE, Coventry University Vice-Chancellor, said: "With this launch, we're not just unveiling a state-of-the-art facility but also setting the stage for the next generation of engineers, innovators and clean technologies. AME's vision has always been about creating transformative solutions for the industry's pressing challenges and with this expansion, we're poised to increase our reach and have an even greater impact on our students, collaborators and local community."
Carol Burke, Managing Director at Unipart, said: "We are thrilled about the expansion of AME, an initiative between Unipart and Coventry University to bridge the gap between industry and academia.
"AME stands as a testament to addressing the skills and technology gaps in our industry. Our unique approach is embodied in an industry-ready degree course that goes beyond textbooks, immersing students in live industry projects.  As the transport sector transitions to EV manufacturing and greener solutions, Coventry University's latest investment will empower the AME to expand Unipart's expertise and capabilities into new sectors.
"This involves collaborating on Research and Development with academia and strengthening ties with supply chains, including small and medium-sized enterprises. Ultimately it leads to new business growth.
"AME is at the centre of the transformation of the Midlands to stay ahead of net-zero innovation and to support business growth, where ideas become reality, and the future of sustainable mobility is redefined."
Councillor Jim O'Boyle cabinet member for jobs, regeneration and climate change and former CWLEP board member said: "When the local enterprise partnership decided to invest in the AME it was investing in the future of manufacturing in the UK, and more directly, in the prosperity of our city and the wider region.
"The set up is innovative and I am sure the AME will become a global reference point for manufacturing and engineering education. We see it fostering even deeper ties with local industries, leading to further investment, job creation, and solidifying Coventry's reputation as an innovation hub.
"And of course as we steer towards a greener, more sustainable future, we expect AME to be at the forefront, leading research, and providing solutions for a more sustainable industrial landscape."
AME has participated in projects with a total value of £110million and has worked with 174 collaborators since its original launch.
Its estimated value to the manufacturing and engineering economy since then is £500million and so far around 400 students have graduated.
Find out more about AME.